How to Choose the Right Dining Room Wallpaper?
Looking to spruce up your dining room? How about a brand new dining room wallpaper with smart colors and patterns? This is possibly one of the easier and more cost-effective ways of making your dining room look more attractive. However, the trick lies in picking the right wallpaper. This article will help you choose the right dining room wallpaper should you decide to go for one.
Is wallpaper out of style?
Wallpapers have never really gone out of style. It is still the best way to personalize a room without going through a major renovation. Wallpapers can bring any room to life, if used correctly. It also adds that personal stamp to a space that distinguishes a room from the rest. Wallpapers are also a cost-effective way to make a room look bigger.
How to choose dining room wallpaper?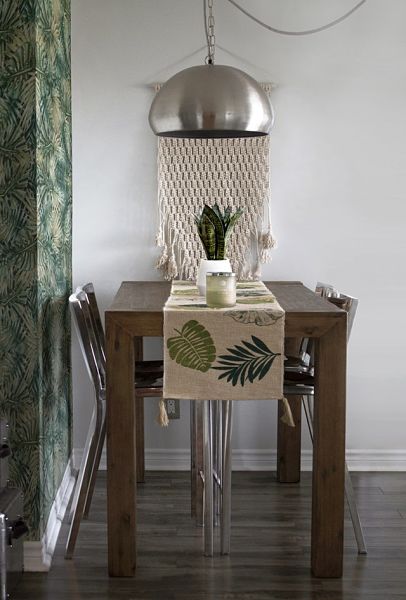 It is safe to say that the dining room is a great place to get creative when it comes to wallpapers. There is a wide range of wallpapers available in the market. As a matter of fact, there is a good chance that you will find a wallpaper for every concept that you may have in your mind. The idea is to pick the one that suits your dining room the best. Here are a few pointers that you need to keep in mind in this regard.
Want to dive in more on wallpaper trends? Take a look at these Interesting Wallpaper Ideas To Consider
1. Consider the color of the walls
The color of the walls plays an important role in determining the suitability of a wallpaper. You would ideally want to have a wallpaper that compliments and gels well with the wall colors.
Take a look at these 12 Dining Room Storage Ideas To Keep Your Space Clutter-Free
2. Consider the decor
Every dining room has a theme. The interior decoration binds the entire theme together and you wouldn't want your wallpaper to spoil that.
What about a dining room rug? Take a look at our guide on How to Get the Perfect Dining Room Rug Size.
3. Check the furniture
If you have a traditional dining room with a wood dining table and dining chairs, you will need to pick a wallpaper that resonates well with the traditional feel.
4. Measure the size
The size of your dining room and the available space for the wallpaper should heavily dictate your choice. A wallpaper that looks good in a giant dining room may actually make a smaller room look clumsy and cluttered.
5. Know your budget
You will find a wide variety of wallpapers in the market. As a matter of fact, the total cost of the project can vary between $150 and $1000. It is important that you identify your budget before starting to check the available options.
We are talking about placing wallpaper, but what about removing it? Let's review a step-by-step guide on how to remove wallpaper.
Should you wallpaper a whole room?
You can choose to wallpaper an entire living room if you wish to. However, then the choice of wallpaper becomes even more important. If you pick the right geometric patterns and designs, you can actually make a contemporary dining room look bigger, brighter and smarter. This works best when you have empty walls that haven't been painted recently. By wallpapering the whole room, you will actually be able to make your dining room look beautiful without having to spend a lot. However, you will need to pick the right wallpaper to avoid making the room look outdated and smaller.
If you are planning to give your dining room a full facelift, feel free to use our dining room estimator tool to see how much the cost of the remodel would be!
Read more: Great ideas for your transitional dining room
What are a few other great ways of decorating a dining room wall?
There is no set pattern of rule when it comes to getting your dining room designed. You may get as creative as you want to. You can choose a white wallpaper, or patterned wallpaper, or a black and white wallpaper. From accent walls to wallpapered ceilings to fun wallpapers, you can pick whatever suits you best. However, you may want to consider the following:
Reclaimed wood accents can give a warm feeling to your dining room wall.

If you have a neutral dining room, go for metallic wallpapers.

Highlight key areas with color. Maintain the pattern for the best result.

Use drapes to add color.

Stripes can do wonders to a casual dining room.

A combination of patterns and colors can brighten up a boring room.

For

small dining rooms

, consider using a photo mural.

Don't shy away from bold colors.

Add some drama to your dining room ceiling with a chandelier.

Use the combination of an accent color and a bold wallpaper.
So, what are you waiting for? Pick your dining room wallpaper and give your home a renovated feel today!
Read more: 13 superb alternative uses for a formal dining room
How to Choose the Right Dining Room Wallpaper?
was last modified:
October 14th, 2022
by
Recommended