15 Best Dining Room Designs & Ideas for Small Spaces
If you have a small dining room, or just a tiny space that doubles for it, and are worried that there's not much you can do to make the most of the square footage, think again. With clever dining room designs for small spaces, this room can actually have a lot of potentials. You can create a stylish and practical dining room that is sure to impress your guests.
So, if you are planning a home remodeling or need newer ideas for a better dining space, hire a capable interior designer and try any of these 15 small dining room design ideas. Some of them can easily be DIY projects and can help you lower your dining room renovation costs.
Whether you have a separate area for a smallish dining room or just a little corner in your kitchen or living area — we will help you transform the space with our clever tips and tricks. So, here goes.
1. A large window that opens up space
There's nothing as welcoming as a dining area that is filled with natural light. If you have a smaller space like this, the best thing you can do is to open up the area with a large window or glass door. What's more, the table and chairs have an unobtrusive design that let free flow of traffic despite the less space.
2. Choose an oval dining table
If your dining room is a separate room, you could accommodate any shape of a table. However, for a smaller dining space, consider an oval table with a pedestal base and seating for four. An oval table visually uses up less space because of the rounded corners. Needless to say, it is a great fit for a narrow or tiny dining space. Here, the beautiful pendant light is the pièce de résistance that adds charm to this area.
3. Get a foldable dining bench
Unlike dining chairs, a bench is a more practical solution when it comes to saving space. For one, it can seat more than one person and second, it tucks entirely out of the way when not in use. Most importantly, it doesn't take up valuable floor space. This distressed foldable table and bench set is a perfect option if you are pressed for space. Keep it in your kitchen and light up the simplistic dining area with a functional accent lamp.
What about dining room lighting? Take a look at our full guide on Popular Dining Room Lighting Ideas
4. Open floor plan
An open floor plan makes the spaces appear larger. This small dining area that is diving the living space and the kitchen space fits perfectly and doesn't make the space look crammed because of the open layout. We love the all-white walls and cabinetry that make this apartment look bigger. The plush dining table and chairs, the under-counter kitchen lighting, and the wall decor complete this gorgeous room. The neat arrangement leaves no doubt in the guest's mind as to where the living room ends and where the dining area begins.
5. Utilize a corner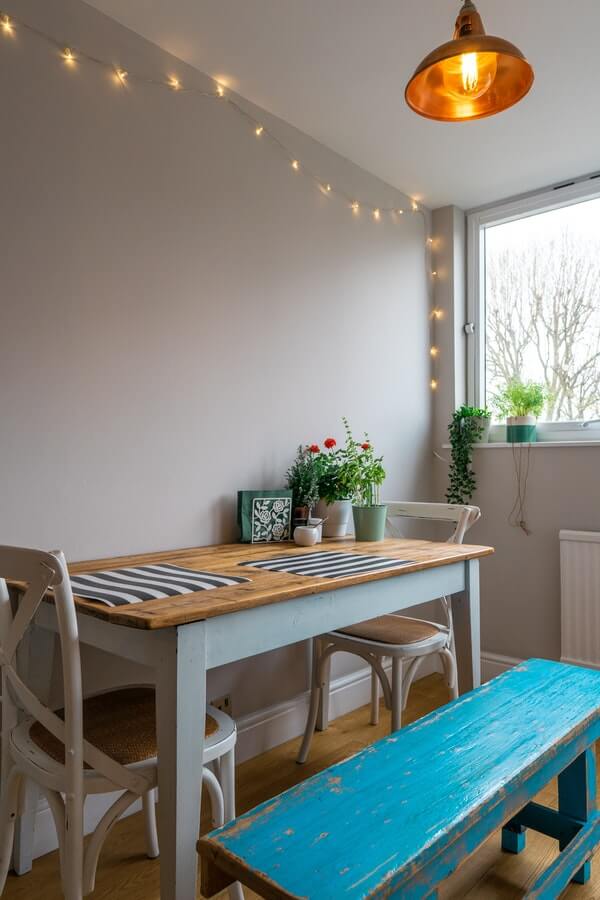 Utilize a corner of your house by placing a small dining room against a wall and making it impactful with your own creativity. Add bright colored quirky furniture, fairy lights, and indoor plants for an eclectic touch. Get inspired and decorate the space any way you like. Create a corner that will be a talking point among guests.
6. Breakfast nook by the window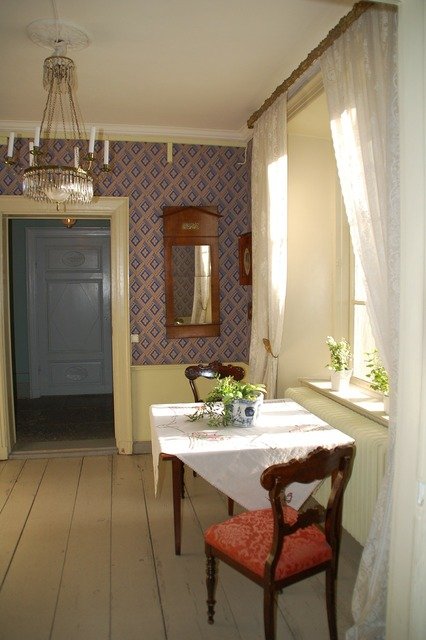 Setting a breakfast nook for two beside a window works well with small spaces and also helps in maximum utilization of the square footage. The diners can have a romantic meal time while enjoying the view outside. We like the fact that the wallpapered wall adds depth to this area and the chandelier, an understated grandeur.
7. Create a dining nook against the wall
This clever set-up is perfect for a small family. The built-in seating utilizes this tight corner in the most practical way. You can install this in your kitchen or the living room. The eye-catching flooring seems to make this tiny space appear bigger. It can even double up as your home office.
8. Convert your kitchen island into a dining space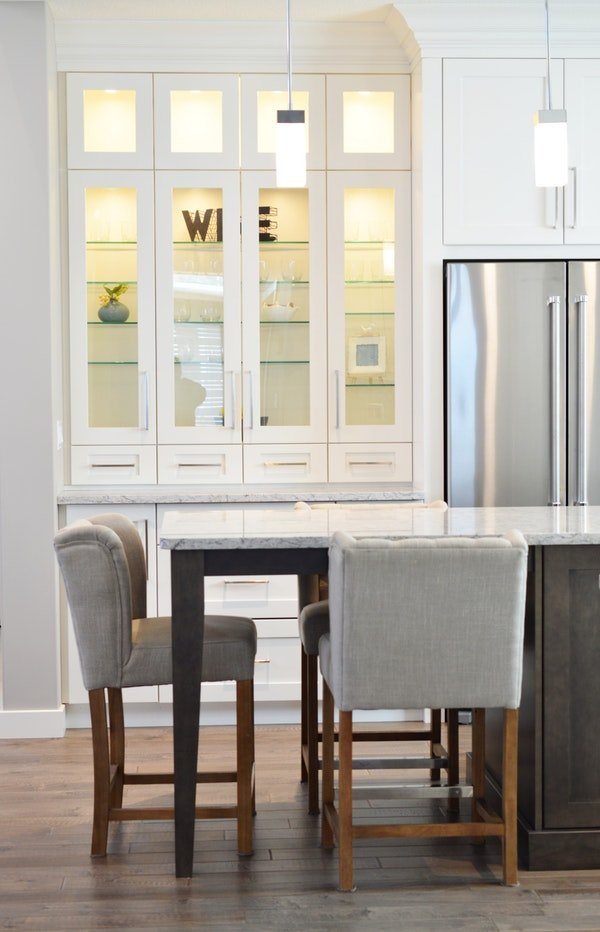 If you lack square footage for a separate dining table, the next best option is to extend your kitchen countertop to accommodate seating for dining. Make a place for at least two dining chairs. And, make sure they are placed in such a way that they utilize the area without being cramped.
9. Go for a bistro look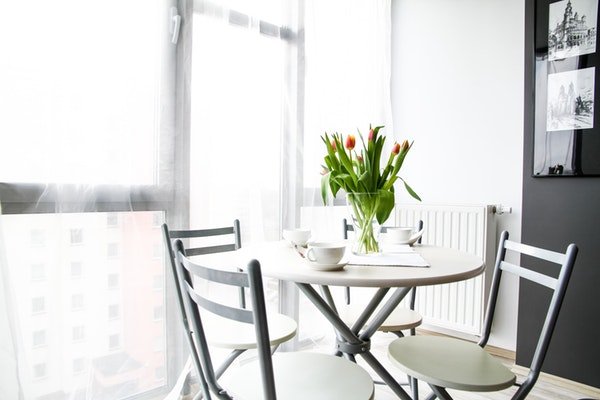 Do not have space for a large dining table? Go for a round bistro-style table. It is a chic and practical option for couples and smaller families. Here, a small table is surrounded by four metallic chairs with wooden seats — providing you the ultimate casual dining experience. The set-up maximizes space due to its simple design.
10. Invest in light-weight multi-purpose furniture
We love the idea of a rattan dining table and chairs. They are easy to move around and do not obstruct the flow of traffic even if placed next to a wall. The best thing about this dual-purpose distressed wicker furniture is that you can easily use it for the outdoors too. The oval table also houses small storage for condiments such as salt, pepper, and sauces.
11. Use the peninsula as a dining table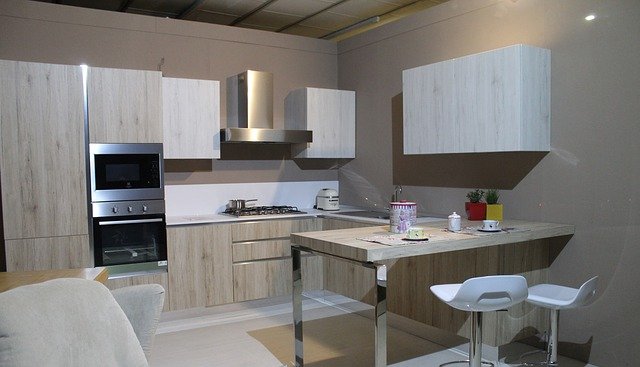 Don't let a small dining area limit you. It's best to utilize every inch of space by adding functional elements. This dining table is actually a peninsula. Its design is minimalistic — taking up very little floor space. Since the cabinetry of the kitchen matches this table, the area gets a cohesive, uniform look.
12. Invest in size adjustable dining table
Investing in functional furniture is a great idea for small dining rooms. Think extendable dining table. If you want to make incredible use of space, such space-saving furniture is ideal for hosting dinner parties. It can be made smaller to save area when not in use. Look at this small table. Its innovative design lets it expand to seat up to eight people!
13. Go for banquette-style seating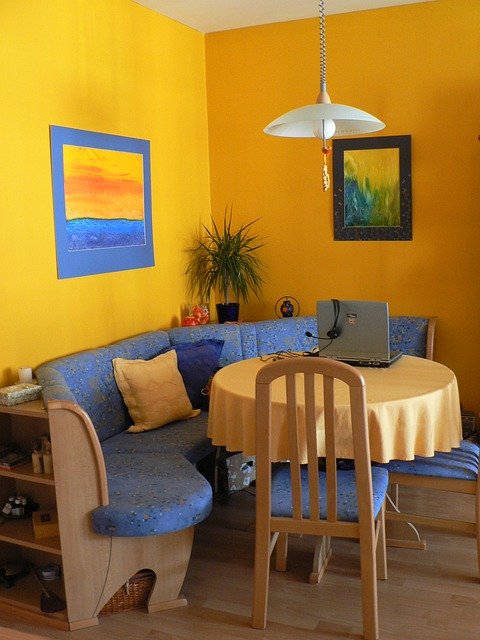 This practical tip is for those who want to double up their dining area as a small living room. The unique banquette design with dining chairs and a round table efficiently use space and seats more than two people. The matching upholstery and bright wall colors make this room full of warmth and comfort. This lounge area is a perfect place for mini get-togethers with friends and family.
14. Fit a dining table in the living area and make it stand out
If having a separate dining area comes at a premium for you, do not fret. Just place a small dining table in the living area and demarcate the space with home decor ideas. For instance, the homeowner has put an eye-catching rug under the dining table set to give it a separate personality.
15. Invest in a wall-mounted mirror for the dining space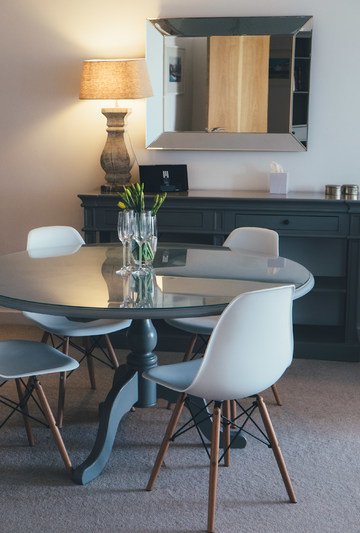 Installing a mirror is the perfect visual trickery to make any small room appear bigger: A mirror's reflection is great for creating extra space optically and bounces light around the room — making it brighter and airier.
Read more: Decor ideas for dining room by front door
Final thoughts
With these practical and clever tips and tricks, you can turn your small dining room into a focal point of your house easily. These dining room designs for small spaces will make the area appear larger, maximize your square footage, help the flow of traffic, and facilitate good storage.
Read more: Simple And Clever Space Saving Ideas For Small Kitchens
15 Best Dining Room Designs & Ideas for Small Spaces
was last modified:
September 26th, 2022
by
Recommended