14 Simple Yet Practical Small Front Porch Ideas
Your front porch is like an extension of your house — giving your guests the first glimpse of what lies ahead. We won't be wrong when we say that it's as important as the rest of your home. That's why we've put together a comprehensive list of 14 of the most practical small front porch ideas to inspire you.
These porch decor and design ideas will not only elevate your home's curb appeal and its aesthetic value but will help you create a cozy corner for sipping your morning cuppa. And, you can do all this without breaking the bank.
We hope these small front porch ideas create a wonderful entrance to your home. After all, even a small porch can look stunning and inviting — besides shielding you from harsh weather conditions.
So, let's turn your compact outdoor living area into a beautiful haven with a little creativity and effort. You can use the minimal square footage to your advantage with these inspiring front porch decorating ideas. Let's begin!
1. Let there be flowers and leaves
Nothing makes a porch look more welcoming than plants. Even a tiny porch feels luxurious and happy with a lot of flowers and leaves all over the place. Bring in the climbing greenery, perennial flowers, ceramic pots and turn this special place into the ultimate outdoor oasis.
2. Decorate your front door with a wreath
Who says you can only hang seasonal wreaths? This wreath, made with leaves and flowers, can help decorate your front porch in all seasons. What's more, you can keep customizing it to the colors of the month. We especially love the cathedral door and the symmetrical placement of plants and cozy outdoor furniture. All of them contribute to an overall homey vibe.
3. Paint your front door bold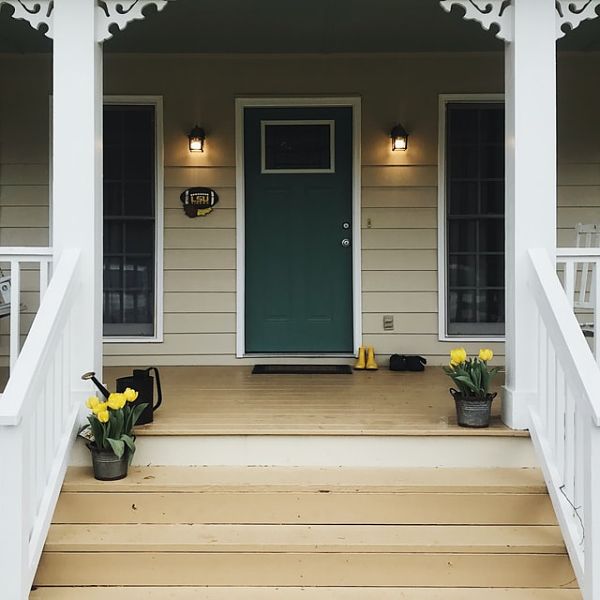 Sometimes, on a small porch, you only need a focal point to create a sense of visual grandeur. This bright green-colored door is the perfect showstopper — adding an exquisite quality to the otherwise simplistic porch decor. The elegant outdoor lighting and the unique metallic planters make this small area neat and beautiful.
Read more: Sunroom financing: Patio enclosures financing & loan options
4. Invest in comfortable outdoor furniture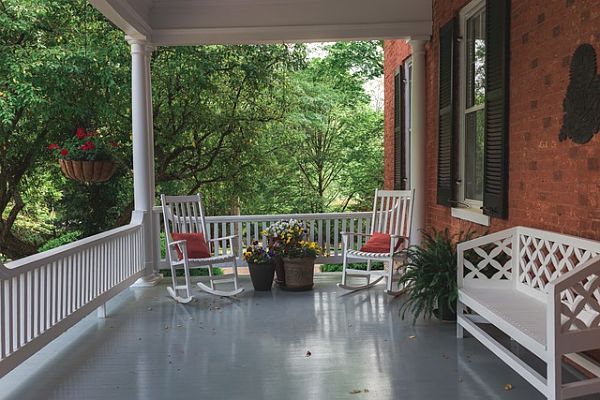 There's a reason why most home dwellers prefer to have rocking chairs in their small porches and patios. These are fun and relaxing too, and require little or no cushioning. Most importantly, they are weather-resistant. Apart from the rockers, you can have a bench in the same color. The arrangement will create a cozy seating area — like a tiny outdoor living room!
5. Have a brick facade
If you have a really small porch with not much scope for an elaborate decorating idea, you can let its wall do the talking. This brick wall facade, along with a brick floor and iron porch railings, gives the area a cohesive look. We love how the planters and wreath add their bit to the porch decor.
Read more: Brick walkway maintenance tricks
6. Showcase your quirky collection
With the right small front porch ideas, you can unleash your inner creativity. For instance, you can use a worn, rustic table and turn it into an outdoor seat or a platform to showcase your knick-knacks. We love the paraphernalia of candles, bunch of flowers, planters and cushions. They offer a glimpse into your home decor, and your vibrant personality.
7. Create a slightly elevated porch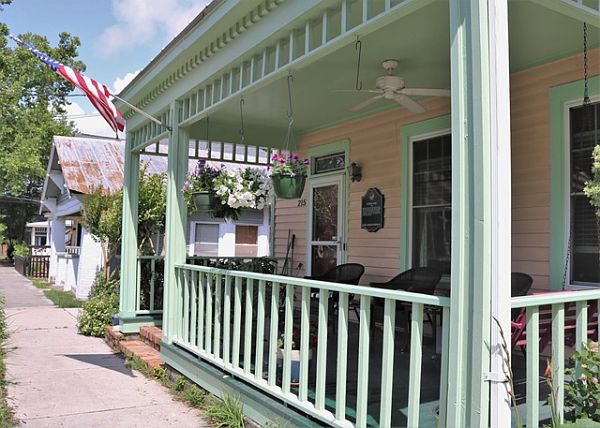 You can make your tiny porch stand out by elevating it a little and enclosing it within porch railings. Let the small space open onto the grounds with the help of two or three brick or stone steps. The whole idea is to give your porch a personality. You can further enhance the look with hanging planters or baskets.
Also note how the matching neutral color palette increases a sense of cohesion and creates a feeling that your small front porch is bigger than its actual footprint.
Read more: Lanai porch
8. Grab attention with a dark porch decor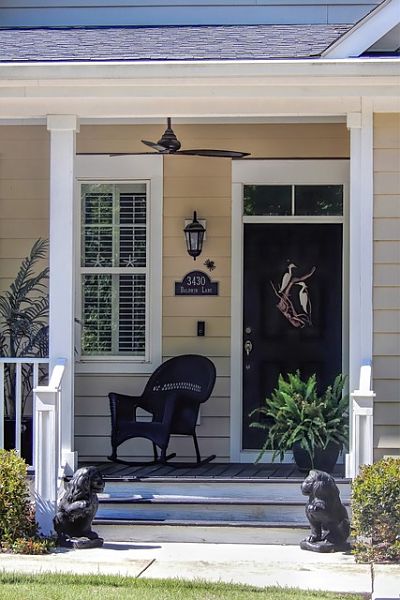 Here, everything — from the ceiling fan to the rocker and the light fixtures — is black. By using similar color schemes or architectural details throughout, you can nicely connect the outdoor space.
We love how the monochromatic scheme brings out a uniformity in the small front porch.
9. Put up an eye-catching banner
If you want your porch to look inviting, well, you can have banners that literally announce that fact. The WELCOME banner, placed strategically on a concrete floor, is the only thing in this porch that's flamboyant — while the white rocker silently watches on! When decorating your little front porch, do remember that too much stuff can easily distract from the small space. So, keep it simple.
10. Install a porch swing
Sometimes, a porch swing is all you need to create a relaxing retreat. Just unwind with your favorite book and a hot cup of coffee. And, if your porch happens to open up into the expansive wilderness, you can sit here the whole day — appreciating Mother Nature.
We like how the porch steps lead to a walkway with stone pavers that amp up the style of the entire house.
11. Place high stools and table for the perfect al fresco experience
You don't need to have a large porch to enjoy its full potential. For example, if you're fond of al-fresco dining, you can creatively utilize your porch.
Choose a small round bistro table and place a pair of high chairs — and you're set. Your very own small eating nook is ready.
12. Enjoy old-world charm with wrought iron furniture
We love how the ornate wrought iron furniture adds a visually dramatic appeal to this outdoor living space. That, combined with a cathedral-style steel door and stone walls, gives the porch an incredible sense of space and warmth. You can use your front porch to show off your favorite antique pieces. After all, they will be the first things your guests will see when they visit you.
13. Make your porch vibrant with a rug
An area rug underfoot will give your porch a cozier feel. Try to jazz up the space with a floor covering that's vibrant in color. And, of course, match it with the rest of the decor. There's something really fun about this cushioned wicker couch, the rustic bench, and the bright carpet. Trust us, you will want to bask in the sunlight at this sitting area as much as possible.
Read more: How to clean front porch concrete
14. Give attention to your porch floor
The white and gray flooring with stripes seem to complement the rest of the porch beautifully. The resulting effect is clean, simple, and classic. Always remember that a streamlined, symmetrical design goes a long way in making a small front porch appear larger. The identical potted plants help further in giving your porch a balanced look.
Read more: Porch support posts
Last words
Nothing welcomes your guests as graciously as a great front porch design. When decorating or designing your small porch, do make sure that the space draws the eye without appearing too busy.
The look of your porch and front entry should complement your house and your landscaping design. With the right small front porch idea, you can create a beautiful balance of outdoor harmony.
Read more: Tiny home cost
14 Simple Yet Practical Small Front Porch Ideas
was last modified:
October 14th, 2022
by
Recommended