Cool tiny home kitchen ideas to make the most of your space
Size doesn't always matter! A small kitchen, despite its limited square footage, can still be the most practical, efficient cooking space. It can be stylish as well as organized. All you need are some good tiny home kitchen ideas for inspiration.
You can easily create the look and feel of a standard size kitchen in a small area by making use of the right type of storage solutions, décor accents, light fixtures, and kitchen appliances.
Keep in mind that the minimum size for a single-cook kitchen should be at least 42 inches. The recommended distance between the main kitchen work areas should be a minimum of 4 feet and a maximum of 9 feet. Of course, how much space you devote to your kitchen depends on your needs and the kitchen design you have in mind.
For example, a 10-by-12 kitchen may have limited floor space but it can have good efficiency, aesthetics, and vibes.
Whether you're designing a small house or want minimum cooking space, great tiny house kitchens ideas can help you add function, utility, and style to your space, irrespective of the size.
We've collected some inspirational tiny home kitchen ideas that will ensure that there isn't any wasted space or clutter in your dream kitchen.
Utilize white subway tiles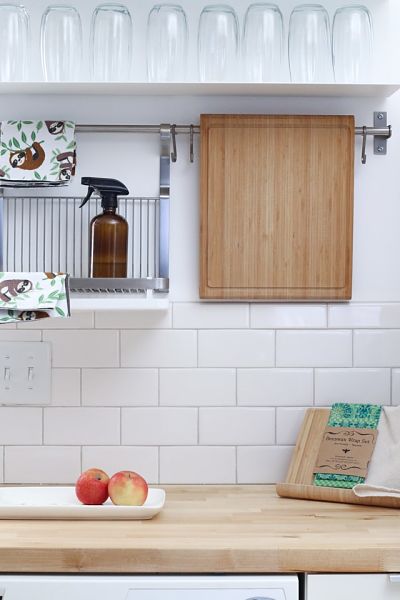 Subway tiles, especially white tiles, are a timeless choice. They give a beautiful structure to your kitchen while keeping things simple and neat. Just make sure to install matching white cabinetry and white countertop for a streamlined look.
Add a rustic touch with wood accents
Who says a tiny kitchen cannot look rich or warm? We certainly don't. You can add a charming touch with rustic accents around your tiny space — right from a hardwood floor to a butcher's block countertop and a shiplap ceiling that allows you to hang mugs, pots, and pans.
Strategically place full-size appliances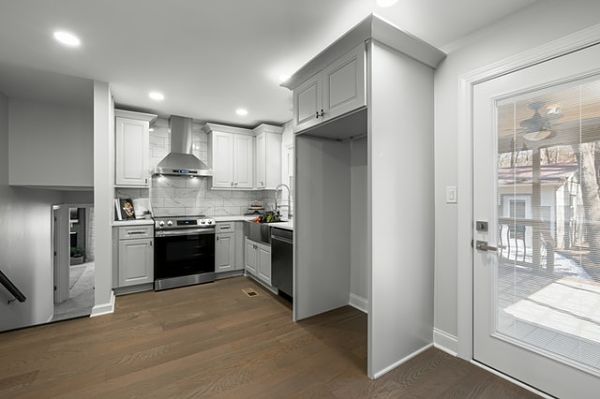 A tiny kitchen can still have plenty of space to accommodate a full-size refrigerator, a dishwasher, a range hood, an oven, and a large kitchen sink. You need to place them in a way that doesn't come in the way of your meal prep or kitchen work triangle.
Install huge windows for brightness
A bright kitchen will not only appear bigger than its actual size, but it will also be more inviting. Apart from installing sufficient light fixtures, you should try to include a big window that will single-handedly make your cooking space more cheerful. For example, you could add a picture window above the kitchen sink or a skylight. A light-filled tiny house kitchen will have a dose of chic warmth that's as useful as it's beautiful.
Get clever storage solutions
You need good storage space in your tiny kitchen. Period. We understand that space comes at a premium in a small living area but you must try to incorporate a mix of closed cabinets, open shelving, and if possible a pantry cabinet in your tiny house kitchen. The abundance of storage will appeal to any prospective home buyer too.
Design a galley kitchen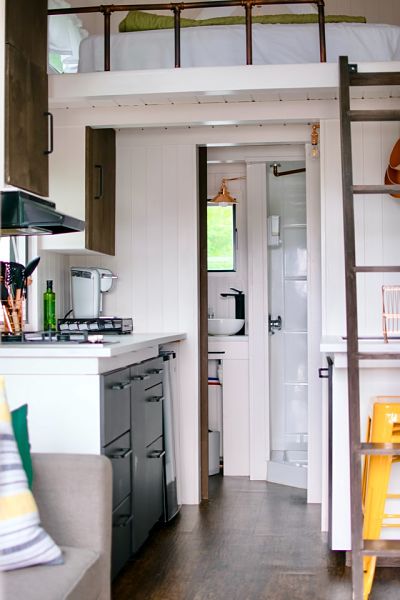 You can create a galley-style kitchen with cabinets on both sides of the space. Such a clever tiny house kitchen design will help you create more counter space. Also, it's a good idea to choose light-colored cabinets and countertops to make the area look spacious.
Get a countertop that doubles as a breakfast nook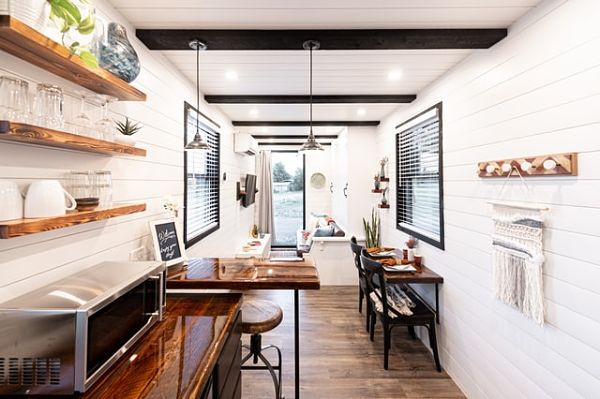 There's no dearth of good tiny home kitchen ideas if you know where to look. Take for example a long countertop or a kitchen peninsula that can do double duty as a dining table. Such an arrangement can comfortably accommodate three to four people. And, you'll not require a separate dining area.
Go modern with stainless steel appliances
If you're looking for a clean, clutter-free look, get stainless steel kitchen appliances. Right from a steel floor-to-ceiling refrigerator to a steel dishwasher and sink, your kitchen will look spick and span. Plus, the material is easy to clean too.
Design a U-shaped kitchen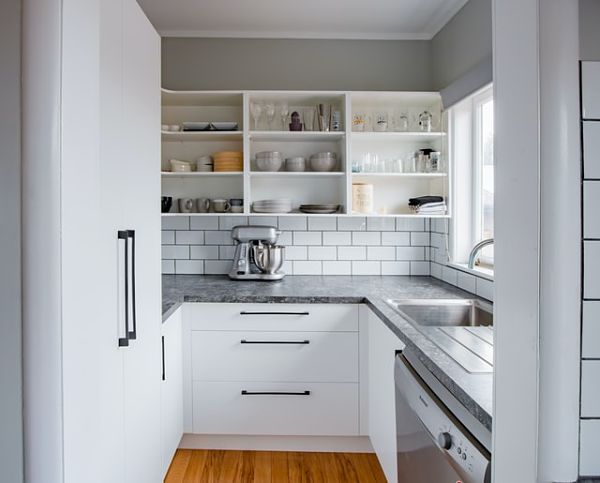 A U-shaped kitchen is easy to design regardless of the kitchen size. Such a kitchen layout provides you with a good amount of space on three sides, with the fourth leading to the living room or a patio. What's more, the floor plan allows the cook to work with ease. On one side, instead of cabinets, you can include a breakfast bar or a dinette that seats at least four people — two on a small bench and two on bar stools.
Choose cool cabinet colors
The trick to make your small kitchen space look cheerful and airy is to paint your cabinets in cool hues. Think avocado green, powder blue, or light grey. You can make the space even more inviting by adding stylish touches to your kitchen decor such as hanging Edison bulbs or leather pull-tabs on the cabinets.
Read more: Top 6 kitchen cabinet colors for small kitchens
Go for quality
A tiny house kitchen layout can definitely ooze an air of luxury. The best part about remodeling a small kitchen is that you don't have a huge space to work on. Outfitting a tiny kitchen is not nearly as expensive as a standard-sized kitchen. That's why you can select quality finishes, including hardwood flooring, brass fittings, and marble countertops for your tiny house design.
Create a stove nook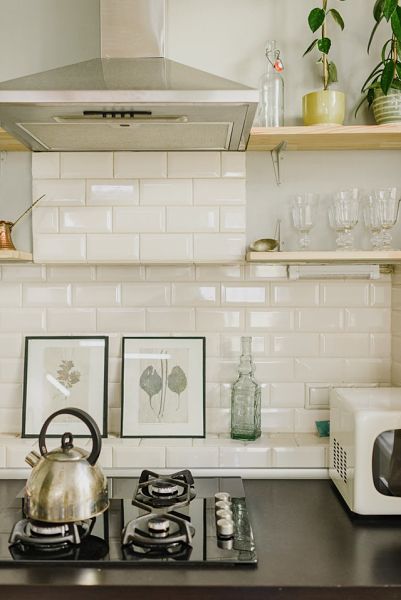 Never keep any area in a small kitchen underutilized. This includes the space under the stove hood. You could add an extra shelf for your cookbooks or even a spice rack. Make sure you pick something that's small enough yet serves its purpose.
Read more: Container homes
Last thoughts
These design concepts beautifully utilize a small space while making it incredibly efficient. The idea behind tiny house living is to encourage minimalism while doing more with less.
Like the rest of your tiny house, your kitchen should also be utilitarian, smart, and compact. That's why it's important to choose the best tiny home kitchen ideas that help you get the most out of your kitchen design.
Read more: How much does a tiny home cost?
Cool tiny home kitchen ideas to make the most of your space
was last modified:
December 17th, 2021
by
Recommended