A galley kitchen is one of the most effective types of kitchen layouts, especially when you have a narrow space at your disposal. The set-up optimizes storage space, offers plenty of work area, and promotes efficient cooking as well as traffic flow.
What is a galley kitchen?
A galley style kitchen design (deriving its name from the compact galleys found on ships) comprises two rows of parallel-running cabinetry that are set opposite each other with a narrow corridor in between. It usually features doors or walkways at either end of the run.
You can construct it as an altogether separate entity or as a part of larger living space. And if you own a small kitchen, this might be the perfect option for you. Such a layout optimizes a small space by offering an abundance of storage and work area.
Also know that a galley layout, while ideal on a functional level, is usually an enclosed space without a dining area. That means that there's no possibility of opening up your space further. Needless to say, it's potentially not the most sociable of arrangements.
However, the galley kitchen layout works well for all kitchen styles. And, it's the most preferred kitchen interior design by professional chefs as it enhances both efficiency and safety during cooking.
If you are planning to include this style in your next kitchen remodel, here are some important tips that shall help you design an efficient layout.
1. Incorporate your galley kitchen layout into an open plan
As we already mentioned, a traditional galley kitchen is the best fit when you have limited space. However, do note that they also work well for medium-sized kitchens. The only factor you need to consider is, the opposing units should not be too far apart. Otherwise, the efficiency will be ruined.
As this layout typically features an enclosed space without a dining area, you can always incorporate it in an open-plan layout. This ensures that you get the best of both worlds. And, your kitchen feels like a part of your living room during all your social gatherings.
Pro tip: Incorporate a galley layout with a kitchen island and a seating area — for perfect utilization of available square footage.
2. Choose between symmetrical or asymmetrical galley kitchen layout
While designing your kitchen layout, based on the multiple galley style kitchen ideas available on the market, you may go for either a symmetrical or asymmetrical arrangement.
In the former option, each unit mirrors the other in terms of appliance placement and cabinet heights. Whereas in the latter scenario, you can use any approach.
Pro tip: Place tall cabinets or a bank of appliances on one edge. The other side can have a counter space area, complete with sink and faucet, stove, and oven.
3. Mix and match storage units
Sometimes, especially in a quite narrow kitchen, you might have to break the run of the parallel units. It's best to avoid a "corridor look" by mixing different types of storage units. Instead of all tall units on both sides, try replacing them with a mix of wall units and open shelves.
For example, if your wall has a length of only 12 feet, you may keep base cabinet units on both sides. Mix and match your storage with floating and open shelving so that you make maximum use of vertical spaces.
Pro tip: Organize the kitchen cabinets and leave openings in between where you can place larger appliances such as the refrigerator or oven and cooktop. Give preference to glass-front cabinetry for a neater look.
4. Consider adding an island for a galley-style kitchen
We had already mentioned that a small galley kitchen design is not the ideal option for hosting social gatherings. However, if you're blessed with a large galley-style kitchen, you can tackle this issue by including an island.
It will also offer you an opportunity for additional storage space.
Pro tip: Use the island as a replacement for one of the runs instead of cramping your kitchen between the two parallel runs. This arrangement enhances the overall appeal of the kitchen and increases its functionality.
Read more: DIY breakfast bar
5. Create an illusion of space with the right color scheme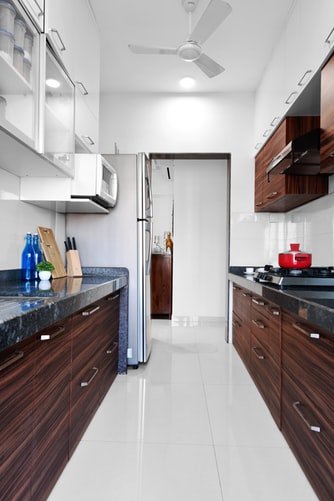 Photo by HomeLane .com on Unsplash CC0
If you want to prevent your galley style kitchen layout from looking cramped, you need to implement the right design ideas. One of them is to pick the right kitchen color schemes. For example, light colors not only reflect light but also create an illusion of a spacious, modern kitchen.
Pro tip: Keep the kitchen hardware (handles and pulls) to the minimum. Their absence will add extra volume utilization and give a neat, clean look to your small space.
6. Keep your kitchen sink and cooktop on the same run
We understand that your galley kitchen may or may not be closed off at one end. In case it leads to another room or your garden, you can expect it to be a thoroughfare with heavy traffic.
This may become a problem if you have small children or pets. The last thing you'll want is to have them charging through the kitchen while you have a sharp knife or a pan of boiling water in your hand.
For a narrow kitchen, it's a good idea to plan your kitchen sink and cooktop on the same run. This layout will keep your appliances in one area, and you won't have to move around much with potentially dangerous items in your hands.
Pro tip: Note the distance between the sink and the kitchen cooktop. They should at least be 3 feet apart so that there's enough kitchen work area.
7. Choose the right kitchen lighting
Installing the right kitchen lighting is quite important. Well-placed pendant lights and oversized lighting shall not only lead to a gorgeous galley kitchen but also make your space feel more open and larger. Also, the right lighting will soften your kitchen's look — creating the impression of more space.
Pro tip: Consider adding a window or a large door at the end of the narrow kitchen. It will bring in a lot of natural light into the room while offering good ventilation.
It's a good design idea, especially if you're in the habit of looking out the window as you wash the dishes.
8. Keep your appliance size and shape in mind
If you're planning a galley kitchen, you need to keep the measurements for your appliances in mind and the amount of space they'll take up as well. As most galley kitchens have limited square footage, planning how to incorporate your appliances is important.
Pro tip: Know the specs of your appliances before installing them. And, make sure that the main appliances — sink, refrigerator, and stove — fit in easily. They should either form an efficient work triangle or be placed close to one another in a row.
9. Add seating
Sometimes if there's not enough space for a full-fledged island, you can incorporate a small peninsula or a breakfast bar. Add in some functional seating and create your mini dining space.
However, you need to be aware that while it will give a nice, warm vibe to your galley kitchen, such a design might limit your work area.
Pro tip: Add a small cart as an extra work surface. This effective alternative will help make your kitchen more efficient.
Conclusion
A galley kitchen is a great kitchen layout design, especially if you don't have a lot of space or if your house is built more longish than wide. It's also the perfect solution for smaller apartments.
And sometimes, bigger isn't always better. Get inspired by our galley kitchen tips and let these U-shaped layouts offer you style and functionality.
9 Smart Tips to Design an Efficient Galley Kitchen
was last modified:
March 7th, 2023
by
Recommended