Choosing a toilet for your bathroom can be an overwhelming task. Of course, the first factor is your budget and how much the new toilet will add to your total bathroom remodel cost. However, there are several other factors that come into play as well. With so many sizes, configurations, and sizes available, your new commode should be able to meet all your requirements. Now, if you are not sure about what parameters you should consider for your next toilet purchase, go through this guide that entails expert tips on how to choose a toilet — which shall ensure you have a satisfactory buying experience.
Consider the Toilet Configuration
The first step to take before getting a new toilet is to calculate the size of your bathroom. Measure the rough-in distance — which is the length between the floor drain and the wall. You should consider a standard length of 12 inches, but you can also tweak it to measure anywhere between 10 to 14 inches, depending on the space available. Once this number is final, choose the bowl shape, toilet height, and style.
Toilet Bowl Shape
Elongated Bowls
Elongated toilets feature a bowl that extends out more toward the front for extra comfort. It takes up more space in your bathroom and is perfect if you have the luxury of more space.
Read more: Elongated Vs Round Toilet: Which One Is Better?
Round Bowls

This category of toilet bowl — as the name suggests — comes with a round, compact design. It takes up less space and is best for small bathrooms.
Read more: Small bathroom layouts from architect
Toilet Height
For standard toilets, the ADA-approved height for toilets is 15 inches off the floor. The rim or seat ring adds an extra 1 or 1½ inches. For more comfort, you can go for a taller toilet, up to 17 inches, if you have the luxury of space in your bathroom.
Read more: How To Remove Toilet Seat With Hidden Fixings?
Toilet Style
Two-Piece Toilet
Two-piece toilets feature a separate tank and bowl as two different units. This is the most common and economical option in households. The market for replacement parts also provides several options, making it easy for you when you remodel your bathroom.
One-Piece Toilets
One-piece toilets feature a single unit that fuses together the tank and bowl. This is a more expensive option but utilizes less space. It is also easier to clean and gives a sleek look to your bathroom.
Wall-Hung Toilets
As the name suggests, this type of toilet is installed directly on the wall — thereby, requiring no base. It is quite convenient for individuals on wheelchairs or walkers. However, the cost is comparatively higher and the drainage fixtures must be present on the wall. It is also easy to clean.
Consider Water-Saving Toilets
In order to conserve water, the current American regulations — after 1994 — don't allow more than 1.6 gallons per flush (GPF). This is less than 50% of the water used by older models. Therefore, this is another important factor to take into account when you ask the question — how to choose a toilet for your bathroom? Installing a modern hydraulic system not only helps in water conservation, but also reduces your water bills. The latest flushing technologies effectively clean toilets and remove clogs without wasting much water. Therefore, go for a model that has been preferably manufactured after 1994 and features a low-volume flush mechanism.
High-Efficiency Toilets (HETs)
HETs provide a flush rate of 1.28 GPF, ensuring 20% more water saving capacity than toilets with 1.6 GPF.
Ultra-High Efficiency Toilets (UHETs)
UHETs provide a still higher flush rate of 1.0 GPF, ensuring maximum water conservation.
Dual-Flush Toilets
Dual flush toilets offer you the option to choose the amount of water per flush. They come with two buttons fixed over the tank — allowing you to either choose partial flush for liquid waste and a full flush for solid waste.
In either case, go for a model with ratings which promise high efficiency — i.e the ability to remove waste and clogs — with minimum water usage. Higher numerical values definitely mean the best performance in terms of waste disposal.
Read more: Replacing Toilet Water Line In 6 Steps
Understand Flushing Mechanisms
Gravity-Feed Toilets
Here, the flush valve is controlled by gravity. The water is fulled by gravitational force from the tank into the bowl — removing waste via connected drain pipes. They require minimal water pressure and are less noisy as compared to pressure-assisted models.
Pressure-Assisted Toilets
This category of toilets works on the generation of pressure when the air is compressed by water within the tank. The excess pressure forces out waste through the drain pipe. It requires high water pressure –minimum 25 pounds per square inch — to function without any issues. Pressure-assisted toilets comparatively consume less water but are noisier than gravity-feed models.
Research on Additional Modern Innovations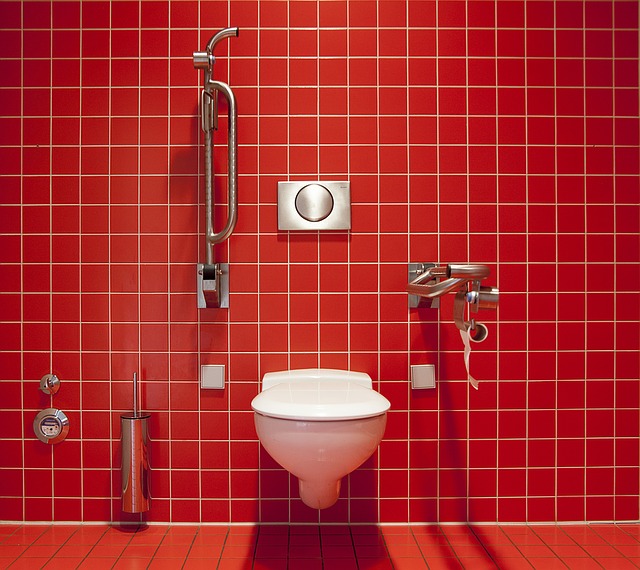 Pixabay
Trap Ways
Trap ways are the bends behind the bowl at the back of the toilet. These are the most difficult areas to clean. The market now offers you options for concealed trap ways — which feature a smooth surface where the trap way would generally appear. There are also skirted trap ways — that come with a clean line between the front and back of the toilet. Both of these options make your cleaning job easier so that your bathroom remains clean and shiny.
Touch-less Flushing
Touch-less technology enables you to flush a toilet with the help of a sensor. You don't need to touch the button, but just wave your hand and the waste will be flushed away automatically.
Color
Apart from the traditional white, commodes are now available in a wide range of exotic shades — including blue, peach, red, green, golden, and others. Choose a color that goes with the rest of the bathroom and won't fade away with time.
Water Supply Line
You can go for a braided, flexible stainless steel water supply line, rather than the normal chrome-plated copper lines. This material will minimize the need for future repairs and the occurrence of frequent leaks. You can also fix a water shutoff valve so that when your toilet overflows, you can simply cut the water supply to the toilet, without affecting the entire house.
Conclusion
Usually, people find that when they buy a toilet, a higher price tag always doesn't mean superior, efficient performance. You can also go for a mid-priced model which helps you in maximum conservation of water and still delivers the best efficiency. Keeping these important factors in mind, follow the above pointers on how to choose a toilet, and arrive at a final decision.
Read more: How to Pick Good Bathroom Sink Faucets?
How to Choose a Toilet for Your Bathroom: Tips from Experts
was last modified:
July 11th, 2022
by
Recommended