How to Create the Perfect Living Room Dining Room Combo
In larger houses, meals and entertainment are enjoyed in separate rooms. However, due to the increased surge of small spaces, all areas must converge into a functional living room dining room combo. Here are some proven strategies to nail the spatial distribution in a small living room dining room combo — by using panels, window treatments or curtains, furniture arrangement, or by means of applying visual tricks and optimizing floor space. All this helps physically or visually to separate the space without breaking the continuity with the other environment.
If you integrate the dining room into the living room, the result should be two independent environments which at the same time combine and complement with harmony. Therefore, direct contact should not generate discordances.
It is advisable that the division is given by physical elements (panels or curtains), the placement of furniture (shelves, sofas, kitchen islands, etc) or other visual tricks, like using different colors or materials in each of the spaces we want to define.
Ease of Movement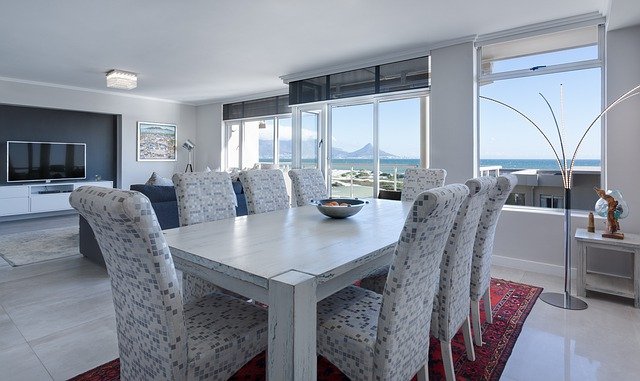 The first thing you should do is decide on a choice of decorative style. Then you must have the exact measurements of the room so that the passage between the furniture arrangement is easy.
For a good distribution, you must take into account not only the space and the utility that you want to give to the environment but also comfortable movement of people around the area and the transition from inside to the outside in your space. Pay attention to the location of doors and windows — with respect to the different light sources (daylight or artificial light). The circulation of air and light are very vital in a small living room and dining room combo. Do not block them.
Before making the physical arrangements, take time to design different distributions on paper. Make an on-scale plan and try all possible options. Note that the flows of circulation (the "paths" or open areas that remain around) must be clearly defined, passing by the furniture but never crossing them.
The second thing you need to look into is your budget if you are planning any major structural change. Know your dining room renovation cost estimate before you begin any work. It helps to keep your remodeling easy and well-informed.
Furniture Distribution
To start with, you can define the space of the room using a sofa, extra seating, and some entertainment center. The sofa can be placed towards the entertainment center — with its back to the dining area; this way the sofa acts as a barrier. Another way to organize the living room is based on one or more chairs placed around a low central table.
Couches are very good if you add some other complementary seats: an old chair, an armchair or a beanbag chair. The arrangement of chairs and seats around the central table should not stray too far from a form of "U" or "L" according to the space available and the definition of the room itself.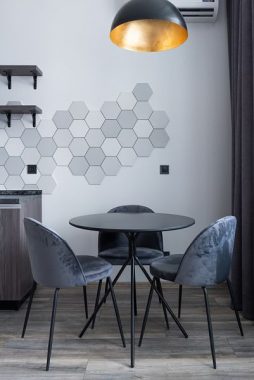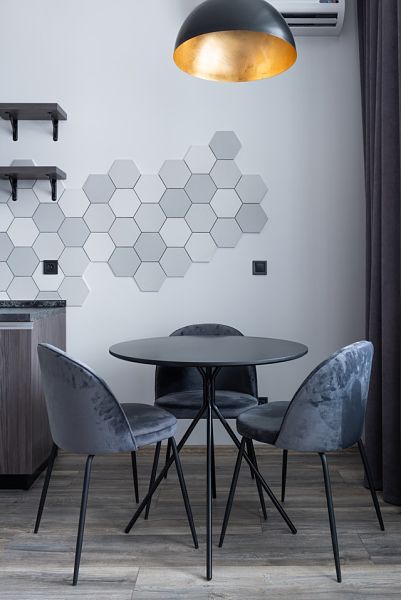 Visual Separations in a Living Room Dining Room Combo
1. Use Shelves
An open library is a perfect choice to link two separate rooms or spaces without interfering the visual communication between them; the height of the element will give more or less privacy. A shelf or modular furniture that is hollow on both sides is ideal as it lets light through, avoids darkened areas in the house and generates a feeling of greater amplitude.
2. Open Up the Kitchen
When there are no partitions, it is imperative to give special care to the working area of the kitchen so that it is integrated into the whole decor. Maintaining harmony promotes continuity between spaces. However, to make a difference between the environments, you can play with special coatings for the floor and walls or with height differences.
3. Use Decorative Panels
One way to separate environments without using walls or heavy furniture is by using decorative panels. There are a lot of panels, from fixed to mobile, which can be run and drawn back. If you want something mobile that can move around whenever needed, the ideal way is to use a screen.
4. Use Sliding Doors
Today a suggestion that is widely used to separate areas in a practical way is the sliding doors that act almost like a wall, closing the room from side to side. This allows us to close the area when we want to enjoy more privacy.
5. Separate Kitchen from Dining Room with a Kitchen Island or Bar
Having an open kitchen is a luxury because it allows us to cook and serve the guests in the same space. One way to visually divide the space between the kitchen and the living room is with a kitchen island. Another option is given by the union of the kitchen to the living room by having a bar with stools; thus it is possible to create a buffer zone between the two rooms which functions as a kind of dining area.
The downside would be that the bar is too small: in that case, a folding table could be added. For an installation of this type, it is important that the kitchen has good ventilation; otherwise, the invasion of odors into the living room could be dreadful.
Ideas for a Small Living Room Dining Room Combo Layout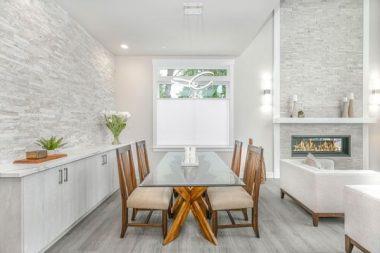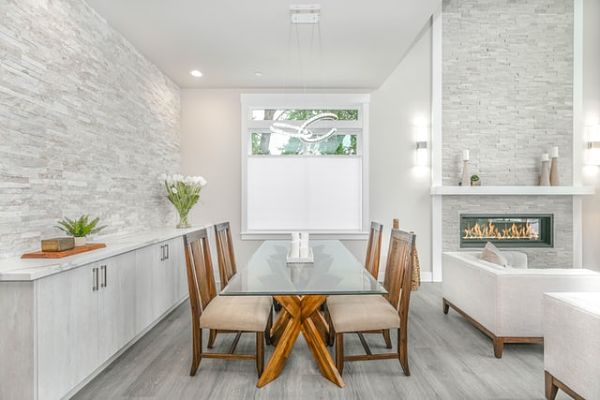 If you own a small living room, combining it with a dining area can make the space feel cramped. In such a scenario, you can use the following ideas:
1. Paint your walls in a light shade, preferably white or cream. Go for light shades in your furnishings as well.
2. Place mirrors in a smart arrangement. For example, if you fix an ornamental mirror just opposite to a large window, you will not only create visual interest but shall also allow reflection of natural daylight.
3. Select small pieces of furniture with built-in storage. Examples are a trunk or storage ottoman as a coffee table. Add functional drawers instead of a console table.
4. Pick small-scale furniture such as settees, love seats, and small chairs that match with the existing layout. Go for contemporary sectionals with clean, straight lines. You can even pick up a backless sofa.
5. Utilize the vertical spaces. For example, if you have a high ceiling, decorate the wall with a striking art gallery.
Final Tips for the Perfect Living Room Dining Room Combo
A long table and chairs or a smaller round table will make your room look larger.
Be careful not to overdo the living room dining room combo decor; the lesser the number of items in the room, the lighter the atmosphere will be. Consequently, the room will appear to be larger. This is a principle that many people overlook.
Among the dining table and furniture or nearest wall, there must be a distance of at least 35 inches, although the ideal distance is about 50 inches to allow circulation around the table while it is being used.
Use a pillar or a change of ceiling height or floor on your favor to underline the distribution of areas.
Conclusion
This article gives a lot of visual ideas, tips, and tricks on how to achieve the perfect space distribution in a living room dining room combo. You can physically or visually separate the space in between without breaking its continuity. Use any of the above strategies and make your living space comfortable and stylish.
MORE: How To Arrange Living Room Furniture (With blueprints from an architect).
How to Create the Perfect Living Room Dining Room Combo
was last modified:
July 18th, 2023
by
Recommended