Designing rooms for children can be quite a handful. But imagine having to design a room for two kids! The very thought of it is enough to make parents' heads spin. Well, breathe easy, because we've got your back. These creative and fun shared kids room ideas that we've compiled for you ought to help you design a vibrant yet practical shared space for your kids.
The classic bunk bed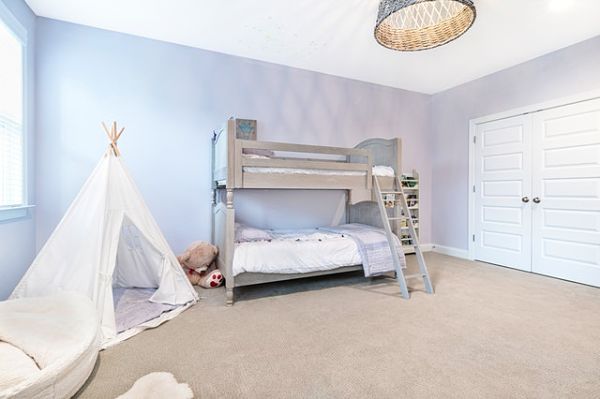 Bunk beds are a timeless favorite across many households. This setup is especially space friendly, since it takes up the area of a single bed, with the other bed being directly on top of the first one.
This leaves space in the room for a clothes cabinet or a much-needed toy cupboard.
Choosing a bunk bed with built-in storage underneath the bottom bunk is an effective way to make more space.
Wooden bunk beds are beautiful, with clean lines giving the woodgrain a modern look.
A soft floor carpet with bold colors makes the perfect flooring for the play area in the center of the room.
Want to engage your kids' imagination at bedtime? A backlit map of the world on the ceiling is sure to do the job.
Now all you need to worry about is who gets the top bunk.
Twin beds
Do both your kids keep squabbling about wanting the same things? Well, look no further. Twin beds to the rescue.
Twin beds can be utilized in multiple ways depending on the room design.
Symmetrical twin beds on either side of the room against a wall will give you space for a clothes cupboard in between them, leaving a large part of the room open for your kids to play in.
Twin beds with pull out drawers underneath them serve double duty as both storage and bedding. Place a dresser in between them with a night lamp, and once again, you've made space for your children to play in with ample storage space.
Give your kids' shared room a more modern look by lining up your twin beds in a straight line against a wall and decking them up as day-beds.
Another great way to make space with twin beds is to arrange them in an "L" design along a corner of the room. Position their pillows towards the shared corner, so they can have night time conversations.
Add a sticky wall for them to showcase their drawings and wall art projects.
A UV sticker constellation on the roof is a great way to lull them to sleep.
Dealing with storage space
Planning bedding and a play area for two kids can be a daunting task. But planning storage for their toys, clothes, books, and other knick-knacks can be even more overwhelming. Here are some effective space hacks you could use.
Beds with built-in storage underneath are a great place to begin.
Rollaway cabinets that can fit underneath beds are another effective alternative.
Toys can be stored in chests, and the same chests can be used for playtime seating by putting cushions on them.
Room corners make ideal places for small bookshelves.
Regularly used clothes like jackets and denim can be hung off the back of doors and walls using clothes hooks.
Shelves are a great way to store toys. Teach your children to organize toys on shelves assigned to each of them. Your younger child ought to have shelves closer to the ground to store toys in, with shelves for your older child above those.
Shelves above desks and dressers are great places to store toys that might not be regularly used.
When you've got an infant and an older child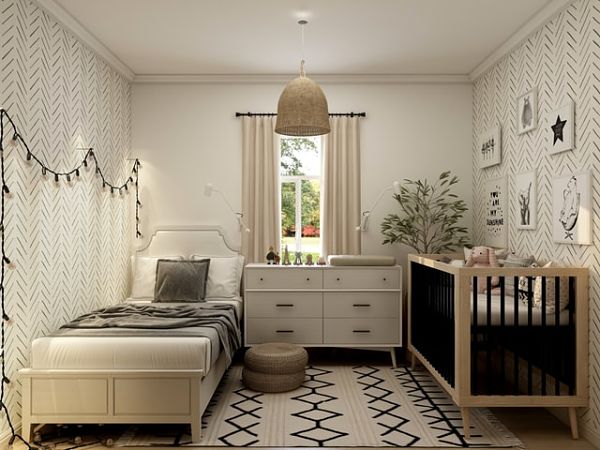 How do you design shared bedrooms for your kids when one of them is an infant? Here are some kids' bedroom ideas to help you plan.
Start with the layout of the room. You're obviously going to be tending to your youngest through the day, and through parts of the night. So place the baby's crib closest to the door, with the older child's bed at the other end of the room to avoid disturbance.
Create storage spaces for toys that are easily accessible to your older child, but safely away from the reach of your baby.
Similarly, keep the baby's toys at ground level where it's easily reachable.
Soft cushions and carpets on the floor will create a safe place for both your kids to play without hurting themselves.
Help your older child ease into the fact that the family is growing by adding pictures of the family through the years to the wall, including recent ones with the baby.
When you've got a girl and a boy
Designing an all-girls room is fairly easy. Floral patterns, pastel colors, Barbie dolls, tea sets, and dollhouses, you know the drill. Similarly, if you've got little two boys, you have race car beds, spacemen, action figures, and a lot more options to choose from when it comes to the decor. But what do you do if you've one of each?
Let's start with the ideal color palette for the room. A gender-neutral color like white, green, ivory, or yellow is ideal for the walls. Or better still, get your kids to choose a color each.
While choosing furniture like beds, we'd suggest you choose furniture with clean lines that are not themed. You don't want either child to feel ignored.
Accessorize different things in the room to suit each of their personalities. Fairy lights spelling their names above their beds, cushion covers with their favorite cartoon characters, and his and her clothes hangers are some simple innovations to make them feel special.
The same could apply even if you're color coordinating. For example, if you're using the color yellow on the bedspreads, her cushion covers could feature sunflowers, while they could feature a yellow sports car.
Get innovative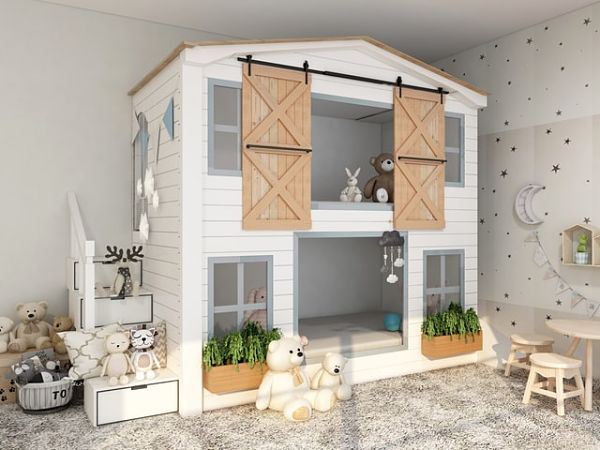 We hope these shared bedroom ideas will give you a solid foundation for you to build on while planning your children's room. Once you start, you'll realize there's a lot of scopes for you to innovate.
There are some things we'd like you to remember before you begin, just to put things in perspective.
Experts advise that kids get their rooms around the age of ten, especially if they're different sexes. So remember to plan for them to outgrow your bedroom designs before long.
Another important thing to keep in mind is that irrespective of house styles or small spaces, you will need to include sufficient floor space to create a play area in your shared kids' room.
Most importantly, remember that you're designing a space for them to feel secure in and where they'll spend a lot of their time as they grow.
Read more: 6 kids' room colors that are fun and interesting
Creative and Fun Shared Kids' Room Ideas
was last modified:
May 30th, 2022
by
Recommended