With COVID-19 cases on the rise again in some areas, you may be a bit leery about frequenting public places. Perhaps you will opt to spend much of your outdoor time on your own property. Though summer is drawing to a close, autumn will soon be upon us, which provides another opportunity to enjoy the beautiful outdoors.
Now is a great time to take a look at your yard and see how you can make it more practical for the entire family. For homeowners with children, creating a space that is youth-friendly may seem daunting. Here are four things to keep in mind to make your project successful.
Make it fun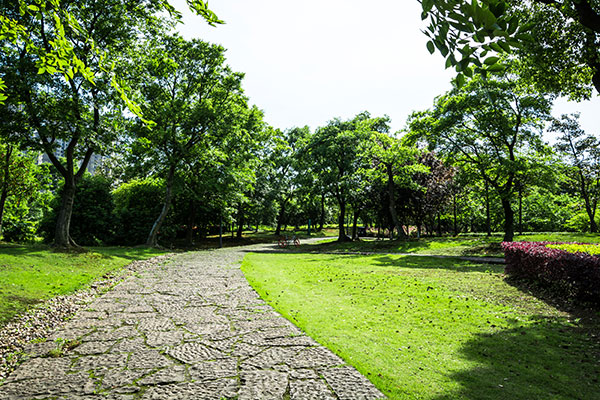 Kids just want to have fun. Some of the landscaping details that are important to adults, like fountains and walkways, are of little importance to children. What they are really looking for are opportunities to enjoy themselves.
To prioritize fun for your youngsters, consider incorporating features like a swing set, sandbox, playhouse, or treehouse. Such additions will provide your children with hours of fun. They'll be able to create memories that will last a lifetime, not only with you but with the rest of the neighborhood children.
If you have a smaller space to work with, you might steer away from large items like swing sets or treehouses, but you can still ensure that your children are able to enjoy your outdoor living space with multifunctional components like a chalkboard wall. Incorporating this feature for your children will not take up any space outdoors, as you can attach it to an existing fence or have it built into a new fence if you are in the early stages of upgrading your yard. It may seem like a simple addition, but the opportunities for using an outdoor chalkboard are limitless, and might even come in handy for adults.
Read more: Low maintenance plants for fence line
Make it stylish
While you do want to create a space that your children will enjoy, you also want to make the space inviting and appealing to people of all ages. So it's important to have a certain aesthetic in mind before you add kid-friendly components. What's your style? Do you want a modern look, a whimsical feel, or a functional design? Once you determine your style, then you can begin your search for child-friendly items, like a playhouse that compliments the rest of your layout. Of course, you want your exterior space to grow with you. To accomplish that, think long-term and consider incorporating pieces that can be easily uninstalled, removed, or hidden once your family outgrows them.
Depending on your style preferences, you may have to do some grunt work. Don't be afraid of a little DIY. It can actually be fun, and your children may even be able to lend a hand. If DIY is not your thing, you might need to hire a residential landscaping company to build or create exactly what you have in mind. Remember though, the more extravagant your ideas, the more costly your project will be, which leads to the next important tip. Keep reading to see how to keep costs down. 
Read more: Yard grading
Make it cost-effective
Like any other home improvement project, updating your backyard can quickly eat up funds. Of course, that does not have to be the case if you make an effort to plan ahead and exercise self-control. At times, parents tend to overindulge their children. As you are figuring out what you want to include, keep in mind that your kids can only take advantage of one feature at a time. So, it's not necessary to incorporate every child-friendly backyard idea you come across or can think of.
If you do, you will run the risk of overspending. Furthermore, remember that your children will continue to grow and mature, and as they do their interests will change. So, another way to ensure that your yard revamp doesn't break the bank is by taking your kids' ages into consideration. This will help you to think how much use they will get out various features that you are contemplating including in your upgrade.
If despite all of your planning, you still need a bit more money to make your landscaping dreams come true, there are a few options including tapping into home equity or exploring how a personal loan may be able to help you. Before you settle on any financing method, make sure you get a landscaping estimate.
Make it safe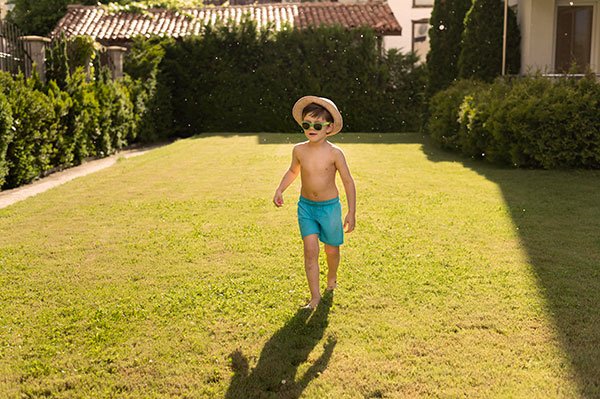 Fun, cost, and style are important, but not more so than safety. With children, it's especially vital that your outdoor living space provides security. How you choose to accomplish this may look different depending on the age of your children, the size of your property, and even HOA regulations. No matter your circumstances, some of the safety measures you may want to consider include installing a fence, removing tripping hazards, and properly storing dangerous tools
Read more: Moving into HOA neighborhood
Fencing is not only aesthetically pleasing, but it can also serve as protection for your children, especially when they are young. One of a parent's worst fears is having their child run off of their property into the street. A fence can help prevent that problem. Furthermore, fencing can help provide privacy and create boundaries by keeping out animals and establishing a distance between your family and your neighbors.
Removing tripping hazards, like uneven or rough walkways can help to eliminate future injuries and trips to the emergency room. The same is true when it comes to any outdoor tools you own to tend your landscape. Invest in the proper storage to keep these items out of your child's reach.
Unlike adults, children are typically willing to play outside no matter the weather. So, it's not too late to create a backyard oasis that they can enjoy even as the seasons change. Creating an outdoor living space that is child-friendly does not have to involve sacrifice. By using the tips above, you can ensure a fun, style, and safety for the whole family. 
Read more: Childproofing your home
Tips to make your yard child-friendly
was last modified:
December 28th, 2022
by
Recommended