How to Get the Perfect Window Glazing?
Are the windows of your house old and drafty? Your window glazing could be the culprit. Faulty glazing may not be keeping your wooden windows weather tight.
What is glazing on a window?
Glazing is the glass part of a wall or window. It refers basically to the window panes that are installed within the wooden window frames. These are mounted on the surface of a window sash.
The idea behind window glazing is to make an airtight, weathertight seal between the window glass and the wood sashes on the exterior of a window.
A professional glazier will have you know that in order to glaze a window, you'll need to putty the glazier points — sealing the gap between your window's glass and the wood.
Read more: Home window replacement financing & loans
What is the difference between glass and glazing?
While glass — a transparent substance made by melting sand with a mixture of soda, potash, and lime — can be used anywhere, glazing is strictly the glass part of a window, door, or wall.
If you live in an older house, chances are your window glazing has deteriorated over time and warped, or has cracked/broken pane — and needs reglazing. Before it falls off or cracks beyond repair, you need to redo the window glazing. Otherwise, the windows of your house will be vulnerable to the effects of water and rot, and not be as energy-efficient as they should be.
Instantly estimate the cost of your remodel...
...or take your time to personalize dozens of choices to transform your house into your dream home.
Want to know more about the types of glazing? Click the link for a complete guide. 
Why is window glazing important?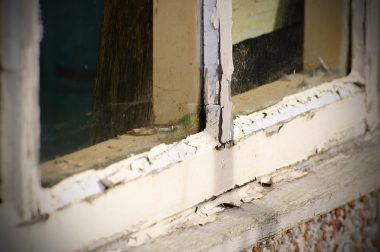 Window glazing minimizes heat transfer, heat loss, and air leakage. Therefore, it helps cut down on your energy consumption — making your home more energy-efficient. It even lowers condensation on your windows.
Glazing a window is one of the best things home dwellers can do to maximize the energy efficiency of their home. Needless to say, poorly functioning windows are one of the biggest reasons for heat loss. It's best to fix any window problem as quickly as possible and prevent further harm.
Depending on the extent of the damage, you may want to hire a professional glazier to do the job for you. Some windows can be difficult to replace or glaze and need special treatment. For instance, window replacement in older homes may be problematic. You might need help finding the right fit that preserves the character and style of the house.
Plan your window installation right. Try our estimator tool today.
Window glazing: the process
Whether you're reglazing windows as part of a home improvement or because of a crack, you'll have to seal between the glass and the wood frame with putty — the glazing material.
Traditional glazing is a fairly simple process. You'll need a handful of the well-kneaded glazing compound and a putty knife. The knife helps in creating perfect putty bevels against any muntin profile or glazing bar. You can even cut sharp corners — leaving your window looking neat.
Keep in mind that if the sash is still in the window opening, or the cracked pane is still intact, it's best to remove the putty first and then the glass.
Here's a brief overview of the steps to glaze a window:
Cutting the glass

Installing glazing points

Kneading the putty

Pushing the putty into the groove

Using a putty knife to bevel the glazing between the glass and the wooden sash
Once this is done, your window is ready for priming in a week or more.
If you're reglazing a window, you'll have to remove the old glazing putty and add new putty. There are several ways to remove old window glazing, one of which is using a heat gun. You can also find other window glazing removal tools in your local hardware store.
However, keep in mind that since window glasses are fragile the glazing points that hold the glass in place may act as pressure points. You need to be as gentle as possible and keep the glass from breaking.
Take a look at our guide on Hiring A Professional Window Cleaner For Your Home
How long does it take the window glaze to dry?
You can glaze or reglaze a window with either oil-based or water-based glazing. While oil-based window glazing is considered old-school and takes longer to dry, water-based window glazing is more modern and dries more quickly.
Oil-based glazing needs around 30 days to dry before you can paint the window! In comparison, a water-based window glazing takes just about three to seven days. The duration is lesser if you're using exterior latex paint and more if you're using oil-based paint.
Which is the ideal putty for glazing?
There are three types of glazing compounds. You can opt for the traditional, hard linseed oil putty, modified oil-type glazing compounds (semi- or non-hardening), or acrylic glazing compounds (can be either hardening or elastomeric and flexible).
Ensure that you choose a putty that gives long-term performance and can be easily removed or renewed in case it deteriorates.
Your window installations are important. Get the best estimate with us.
How long does window glazing last?
The lifespan of your window glazing depends on the type and quality of materials, the professionalism of the installer, the location of the window, and its wear and tear. Generally, a double-glazed window will last between 10 and 35 years.
How much does it cost to reglaze a window?
A typical window repair costs between $160 and $520. The average cost to reglaze a window would run about $330. There are various factors that influence the price of window restoration. These include the type of window and frame material, type of glass pane, the extent of the damage, and the total number of windows.
Calculate the cost of your window replacement process with our free estimator tool.
Final thoughts
Window glazing is a necessary part of any home improvement project. Keeping the wooden windows or storm windows weathertight is crucial not just to maintain your windows but also to increase the energy efficiency of your home.
Read more: A Short Guide on Window Glass Replacement and Costs
How to Get the Perfect Window Glazing?
was last modified:
September 21st, 2022
by
Recommended