Smart Wooden Window Frames Maintenance & Repair Tips for You
Does your house have wooden window frames, or have you recently installed newer wood windows? This article is for you! It gives you some prompt wooden window frames maintenance and repair tips that will make your house look almost new. Almost always.
These tips will help you keep the frames in good working order and ensure that they remain attractive for years to come. By the way, maintaining your wooden windows is no mean feat! It takes a lot of hard work. Especially if they're facing a southerly direction. They'll be more vulnerable to weathering than wood facing in any other direction.
Apart from cleaning your window frames regularly and treating the wood properly, you need to check them for signs of damage. Spotting problems early on will save you considerable money and time in the long run.
Most homeowners recognize that wood rot is a fact of life. However, with the right care, you can keep your windows protected from the elements. Don't let the rain, wind, humidity, or rot and decay get to your wood trim, doors, and windowsill.
Nip the problem in the bud with these easy and reliable wooden window frames maintenance tricks. Make your natural wood windows last a lifetime.
Thinking about window installation? Find the best cost for your installation.
Calculate the cost of your window replacement process with our free estimator tool.
Wooden window frames maintenance tips
We understand that repairs can be complicated depending on the type of wooden frame your window has. But, with simple regular maintenance steps, you can keep your windows in good condition. Here are some smart cleaning methods.
Regularly clean your windows
Regular cleaning will ensure that no grime or loose dust settles on your wooden windows. Begin by setting up a tarp, a plastic sheet, or even just a towel on the ground. Dust off the window sash and frame with a clean, dry cloth. Do not be afraid to scrub everything, including lower and upper sash.
Once you're done with the dry cleaning, soak the cloth in water and apply some soap to it. You can use ordinary dish soap or if you have a special cleaning product for cleaning wood, you can use it. This step will work for cleaning any type of wooden window frames.
You'll get wonderful results almost immediately. If not, you may need to repeat the process. Trust us, it will be worth the trouble.
Pro tip: It's best to keep your cloth damp rather than soaking wet. You don't want the dirty, soapy water running down your window — making a bigger mess when you are done.
Clean up the surrounding area
After cleaning your frame, don't forget to wash your wood sash window and the surrounding area too. Even if they may not have gotten dirty in the process, the extra cleaning will give your interior as well as exterior window frames a neat look. Once you're finished, vacuum up the floor below your window to remove any dust that you may have dislodged.
Check your window and frames for any damage
The next step is to observe any outward signs of deterioration such as fissures in the wood, missing elements, mildew growth, cracked window glazing, broken windows, or peeling paint. Remember that paint is more than a mere decorative element of your wooden window. It protects the wood from UV degradation. Plus, it protects the weather seal on the window. 
Further info on How To Get The Perfect Window Glazing? Take a look at our guide!
Did you know, unfinished wood can lose 1/16th of an inch of material every 25 years? Therefore, a good coat of paint is important. Remember to paint the wear surfaces till the edge of the sash as well as the glazing.
Next, check the weather stripping and the seal. Ensure that they're in place correctly and free from any damage. Want to know more about weatherstripping your house? Check out the link for a complete guide on weatherstripping.
Now it's time to check for moisture between your window panes. If you find moisture, it's likely that your window's seal has an imperceptible leak.
Do you also have exterior storm windows? Most of them have weep holes on the bottom rail that allow moisture to escape. As a maintenance tactic, keep your storm windows open on a dry day and give them ample time to dry. Remove all interior storm windows annually for a complete cleaning and air-drying process.
The bottom line is that, be it any kind of window (whether awning, casement, single-hung, or double-hung windows), you need to keep checking the frames regularly for any signs of deterioration.
The inspection process is important. If you spot any of the above-mentioned signs, your window is probably damaged. So, what do you do next? Relax! We have your back. Here are some wooden window repair tips in case you find your window frames rotting.
Take a look at our Short Guide On Window Screen Replacement.
Wooden window frames repair tips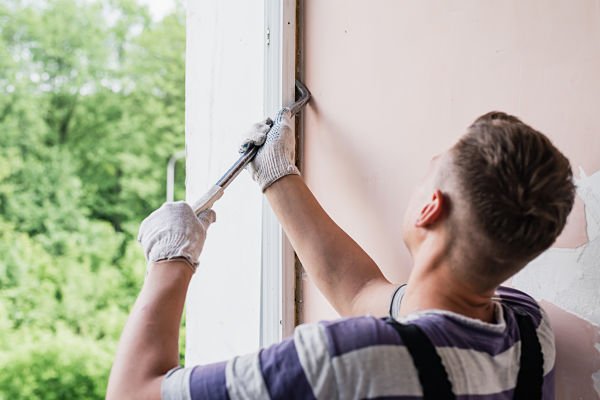 Photo by Freepik
Checking the condition of your window frame thoroughly helps you determine if it can be repaired or if it's been damaged past the point of no repair.
Pro tip: In case you find more than 10 percent of the wood frame damaged, it's best to replace the whole frame.
If you live in a damp and humid climate, consider replacing the wood window frames with vinyl windows. They'll be better suited for damp climates. Moreover, they'll last longer and boost energy efficiency while being visually appealing.
Having said that, if your wooden frames can be salvaged — you can rejoice. That would mean saving precious dollars. Here are some steps to tackle minor damages caused by rotting.
1. Remove the rotted wood parts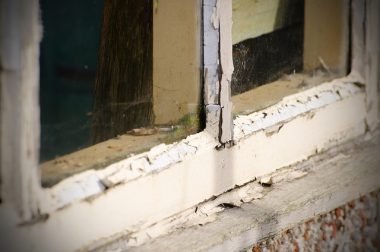 For a seasoned DIYer, removing the rotted parts of a window is easy enough. Get a hold of a chisel or a flathead screwdriver and a brush. Use the tools to scrape the rotted parts. Scrap away until you see healthy parts. Next, gently use the brush and scrub against the surface — cleaning away the rubble.
Read more: How to remove window blinds
2. Drill holes into the window frame to accommodate wood fillers
You'll need a ¼-inch bit drill or driver. Drill some holes into the healthy wood — making sure to space them out about an inch apart. They should be evenly spaced out or else the fillers will not have a secure hold onto the wood.
3. Apply epoxy wood consolidant
The epoxy wood consolidant is to cover the holes you drilled. Allow the wood to absorb the epoxy by waiting for 5 to 10 minutes or until it dries. Once the application dries, apply a second layer of epoxy.
4. Apply the filler to the window frame
Apply the wood filler by placing a good amount onto the scraped off and damaged area. Use a putty knife with pressure — applying the filler firmly into place. Make sure you mold it to match the shape of the frame. Allow the filler to dry for about 24 hours. The window frame will be restored to its original dimensions.
5. Prepare the window frame for a paint job
In order to prep your window frame for painting, use rough-grit sandpaper. Level the hardened epoxy with the window frame. Next, use fine-grit sandpaper and create a smoother surface. Wipe away all the debris and dust.
6. Paint the window frames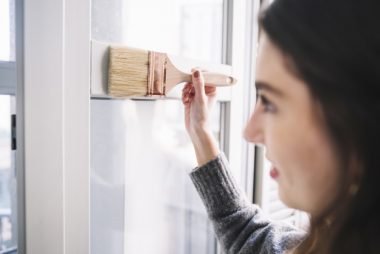 Photo by Freepik
Never underestimate the importance of a good exterior paint. We recommend painting the frame with a latex or oil-based enamel paint that's rated high for outdoor use. You could also use an outdoor wood stain if you prefer a more natural look.
Apply a thin coat of paint or stain with an up-and-down motion. Allow it to dry for two to four hours. Apply a second coat and allow it to dry completely.
Planning for window installations? Get the best estimate with us.
Pro tip: Choose a color that complements your windows — both in style and color. Before beginning the paint job, apply painter's tape alongside the frame to protect the panes of glass.
Though these steps are easy, we highly recommend hiring licensed professionals for the repair work. Keep in mind that a professional finish goes a long way in adding beauty and value to your home. Plus, it saves you a lot of hassles.
Read more: How good is window capping for your home?
Conclusion
Window designs enhance the beauty of a house while keeping out the storms, letting in the cool breeze, and giving you a spectacular view of the outside world. Nothing should spoil your house's facade, especially decaying wooden windows.
With a round of wooden window frames maintenance and repairs — you can ensure that your windows look their best and last you a lifetime. Monthly cleaning and inspections prevent damage to a large extent and help you recognize problems early.
DON'T wait until your windows are in an emergency state of repair. Such windows will not just be drafty and inefficient, but your window restoration project will be that much more extensive, and expensive.
Read more: How to create a smart home maintenance plan
Smart Wooden Window Frames Maintenance & Repair Tips for You
was last modified:
September 21st, 2022
by
Recommended