7 Creative Small Apartment Interior Design Hacks
Who doesn't desire sprawling bungalows with extra rooms, space, and storage? But, with more people wanting to live near city centers, small space living is becoming the norm of the day. Thankfully, there are plenty of creative small apartment interior design hacks that will create an open, efficient, and stylish space for you.
With proper styling and meticulous planning, you can actually make a tiny home feel pretty huge. Use your creativity to transform your small space in such a way that you are not overwhelmed by its size.
We have 7 clever hacks that will prove to you that a small apartment doesn't have to sacrifice style. With a little imagination, innovative furniture, and smart space-planning and storage ideas, you can come up with a beautiful small apartment interior design while optimizing every precious inch of your home's square footage. So, here goes.
1. Stackable, Light Furniture
Furniture plays an important part in your small apartment interior design. When considering how to furnish a tiny pad, choose items that are light-weight and easy to store. With these stackable chairs, you can minimize space by storing them away when not in use.
Read more: 8 Pieces of Space-saving Furniture That Every Small Space Needs
2. Less Invasive Sliding Barn Doors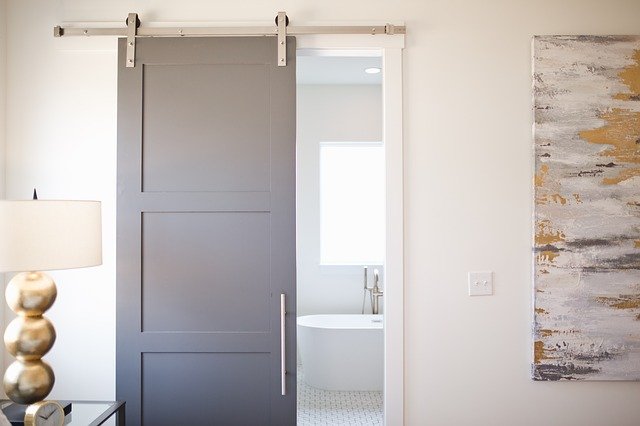 If you live in a small house, the first thing you should do is replace all your swinging doors with the less invasive sliding ones. They require minimum space to open and give a neat, modern look to the apartment.
3. Combining Space
An easy and effective way to utilize a small apartment spatially is to combine rooms to save space. Here, the living room also houses a small study with wall-mounted storage for books. Even the wooden floor and flowing light-colored drapes do their bit to make the room appear larger than it is.
4. Usage Of Vertical Space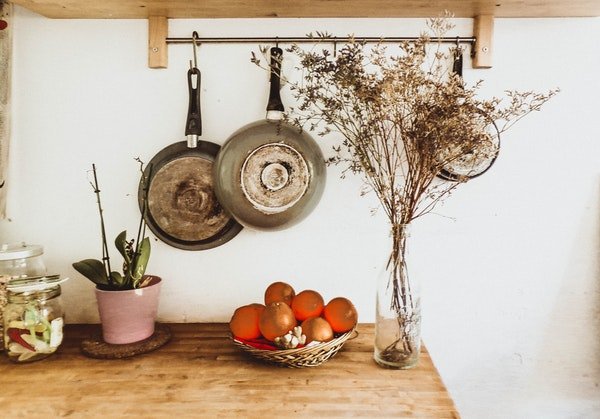 Don't just think of your apartment in terms of floor plan. Instead, remember that you have lots of vertical space at your disposal, too. Install wall-mounted hangers and racks to store your kitchen items, pots, and pans. We don't have to remind you that a rule of thumb for a tiny house is to keep things to a minimum. Less stuff, less clutter.
5. Smart Small Apartment Interior Design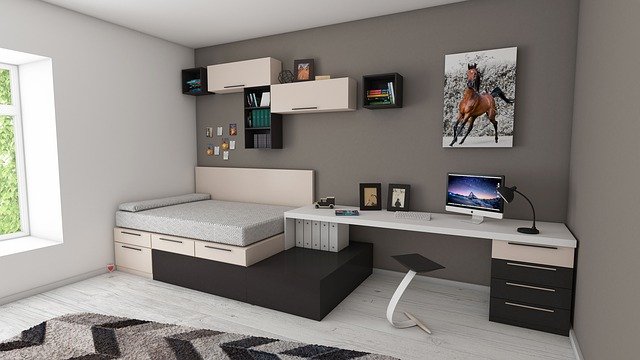 We love this simple yet well-thought-out design. A utilitarian bed with multiple storage units, wall-mounted racks, an unobtrusive desk, and a chic, minimalistic stool make this space look organized and clutter-free.
6. Compact Dining
Needless to say, when it comes to a small kitchen, you don't have the liberty of separate dining space. Opt for a compact dining table and chairs (in this case, an aged wooden table with benches) and place them in the area between your living room and kitchen.
7. Storage Bed
We have saved the best for last. When it comes to small apartments and space-saving hacks, we cannot miss the most obvious and effective one — a bed with storage. This design is perfect for a bookworm who loves to own a private library but is bound by space. Notice how efficiently the issue has been taken care of. You can use such a storage for items other than books too. Think linen, season-specific clothes, or other unused items.
Final Thoughts
Being tight on space is no reason for you to compromise on style or live a cramped life. With careful planning, space-saving, and interior design — you can transform your living area into a more spacious and organized unit.
Our 7 creative small apartment interior design hacks will help you unleash your house's true spatial potential. And, the best part is, they don't even require you to break the bank — these are perfect solutions if you are planning a cost-effective home remodeling for your tiny but loved space.
Read more: 5 rooms that can be combined and save space
7 Creative Small Apartment Interior Design Hacks
was last modified:
April 20th, 2022
by
Recommended