Summer's almost gone, which means that we have lovely fall days to look forward to. The enchanting sound of crunching leaves, the breathtaking fall colors, and the spooky Halloween decorations with Jack-o'-lanterns. Sigh! We love this season! Want to make the fall even more beautiful? Here are some amazing outdoor fall design ideas to inspire you. And, impress your friends and family!
So let's get your outdoor space ready for autumn with some cleverly crafted wreaths, garlands, and much more. Whether you're looking for a yard, garden, or porch decor, there's no shortage of fall decorating ideas. We guarantee you, these outdoor fall design ideas will instantly enhance your home's curb appeal too.
What's more, you can transition from autumn decor to Halloween to Thanksgiving with ease. Just change a few things here and there, and you're set. So, be ready to get inspired, and create your own fall-themed haven.
1. Repurpose your old furniture
It's time to get your old items out, slap some pops of colors on them, and display them proudly. You can repurpose your old furniture, a rug, or even an old door. Throw in some accent pillows that have fall-inspired colors. After all, this season is all about being creative and fun, with many DIY projects to do. And, yes, you can position some bales of hay as a stool or a side table. Bask in the sun, surrounded by the perfect fall decor!
2. Install unique outdoor lights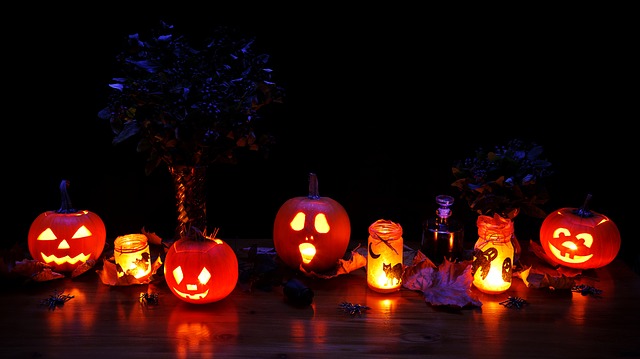 The first thing that you associate with fall is the Jack-o'-lanterns. What if we told you that you can turn these creepy pumpkins into your outdoor lighting? Well, you can. Turn your yard into a fall oasis with some faux pumpkins and tealights so your decorations can last longer. Apart from these, you can add a little bit of glitz and glamour with marquee light letters. Let them spell out FALL to announce the arrival of the holiday season.
3. Create a cozy seating area
Use a vintage porch bench, swing, or a couch to help you relax in the crisp fall weather. Add colors with some cozy pillow decor, snug blankets, or vivid wall decor for the perfect finishing touches. You can sit at the cheerful spot and admire the autumnal foliage.
4. Make a window garland
Create a natural grapevine with every possible leaf and foliage from your garden. You can use eucalyptus leaves, olive branches, corn stalks, and colorful berries. Wire them together like a garland and drape your porch windows and front door. Accent the area further with white pumpkins and bushel baskets repurposed as rustic planters.
5. Think out of the box with a ladder
You don't have to break the bank for a simple fall porch decor. Take a wooden ladder and creatively display colorful blankets on each rung.
Dress up the area some more with a door wreath. You can put nuts, apples, burlap ribbons, and what have you.
6. Bring symmetry in your outdoor fall design ideas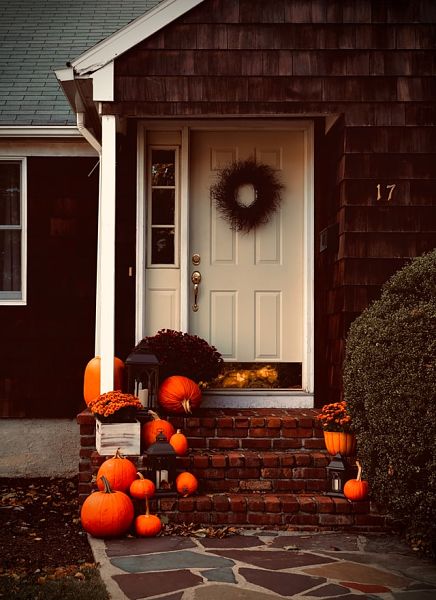 When you line your front yard or porch with planters, mums, stalks of corn, pumpkins, and gourds — make sure your fall yard decorations have a cohesive look. A symmetrical outdoor space looks more inviting and organized.
7. Go crazy with flowers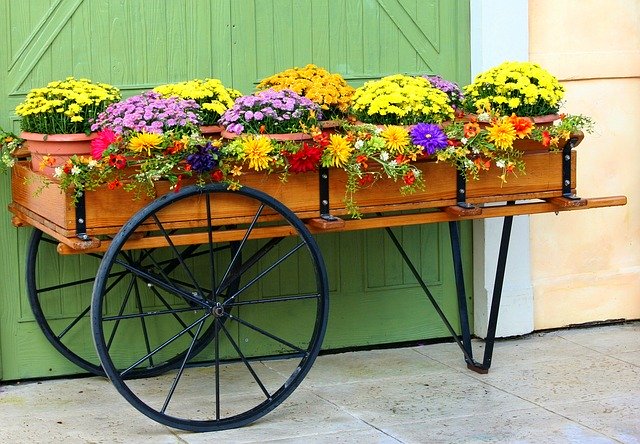 When it comes to outdoor fall design ideas, more is still less. Decorate your outdoor space with lots of mums in a variety of colors and sizes. Display the fresh flowers in unique ways such as in a wagon, bushel basket, wheelbarrow, or even an old cauldron.
8. Repaint the front door
If you want to give your porch a seasonal twist but your small porch doesn't allow for a big display of gourds and pumpkins, you can simply consider repainting the door in a fall-friendly color. Think cheerful orange, sunny yellow, or a bold red. Once you're done with the painting job, hang a grapevine wreath and your little fall porch is ready.
9. Opt for a natural vibe with climbing vines
Climbing vines can make any place look incredible — as if straight out of a fairy tale. You can train your climbing vines to frame your front door arch while giving your home a whimsical look. Throw in some spattering of potted flowers, painted pumpkins, and window boxes for a warm, welcoming vibe.
10. Go rustic with a brick facade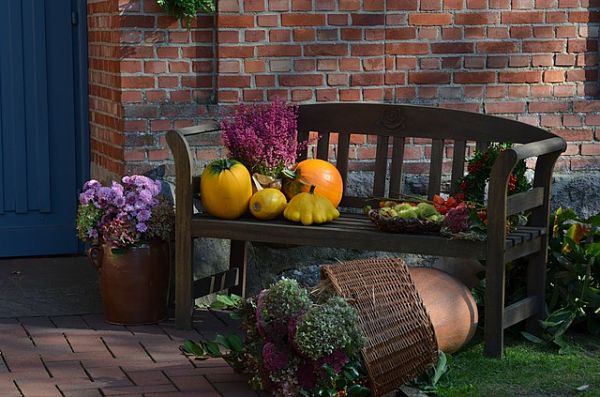 If you're already contemplating a home renovation to enhance the look of your home, we highly recommend constructing a brick facade. Although an expensive home improvement project, it will create a great focal point to welcome your guests.
The brick wall will especially look great with rustic and vintage decor associated with fall. Find an old chair and use it for sitting as well as decoration. Orange pumpkins, wicker baskets, and rustic pots will complete the look.
11. Make your own bird feeders
A yard looks even more enchanting with birds flocking around. As the weather cools down, the birds will start to look for food. Wouldn't it be great if you can include bird feeders to your outdoor decor?
You can use gourds and pinecones to feed your feathery garden friends. Hollow out the gourd or pinecone, add in some bird seeds, and tie them from a tree branch with a string. Or, you could put together a bird feeder with some old items. The feeders will ensure that the bird population sticks around your yard throughout the winter months.
12. Let the door wreaths do the talking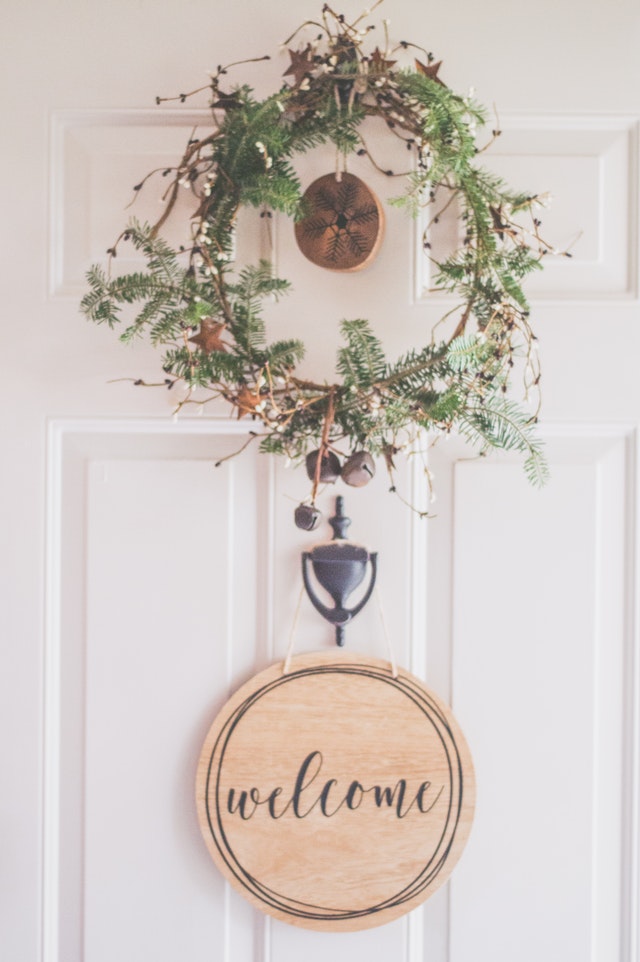 Outdoor fall design ideas are incomplete without including a wreath display in rich autumn colors. The door wreath will make your entry warm and welcoming by adding a happy vibe. You can make a lovely wreath with yellow, orange and brown leaves, dried twigs, apples, nuts, flowers, and even small pumpkins. Give your porch a dose of that famous fall magic.
13. Use dried leaves and flowers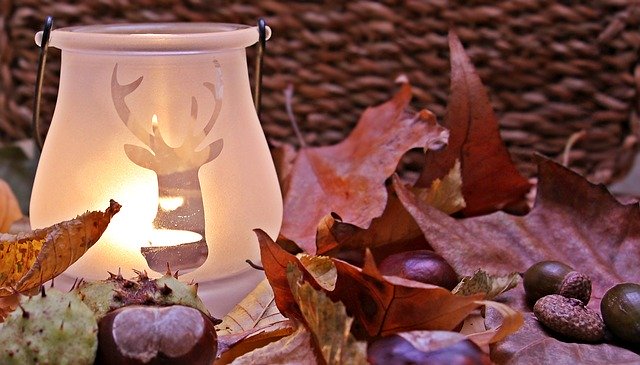 If you really want to take advantage of the fall season, collect all the dried leaves, corn, and flowers and display them in the most unique ways. Trust us, dried florals are a simple yet great way to spruce up your front porch decor. You can tie patterned ribbons around them, create a bouquet of dried flowers, or even spray-paint them. And, the arrangement will thrive in the cooler climate.
14. Construct a cozy fire pit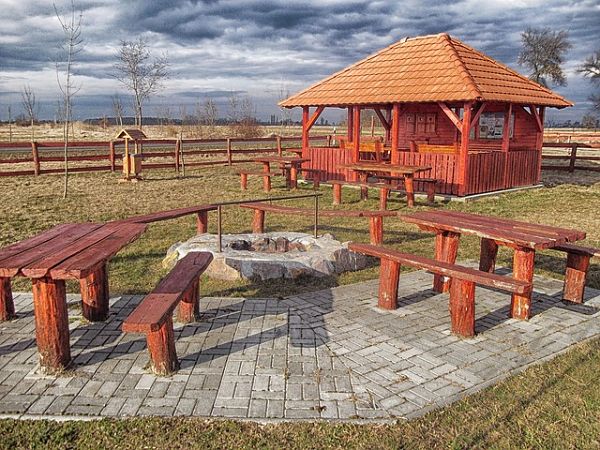 Fall is coming and it's time to enjoy some nice time outside by the fire. We can already imagine ourselves all wrapped up in a soft blanket with a barbeque grill on the side (for bonus points!) and snuggling closer to the outdoor fireplace. After all, fall is the season for fun get-togethers under the clear blue skies. So, why not do full justice to it by creating a chill-out spot.
Last words
Fall is almost upon us and we are thrilled! It's time to witness nature's changing color palette and ambiance. You can say goodbye to the summer blues and whites, and welcome the autumnal orange, reds, and yellows.
And, your outdoor fall decor too should reflect the warmth and charm of the season. Apart from the traditional favorites of burlap sacks, lanterns, wreaths, colorful mums, and pumpkins, we have some unique outdoor fall design ideas for you. Hope they inspire you to create an inviting autumn-themed decor for your guests, especially for those adorable trick or treaters!
Read more: 8 Last-Minute Halloween Home Decor Ideas
14 Outdoor Fall Design Ideas to Welcome the Holiday Season
was last modified:
May 17th, 2022
by
Recommended