Owning a home is one of the biggest purchases most people will make in their life. It's also one of their greatest investments. Savvy homeowners can increase their home's value by making renovations that will give them the best return on investment (ROI).
Before you knock down any walls, it's important to know what kind of ROI you can expect. This is particularly important if your home is in poor condition and you're in a hurry to sell. Find out if making renovations is the best plan for you, or if you should sell your home in its current condition.
Otherwise, if you're eager to renovate your home, here's a look at eight home renovation projects that will give you the highest ROI.
New siding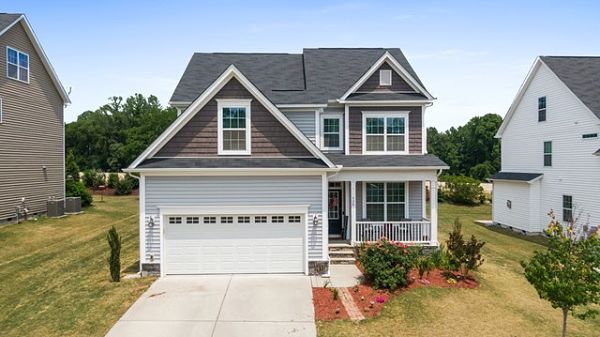 The first sight any prospective buyer sees when they visit your home is its exterior. By updating the siding, you can make a great first impression while also getting a great return on your investment.
Manufactured stone veneer is a fake stone that's designed to look like real stone without costing an arm and a leg. The average homeowner spends $10,386 to replace their siding with manufactured stone veneer. In return, this project will add an estimated $9,571 in resale value, giving you a 92.1% ROI.
If stone veneer isn't your style, you can also install vinyl siding to your home's exterior. This low-maintenance product comes in a variety of colors. On average, homeowners spend $16,576 to install vinyl siding. Expect vinyl siding to add $11,315 in resale value, which is a return of 68.3%.
Want the maximum return on new siding? Fiber-cement siding costs an average of $19,626 and has a resale return of $13,618. That's a 69.4% return on your investment.
Read more: Composite siding
Update landscaping
You can boost your home's curb appeal and pocket a healthy return on the investment by landscaping. According to the American Nursery Landscape Association, the average homeowner will spend $3,502 for landscaping with an additional $1,465 going to a landscape designer. If this sounds like a lot for flowers and shrubs, keep in mind that effective landscaping typically gives you a 100% return on investment.
With such a great return on your investment, updating the landscaping is a relatively quick and easy renovation to make if you're in a rush to sell. Earning the best ROI is particularly important if you are selling your home after owning it for under two years and are at risk of paying a tax penalty. You can learn more about potential considerations if this applies to you.
Install a deck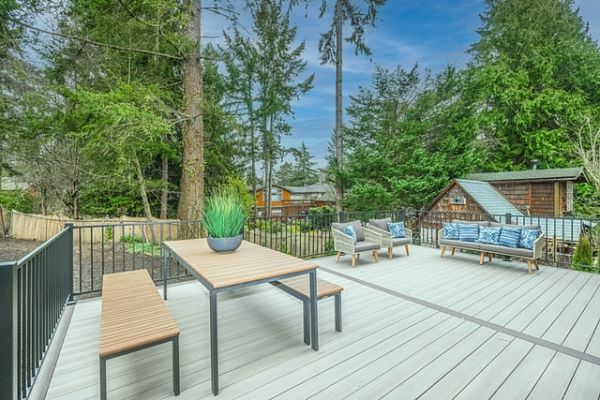 As you continue your home's exterior makeover, adding a deck will also give you a solid return. Decks create additional living space in addition to freshening up your home's appearance. Often, homeowners see an increase in their home's property value when it is assessed.
On average, a wooden deck costs $14,360 to install and adds $10,355 to your home's value at sale time, giving you a 72.1% recovery.
Alternatively, you can build a composite deck for your home. Built to look like real wood, a composite deck is more expensive upfront to install, so may take up more on your credit card. However, it requires minimal maintenance, which could appeal to future buyers. Composite decking costs an average of $19,856 to install and will give you a 66.8% return with $13,257 in resale value.
Replace garage door
There are few things more frustrating than getting home after a long day and struggling to get your garage door open. A new garage door will not only give your home a fresh update, but the updated equipment will also make it more functional for yourself and future buyers.
The average garage door costs about $3,695 to install. It will also add about $3,491 in instant value to your home, giving you a 94.5% return.
Replace windows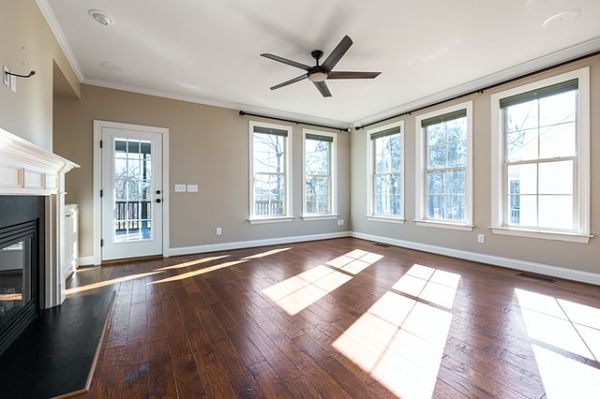 Windows are the eyes of your home, and they are a sound investment. New windows enhance a home's overall appearance from the inside and outside, while also making a home more energy-efficient.
Vinyl windows cost $17,641 on average to install and add $12,761 to your home's value for a 72.3% return. Wooden windows cost more, but they appeal to more prospective buyers. On average, wooden windows cost $21,495 for a $14,804 addition to your home's resale value or a 68.9% return.
Minor kitchen remodel
Giving your kitchen a minor update costs about $14,913 with a $14,691 return at sale for a 98.5% ROI. In this update, you can expect to reface your cabinets and drawers while installing a new oven, cooktop, fixtures, laminate counters, and floors.
By comparison, a major kitchen remodel costs an average of $43,862 for a $39,920 ROI or 91%. In this renovation, you'll swap out your cabinets for a new build as well as all new appliances with stone counters.
Read more: How much does a kitchen island cost
Attic bedroom conversion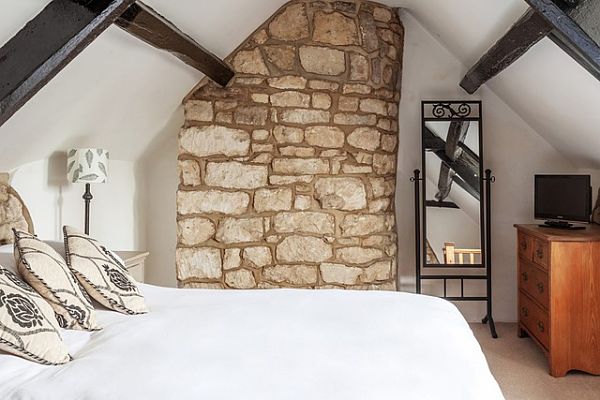 Homeowners looking to turn their two-bedroom home into a three-bedroom home by converting an attic space spend about $39,188 for a return of $36,649, or 93.5%. This renovation typically involves building a bedroom with a full bathroom, closet, and windows.
One important factor to keep in mind if you go this route: Make sure your home's existing HVAC system can handle an additional room, or expect to pay for an additional unit or upgrade.
Read more: Safety measures before home renovation project
Minor bathroom remodel
If you're looking to make one renovation that will give you the greatest bang for your buck at sale time, look no further than a minor bathroom remodel. On average, a minor bathroom remodel will give you a 102% return on your investment. By comparison, a major remodel typically yields a 93.2% return.
In a minor bathroom remodel, the average homeowner will spend about $10,500 to replace the toilet, vanity, sink, fixtures, flooring, tile, and even the bathtub. You can anticipate an additional $10,700 at your sale.
With a major bathroom remodel, you will expand the size of the bathroom, relocate plumbing, add design elements, and more. This comes with an average $26,052 price tag and a resale return of $24,286.
Although you may not get 100% ROI for each home renovation you make, updating your property ensures it is appealing to buyers and that you're not selling your home in poor condition.
Read more: How to estimate a remodeling job
8 Home renovation projects with the highest ROI
was last modified:
January 3rd, 2023
by
Recommended