We understand that your master bedroom is an important place for you. Trust us, a master bedroom closet is an even bigger deal. It helps to make your room appear cleaner and more organized. Here are some cool master closet ideas to design the closet of your dreams.
Master closets are often larger than other closets in the house. A bigger space means more scope for good closet storage and better organization. If you're sharing the closet with your better half, it's crucial to decide beforehand the closet design, the closet dimensions, and items you'll be keeping in the space. That will help you get the perfect walk-in closet, designed to suit all your requirements.
Regardless of whether you have a large or a small master closet, the key is to keep the clutter to the minimum and manage items seamlessly. To help you give structure to your wardrobe area, we have these practical walk-in master closet ideas. Go ahead, and get inspired for your next closet remodel.
Create as much storage space as you can
Getting ready every day is a piece of cake, and enjoyable too, if your walk-in closet or dressing room is functional, easily accessible, and comfortable. And of course, stylish too. You should utilize closet design ideas that provide you with plenty of storage room.
Think drawers, vanities, built-in closet dressers, shoe organizers as well as open shelving. If you have limited space, perhaps only for a small closet, it's best to use vertical space with a tall closet cabinet that has a mirrored door. Or, you could have a chest of drawers on the floor and wall-mounted shelving as high as the closet will allow.
Organize and display your wares with pride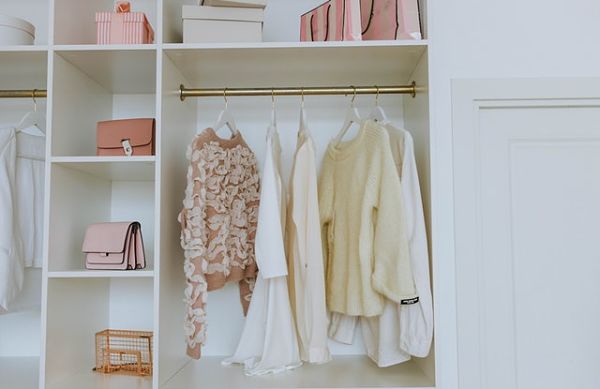 When everything's out in the open, the sight will motivate you to stay organized. Some easy ways to make your open shelving visually pleasing include color-coding your clothing, and having smart compartments for your shoes, purses, belts, etc. Keep in mind that display cabinets, instead of solid doors, will make the space appear bigger and airy.
Bring in stylish storage baskets
Woven baskets on top of shelves will help you stay organized while tucking away items that are unsightly or not used every day. They are good substitutes for drawers. You can use the containers for your lingerie or specific season clothes. Plus, these eco-friendly baskets look super stylish.
Add full-length mirrors
Here is another one of those wonderful master closet ideas that's sure to add a glam quotient to your storage room. Mirrors, especially three-paneled mirrors, are great additions to your dressing room. You get to see yourself from every angle! Also, floor-to-ceiling mirrors help in making the room feel larger.
Install fancy light fixtures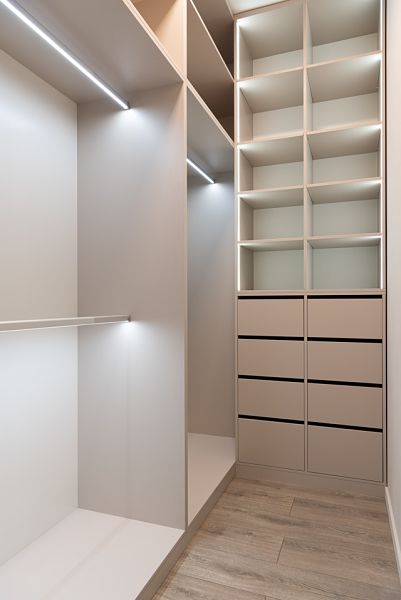 Good closet lighting is everything. Fancy lights over your open wall shelves will make your walk-in closet look like a boutique. It'll instantly turn a normal-looking space into a glam closet. The lights will beautifully highlight your gorgeous accessories and shoes on display — enhancing your décor scheme. If your walk-in closet has cabinets, you can install under-cabinet lights to provide extra task lighting. These will make looking for things easier, and also add a moody, romantic vibe to the space.
Paint the walls in your favorite colors
Your walk-in closet is your private haven. It's the perfect place to experiment with vibrant paint colors and wallpapers. Colors that perhaps you're unable to use in the other parts of the house. Go ahead, and make your closet pop by using unexpected hues and textures.
Let the curtains fall
Curtains and drapes can further brighten up your glam closet. If you're lucky to have a window in your closet, choose drapery that lets the room breathe. Think light, floral, flowing curtains. These will also help keep your clothes and other items away from direct sunlight, and prevent their fading.
Opt for interesting add-ons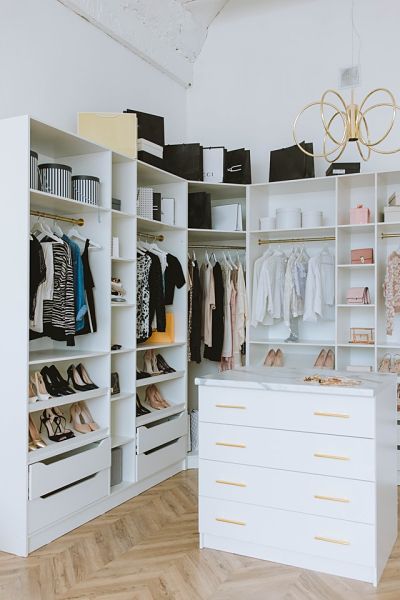 There's a lot you can do with your walk-in closet décor. For example, if it's long, narrow, and windowless, you can add warmth with an area rug or a runner. A fun pattern will be a bonus. Flowers and artificial plants also add a nice touch.
And, here's a display tip for your favorite things — insert purse pillows or crushed newspaper to keep your bags upright and in shape.
Think of a walk-in closet as your workplace
Just as you need a work desk for a home office, a work table or a small island in your closet will provide you with good storage and a surface for folding your clothes or a designated area for your makeup application.
Invest in quality hangers, hooks, and racks
If your closet is small, you'll definitely need to buy slim-sized hangers to allow for maximum clothing storage. Keep in mind that grabbing clothing off the rack will be easier as you get ready to go to work in the morning. You can utilize wall hooks and pegs to hang belts, ties, and scarves. And, shoe racks to keep your shoes off the floor. A practical solution is to use clothing rods on adjustable shelving to store everyday items.
Let your vanity talk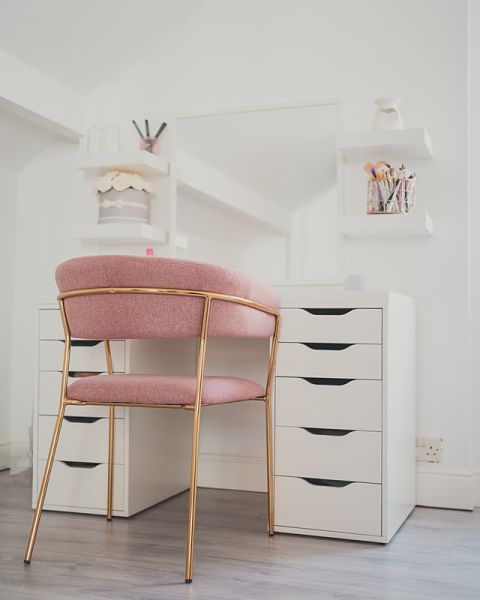 A beautiful vanity will make your closet even more dreamy. Who doesn't mind having a dedicated spot to apply makeup? Add in a fancy stool and your personal dressing room will be ready.
Design a jewelry wall
A walk-in closet with a custom organization system will make things a lot easier for you. Build a special organizer for your jewelry to prevent it from getting tangled and messy. You can either put the accessories on a tray on one of the shelves or hang them directly on a single wall.
Add seating if possible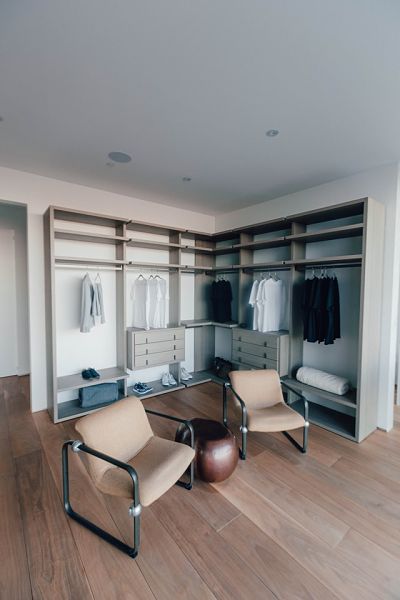 An accent seating will make your closet resemble a luxe dressing room. Make sure the seating is comfortable, stylish, and of the right size. If you have a big walk-in closet, you could opt for a full-fledged sofa instead of a chair. And, in case you have smallish closet space, you can design a built-in bench to provide seating that doesn't take up too much floor space.
Personalize the space
The last of the master closet ideas is perhaps the most important one. You need to make sure that your master bedroom closet reflects your personality and style. Lend the room some of your vibes. You can make a gallery wall, add unique wall art, or make quirky additions.
Read more: Rent a storage unit
Last thoughts
A well-designed walk-in closet will help you showcase your clothes and accessories appropriately. Plus, it'll make getting ready a thoroughly enjoyable experience. These closet organization ideas will turn even a small walk-in closet into a functional, organized space. So, go ahead and design a custom closet system that'll make you want to spend most of your time there.
Read more: Why does my closet smell musty
The best master closet ideas for a clutter-free living
was last modified:
March 7th, 2023
by
Recommended