Are you really prepared for moving to San Francisco?
San Francisco is a lively place, with a diverse milieu. Most importantly, it's a place that welcomes you no matter where you come from. But, before you make the move to the city by the bay, there are a couple of things to keep in mind. So, let's explore everything there is to know about San Francisco, all 46 square miles of it, and make moving to San Francisco a smooth ride.
Interestingly, a lot of people have been considering moving to San Francisco in the recent past. Just between 2010 and 2017, its population climbed from 805,770 to 884,363. All this despite the high cost of living (San Francisco is the second most expensive city in the U.S.) and a housing shortage! Clearly, there's a lot more to San Francisco than what meets the eye.
The place has a lot of extremes — while it witnesses the highest number of billionaires per capita, it also concedes to a homelessness crisis. Ironically, the multimillion-dollar homes are next to tents for the homeless. A problem that the public policy or City Hall proclamations have not been able to solve. However, if you're willing to put up with the negatives, you will love living in one of the greatest cities in the Golden State.
Should you move to San Francisco?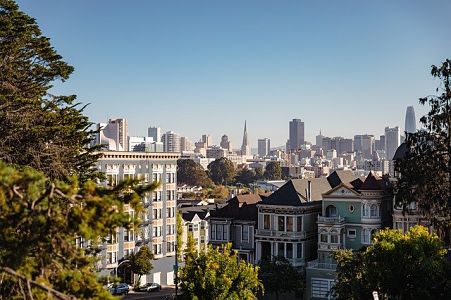 If you've been dreaming of a place where the city meets the ocean, and has a rich history of social movements and cultural landmarks, moving to San Francisco may be a great idea for you.
Having said that, moving to San Francisco is an experience hard to describe. If you're coming from a small town, the city may overwhelm you with its larger-than-life persona. And, if you're moving to San Francisco from a large metropolis such as New York City, Chicago or Los Angeles, the place will seem small.
How to pick a neighborhood in San Francisco?
If you're moving to SF, you really must find a neighborhood that works for you.
Weirdly enough, the city is full of microclimates, each one characterizing neighborhoods differently. There could be jarring changes in weather within short distances. For example, while the Inner Sunset may experience foggy weather with a 49 degrees at noon, SoMa could be sunny with 65 degrees.
It's best to choose a neighborhood that's as close to your comfort zone — weather-wise and affordability-wise as possible. Real estate agents advise trying out the different neighborhoods before signing a lease.
Here are some of the most popular neighborhoods in SF that people move to:
Castro District: This city supports the LGBT culture wholeheartedly. The rainbow-painted crosswalks and flags, upbeat happy hours and a bustling nightlife enliven the place and how! It even has proximity to Twin Peaks — the two famous SF hills that offer an incredible 36-degree view of the city.
Mission District: Historically, the place was populated by a largely Hispanic community. Today, it boasts nearly 500 murals and a tapestry of street art. The place is known for its tasty taquerias, lively nightlife and proximity to Dolores Park which offers an unmatched view of the city skyline.
Noe Valley: This kid-friendly neighborhood boasts a Saturday farmer's market, sunny weather, lively playgrounds, and lots of private as well as public schools.
SoMa: Short for South of Market, this neighborhood covers 406 acres, featuring many of the city's museums and mouth watering street food.
Hayes Valley: Favored by the young professionals, Hayes Valley is famous for its trendy restaurants and upscale boutique shops.
Marina District: A favorite haunt for college grads, this neighborhood has lovely brunch spots, sparkling views of the bay and trendy workout studios.
Richmond District: This place spans the length of Golden Gate Park all the way to Ocean Beach. And is home to some awesome restaurants. No wonder, it's a favorite with San Francisco residents.
Read more: 21 Best Brooklyn neighborhoods and reasons they are special
What should I know before moving to San Francisco?
Do a research on the rent prices. If you're looking to rent an apartment in San Francisco, a one-bedroom apartment would cost you $2,680 while a two-bedroom apartment will be about $4,400 a month on average. Also, beware of rental scams online.
Keep the cost of utilities in mind. The average cost of utilities in San Francisco is approximately $109. The cost of internet services averages at $40 to $80.
Get an idea of your transportation cost. The monthly transit passes cost around $73 to $91 for an adult. Of course, the exact amount depends on the distance traveled.
Know that food and beverages cost a lot. Day to day expenditure is a little steep in San Francisco — much above the national average. On an average, an SF resident spends about 13.2% of their household budget on food. Despite that, many of the San Franciscans dine out often.
Check out your local parking situation before buying a car in the city. Parking in most neighborhoods is limited and very expensive.
Opt for layering when you're outdoors. San Francisco weather can be highly unpredictable — warm and sunny one minute and foggy the next. Always keep a lightweight jacket handy.
Get a reloadable clipper card to make your public transit easier and cheaper.
Make sure you consider your commuting hours to work before renting an apartment.
Pros of moving to San Francisco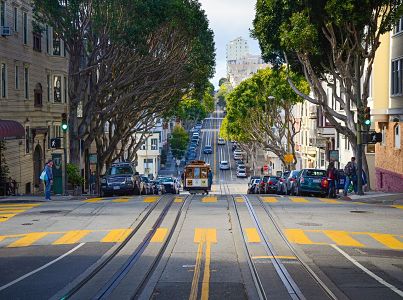 There's a casual air to San Francisco. Due to the city's diverse population, it beautifully accommodates a variety of niche cultures and alternative lifestyles. So, if you've ever felt isolated — may be because of your ethnicity, your faith, or your sexual orientation — you'll find an entire community of people sharing your experiences and preferences.
No wonder, San Francisco has been named one of the happiest cities in America. Despite its close proximity to Silicon Valley and the tech companies, its residents prefer a laid-back, carefree lifestyle and attitude.
You don't need a car to survive in San Francisco. In fact, you'll be happier if you don't own one. There are plenty of public transit options here. There's BART (Bay Area Rapid Transit), the Caltrain and the Muni, San Francisco's local public transit — connecting the rest of the city via streetcars, cable cars, buses, and underground trains.
Read more: Moving to San Diego
Cons of moving to San Francisco
Regardless of which neighborhood you want to stay in, all places in San Francisco are well above the national average when it comes to real estate prices. Due to the tech industry boom and a housing shortage, the city has witnessed a massive increase in rental property costs. These stratospheric prices have further created competition among renters.
When it comes to buying a San Francisco home, the median asking price is around $1.38 million! While the unemployment rate is better than say New York City, the homeless situation and cost of living are not.
Another bane is the San Francisco traffic. It is simply terrible. You will find Muni and BART perpetually congested and the city streets saturated with cars and cabs.
Parking in San Francisco is a luxury that only the mega-rich can afford.
And yes, while we're listing the cons, let's not forget the gloomy weather of San Francisco. Well, the city is infamous for its fog and overcast sky.
Read more: Understanding the NIMBY movement
Last words
Despite all its flaws, San Francisco has a history of welcoming migrants, students, and professionals with open arms from across the globe. The City by the Bay continues to grow in population annually. If you too understand its charm and the idea of living in the city, you've perhaps made the best choice for yourself.
Move to San Francisco and enjoy the awesome restaurants, plenty of green spaces and parks, iconic landmarks like the Golden Gate Bridge, and low unemployment rates. And yes, get ready for some free concerts and events that make San Francisco one of the most sought-after U.S. cities to live in.
Read more: Is moving to Texas a good idea for you?
Are you really prepared for moving to San Francisco?
was last modified:
October 10th, 2022
by
Recommended