7 Tips To Style Your Living Room Like A Pro
Your living room is the most public room in the house. It brings together the feel and warmth of your home into one room using color, texture, light and other design components.
So it's important that you style it right. It's not difficult but takes some thinking and planning.
You have to achieve a balance between a happy place that is welcoming to guests and a personal one that feels like home to you and your family.
Here are some tips to help you style your living room.
A well-styled living room is one that looks varied and eclectic yet flows together in an inexplicable way.
There may be different types of art and furniture but somehow they all blend together in a way that someone can sense immediately they enter the room.
The secret is in covertly matching colors and shapes.
In this cozy living room, you can see how different shades of brown blend well together from the sofa to the coffee table to the rug and even the flower pot in the corner.
Everything is in harmony.
You can color match your primary colors with simple things like a throw blanket, a decorative bowl, a piece of art or an armchair.
Shape-matching also has a magical effect on the room.
Read more: Colors affect your mood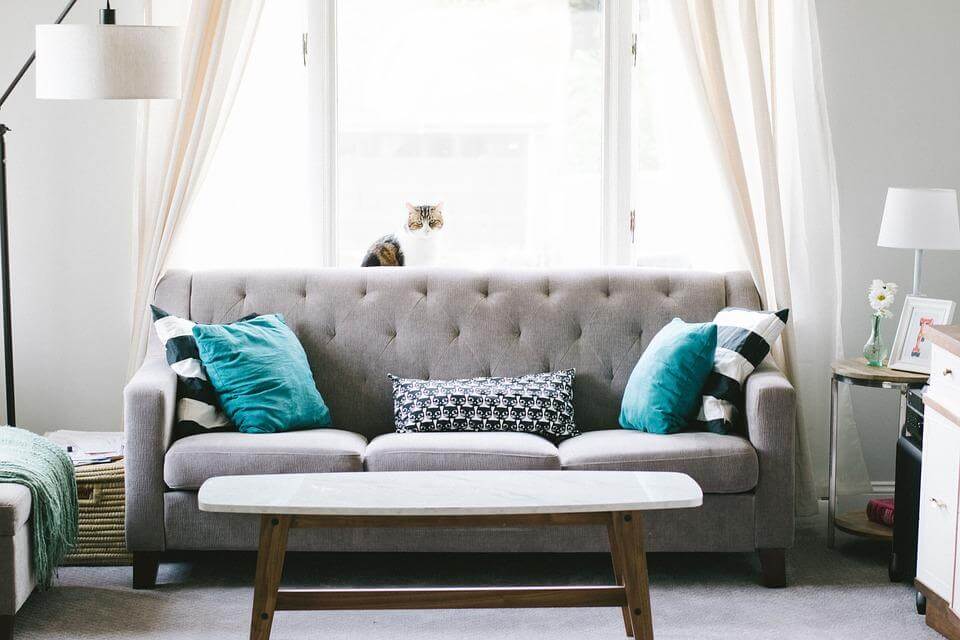 In this modern living room, the sofa perfectly matches the rustic coffee table even though one has a contemporary design and the other looks more traditional.
But they blend well because of their elongated shapes. Also look at the curved arms of the couch and see how well it matches the curved ends of the coffee table.
Both of them go great with the window they are set against.
Try to think of subtle ways you can blend different aspects of your living room. Be creative and think both big and small.
Highlight Your Centerpieces
Your living room is not an art gallery where every piece is designed to attract attention.
In fact, you want most of the items in the room to stay in the background. It's easier to blend different things together when most of them don't stand out. The sum is greater than the parts.
But even a living room needs a couple of showpieces. Focal points to give the eyes a place to rest.
For most living rooms, a large piece of art works great. You can also use a framed photo, an accent wall or a piece of furniture.
Once you decide what you want to showcase, let it stand out.
An easy way to do this is by muting the immediate surrounding. Make it neutral to allow the centerpiece to stand out. This piece of art on a bare wall centers the room around itself.
You can also try using light to illuminate your centerpiece. For instance, a wall light shining down on a piece of art.
Add Conversation Starters
People love pleasant surprises.
Rely on the element of surprise to create conversation starters in your living room. Your guests will love it and it gives your living room a certain eclectic feel.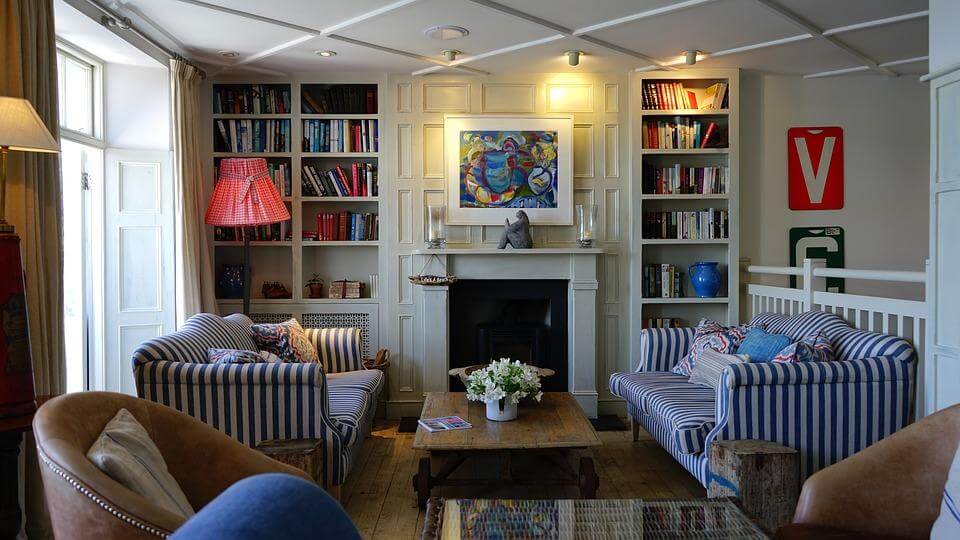 A conversation starter can be anything that is very unique and unexpected. The plaid lampshade or the large art in the above picture is certainly surprising.
You can even use an unusual piece of furniture, a piece of art or a lighting fixture.
Whatever you use, make sure it's the first thing people's eyes are drawn to when they enter the room.
Play with Textures and Patterns
A stylish living room is more than just colors, which is where most people tend to focus their attention.
Textures and patterns also play a big role in the overall décor.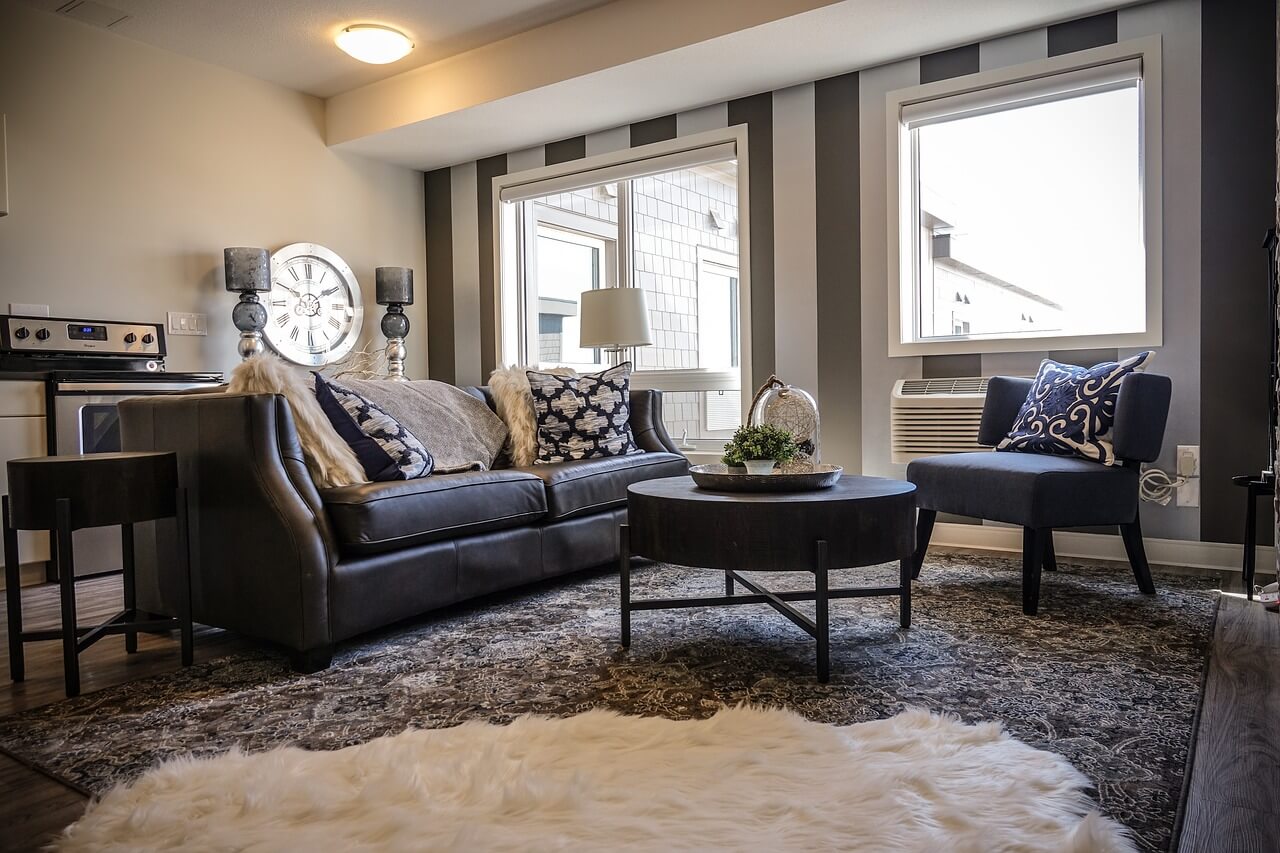 The soft fabric of the couch, the cold smooth surface of the walls, the grain on the coffee table, the roughness of the shaggy carpet and other contrasting textures come together to create an interesting homely space.
These varying textures will occur automatically as you put your living room together. They are inevitable.
But you should also deliberately create some contrasting textures and patterns across the room.
Try to mix soft, hard, rough and smooth textures: a soft fleece blanket draped on a leather chair, a shaggy rug on a smooth hard floor, a tufted sofa next to a smooth wall and so on.
Also, try to mix and match different patterns and set them against neutral backgrounds. Things like cushions, carpeting and art are great opportunities for introducing interesting patterns.
Multiple Levels of Lighting
With almost everything I've mentioned in the previous points, it has been about mixing and matching. It can be the colors, textures, shapes or patterns.
The same principle applies to lighting.
You can play with light to create an amazing style when it's dark. Vary the types of fixtures you use and how you arrange them.
The aim is to use the fixtures themselves as decorations and create interesting light patterns.
Overhead-only lighting is boring. Add some wall lights to highlight your art, a floor light for the dining area and a desk lamp at a corner.
Mix different types of fixtures from pendants to recessed lights. You can even add small LED lights at strategic points such as recessed into the floor or along the wall.
Plan Your Furniture Layout
First and foremost, your living room should be a social space that promotes conversation and bonding. It should feel intimate.
Keep that in mind when you arrange your furniture.
Make sure that it's laid out in a way that brings family members closer and facing each other.
Once you have sorted out the central seating area, the rest of the furniture falls neatly into place around it.
Remember not to get the space too cramped. Leave plenty of room to walk. If you have kids, they need a place to run around.
Imagine how people are going to walk in and out of the living room and make sure they don't have to squeeze through tight spaces.
It's also important to play along to your size and shape. If it's a large rectangle or square, it's best if the main seating area is centrally located. If it is long and narrow, plan your layout to align with the walls.
As with lighting, colors, and textures, create some layout surprises.
A lone reading chair in the far corner creates a nice contrast. A breakfast nook rather than a full dining set is a great idea. A rocking chair next to the window adds a homely aspect to the décor.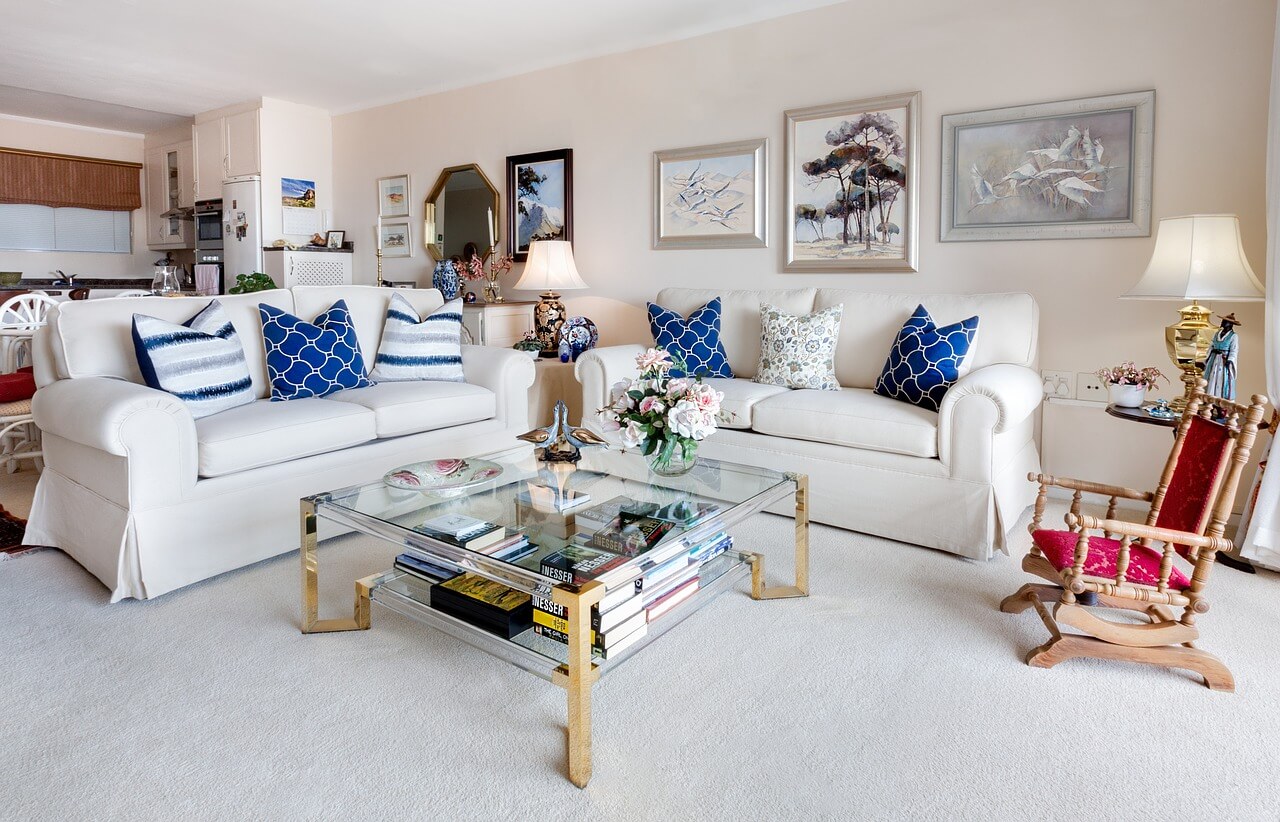 Finally, try to keep the living room neat and clean. This is an essential part of keeping it looking good and feeling welcoming.
Make sure the couches are smoothened out, things like books and magazines are properly arranged and don't let clutter build up on the table, sofas or floor.
I know this can be difficult when you have kids and pets.
One thing that can help is a robotic vacuum cleaner. Most come with a scheduling feature that allows you to set it to clean automatically even when you are not there.
There are really handy if you struggle to keep up with pet hair, dust, and food crumbs in your home.
Some popular brands include iLife Vacuum cleaners, Roomba vacuums, and Neato.
Compare the best robot vacuum cleaners and find the best one for your home.
7 Tips To Style Your Living Room Like A Pro
was last modified:
September 28th, 2022
by
Recommended