Expert architect's basement laundry room ideas for your home
A laundry room, especially one in the basement, needn't be a dark, dingy, and uninteresting place. Why should doing laundry be a dreaded experience? The good news is that with the right basement laundry room ideas, you can make your laundry space bright and functional.
And, if you need help finding these basement laundry room ideas, you needn't fret. Our in-house architect will provide you with the best solutions as to how to maximize the space that you have, in every which way.
Read more: Basement remodel financing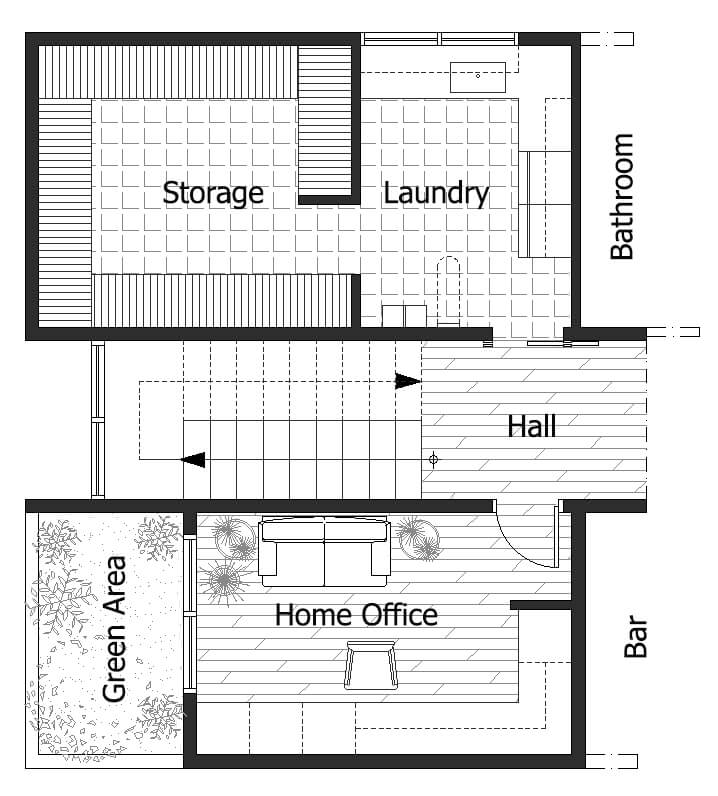 The first step is to design a basement in such a way that it improves the functionality of the otherwise unused space, adds comfort as well as aesthetics.
The goal is to use the best basement laundry room ideas, make other additions to the floor plan, and create a utilitarian and beautiful environment.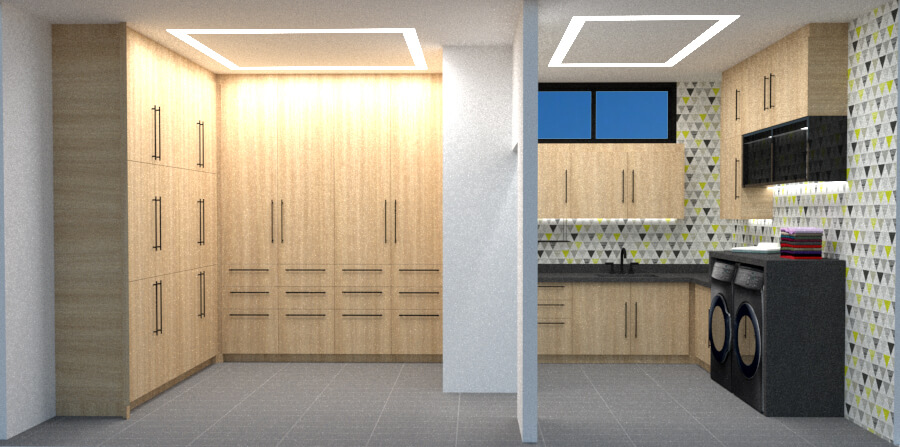 This basement floor plan incorporates a laundry room, a basement home office, a bar, a basement bathroom, and lots of storage space with built-in shelving as well as open shelving. Keep in mind that extra storage space is absolutely necessary for a home. It allows you to have a clean and organized area, store tools and other equipment. So, an extra closet is always handy. It will ensure that your laundry room is left spacious enough to cater to your growing family size.
Instantly estimate the cost of your remodel...
...or take your time to personalize dozens of choices to transform your house into your dream home.
The reason our architect has included a home office in this space is to accommodate those who work remotely or need a second work area to manage their social networks while keeping the main floors of the house free for other room additions and purposes. What's more, the expert architect has also designed a green area measuring 5.41ft x 9.02ft, with a total area of 48.84ft², to ventilate and add natural light in the semi-buried basement.
Read more: Basement guest room
The laundry area
Dimensions: 10.50ft x 7.87ft
Total area: 82.67ft²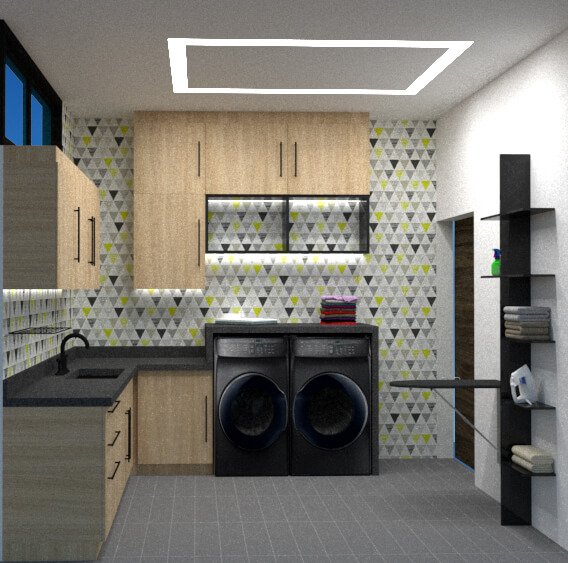 The access door to the small basement laundry room is a sliding barn door, with a smooth finish, in a darker tone of wood.
The laundry room design accommodates a washing machine and dryer, a utility sink, storage, a drying rack, open shelves (1.97ft x 0.82ft x 7.55ft), a pull-out ironing table, and a countertop made of natural stone. The storage, in the form of cabinets and drawers, is designed against the perimeter of the walls, with lower and upper cabinets forming an "L" shape.
Since the humidity and temperature conditions of your basement space are vastly different from the rest of your home, you need to take into account what is going to be stored in these cabinets.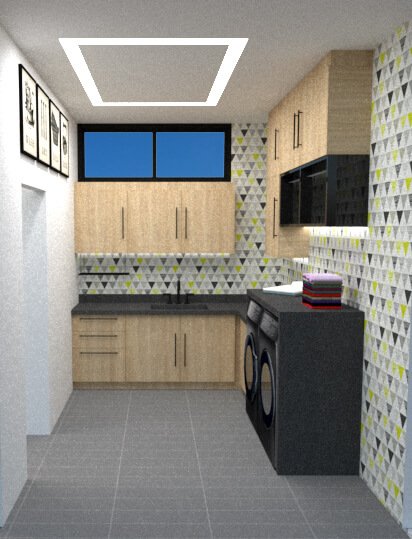 The windows in the laundry area measure 2.30ft by 5.91ft, and provide much-needed ventilation and lighting. This arrangement helps in the drying of delicate garments that you may not want to put in the washer and dryer.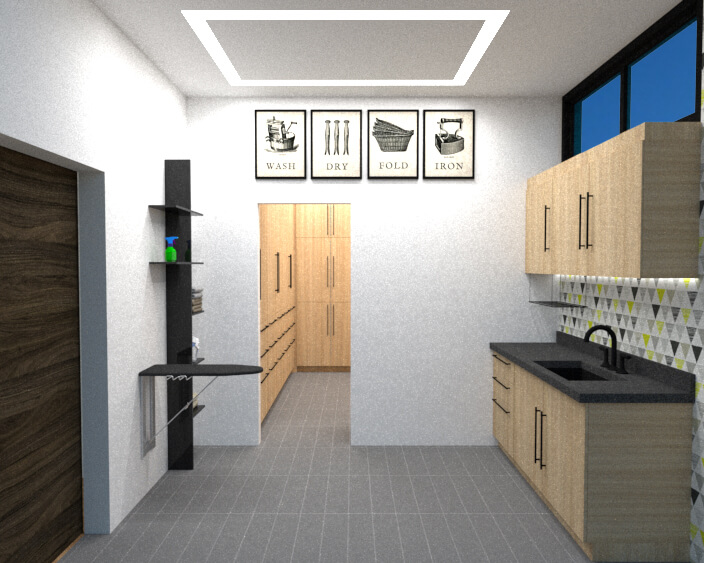 The style of the room is modern with simple lines. Our architect recommends light wood cabinets with a dark gray granite countertop. And, a gray ceramic tile floor.
The wallpaper, in a pattern of bright triangles, brings a dynamic and fun design that harmonizes with the white color of the other walls and ceiling. Interestingly, the window frames, wall art, cabinet handles, and sink faucet have been kept black.
There is a good use of artificial lighting, with LED lights.
The storage room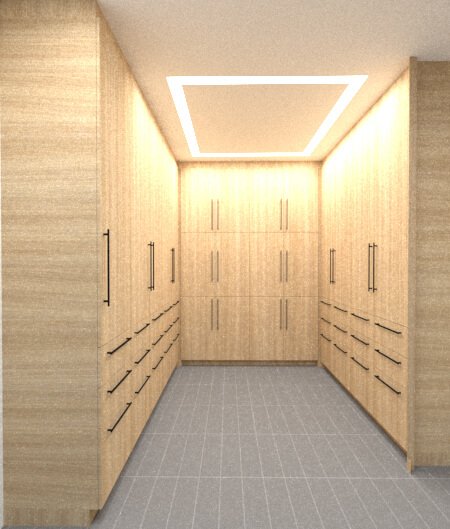 Dimension: 10.50ft x 11.65ft
Total area: 122.28ft²

The floor-to-ceiling storage comprises cabinets, racks to hang clothes, and drawers — in a "U" shape. This kind of storage allows a laundry room to be more comfortable, orderly, and functional. A boon especially for large families. Make sure that the cabinets are modulated in such a way as to make the most of the space in height.
You can use a variety of baskets to store and segregate clothes in terms of dirty clothes, clothes for washing, ironing, or folding.
The office
Dimension: 11.67ft x 9.02ft
Total area: 125.80ft²
The architect recommends using white color on the walls as it will help to visually increase the otherwise small space. The entire room will look brighter, cleaner, and more spacious.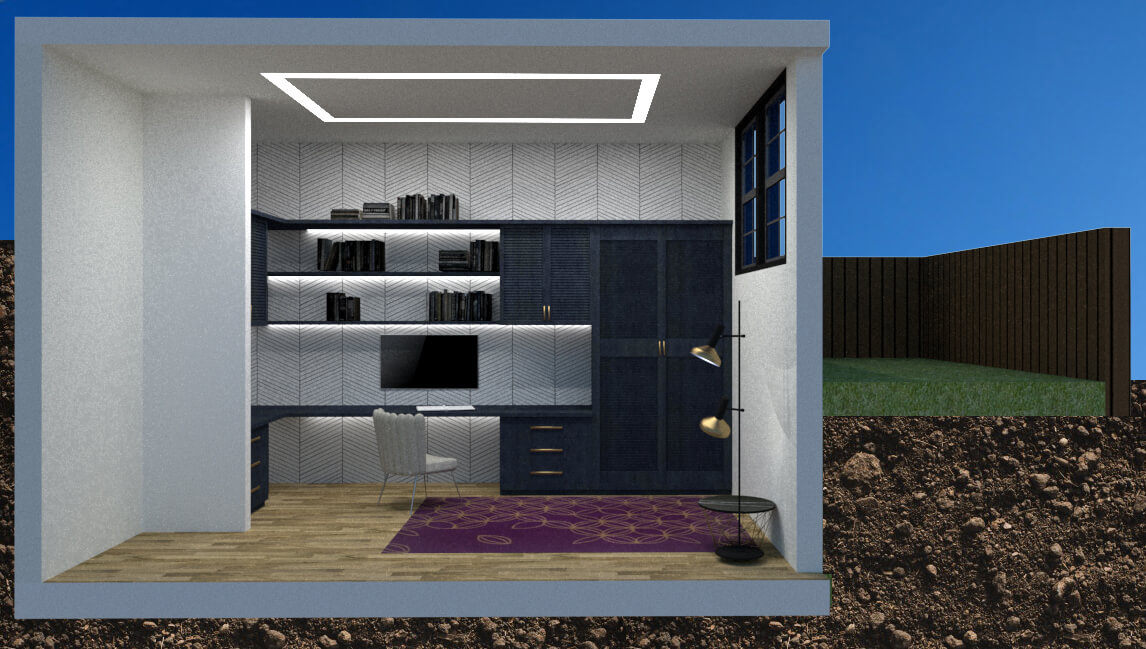 The office design consists of dark blue built-in open shelves, closed cabinets, and drawers against a wall in the shape of an "L". And the working desk, at a height of 2.46ft, is of the same color scheme. The chair though is in white to add an interesting contrast.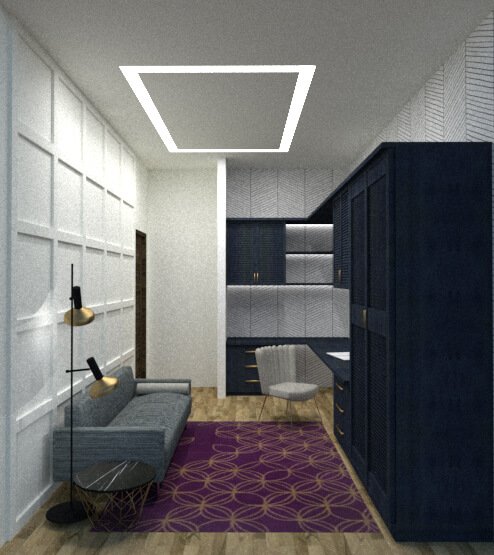 There's sufficient space to keep a medium gray sofa that functions as a rest area, living room, or reading room. You can make this multi-purpose area more flexible and even use it as a guest bedroom when required.
The white wall against the sofa has been decorated with grid-shaped moldings — making the home office look modern and contemporary.
The other walls have been covered in chevron pattern wallpapers which maintain the room's soft color palette. The wooden floor is in a medium tone. Interestingly, the side table has a black marble top — which goes well with the dark-colored floor lamp.
What's more, the purple carpet helps create an interesting contrast in the room. There are specks of gold throughout the room — in the cabinet handles, the light fixture, and the carpet. This adds a touch of elegance to the office space.
The architect has incorporated a window at a height of 5.91ft. If you see the design, you'll notice how the green area next to the room allows natural light to enter the room through the windows.
Additionally, there is sufficient artificial lighting through LED lamps.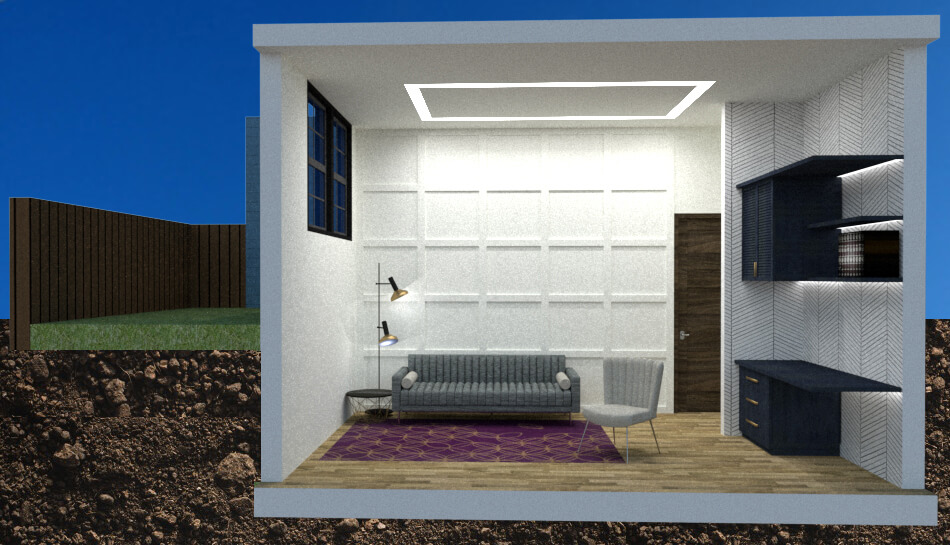 It's a great idea to further complement the office decor with indoor plants, paintings, and family photos.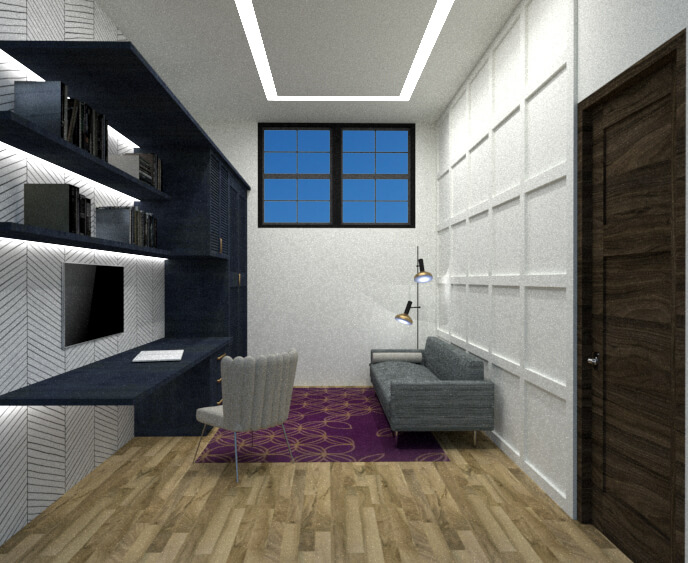 The double door, with shaker-style edges, lends the room even more character. Keep in mind that the height of the doors is 7.05ft.
Read more: Checklist to make home improvement
Last thoughts
When designing a house floor plan, we end up neglecting the laundry room. However, it pays to keep this part of the basement clean, organized, and in top shape. An unfinished basement laundry room will be a waste of good square footage and an eye-sore.
If you follow our architect's basement laundry room ideas, this space doesn't have to be that boring and dingy. So, get inspired for your next home remodel, and utilize your basement in the way it deserves.
Read more: Beautiful basement family room
Expert architect's basement laundry room ideas for your home
was last modified:
May 19th, 2023
by
Recommended