When you update your master bedroom, one of the important factors to consider here is its illumination — a task which we often overlook in our rush to pick the perfect furniture, furnishings, and color schemes. But the proper choice of lights is necessary. It forms a notable aspect of your interior design. Not only this, but it also plays a prominent role in defining your mood, reflecting your style, and enhancing the ambiance of the room. To aid you in your renovation, we have curated a list of 12 bedroom lighting ideas to draw inspiration from.
You can choose the best lighting design that fits into your estimated bedroom remodel cost and budget. We hope our creative bedroom lighting ideas and types of lights will help you create a functional and stunning lighting plan. And we bet, after implementing at least one of these tips, you will be the owner of a house that shall be the talk of the town!
1. Bring in a jazzy chandelier as an overhead light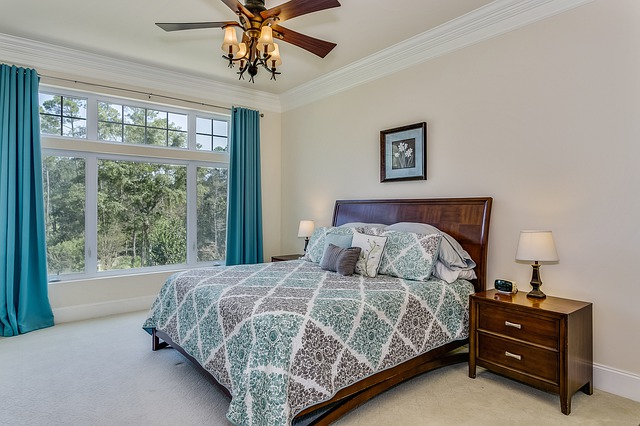 In order to achieve the best bedroom lighting effect, you need to combine good reading lamps by the nightstands with a clear and pleasant general light. A ceiling fixture or a hanging pendant light is recommended to light up the entire room, preferably with indirect lighting (pointing to the ceiling and reflected from there). This will give your room a soft illumination without shadows.
2. Make good use of floor lights
A floor lamp or table lamp can also be used for general light, but keep in mind that it should be turned on from the entrance of the bedroom. It's not convenient to have to walk around in the dark to turn it on. Moreover, if you have a comfortable chair, just place a floor lamp beside it, creating a cozy reading nook for yourself.
3. Bring home tasteful side table lamps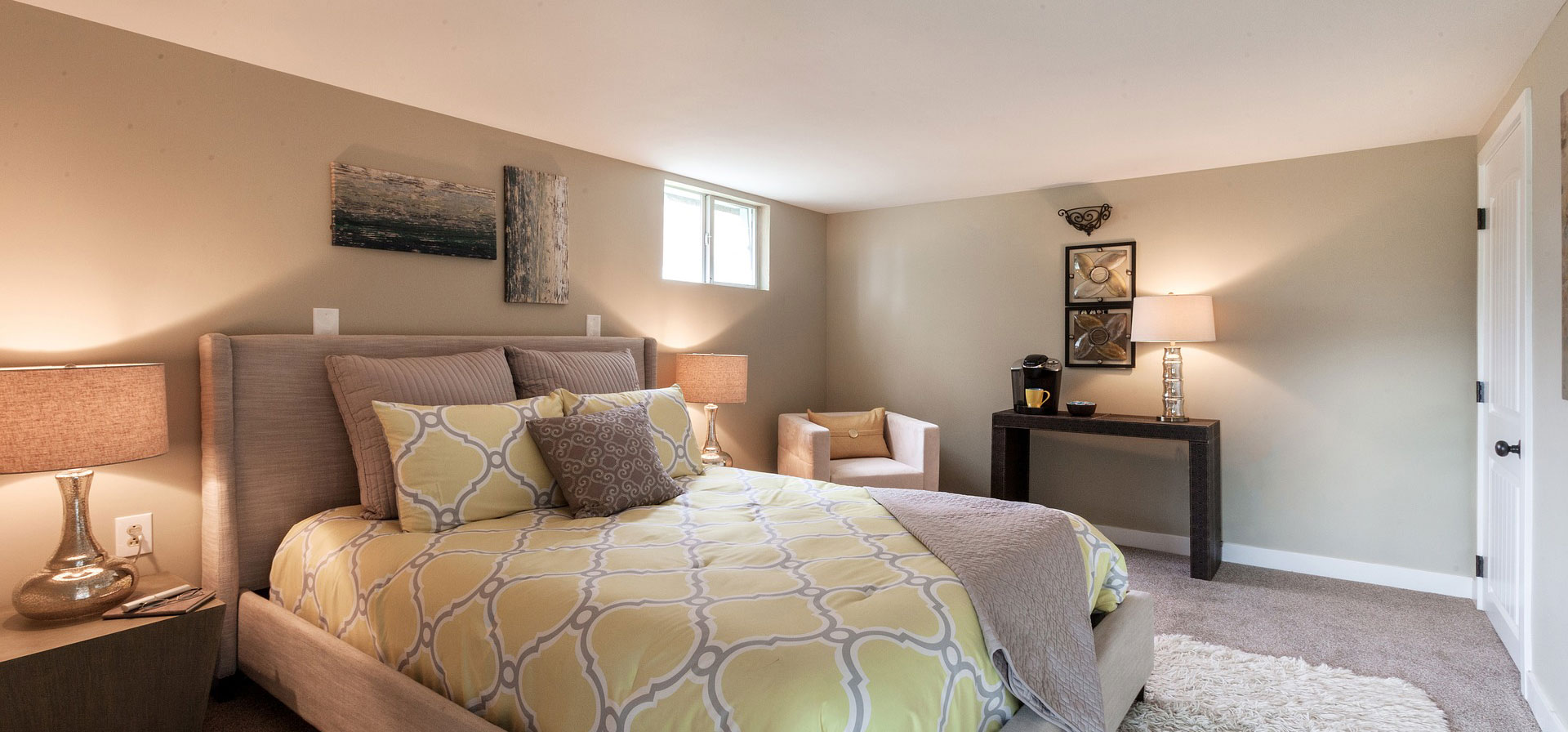 With a pair of bedside table lamps, you can bring in beautiful symmetry to the room. Place them on either side of your bed. They will not only enhance your room decor but also make it very convenient for you. With light next to your bed, you can easily read well into the night.
4. Create a beautiful space with indirect cove lighting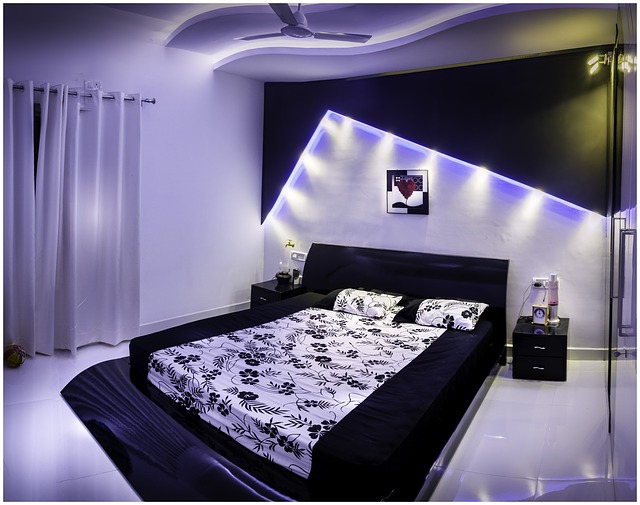 Here's a modern bedroom lighting idea that uses indirect lighting to its advantage. Apart from a pair of table lamps, there is no direct lighting in the bedroom. Yet, each and every cove seems to be lit. The trick lies in the wooden wall panel that is designed in such a way that each opening emits light into the room in a serene manner.
5. Think different with inbuilt ceiling lights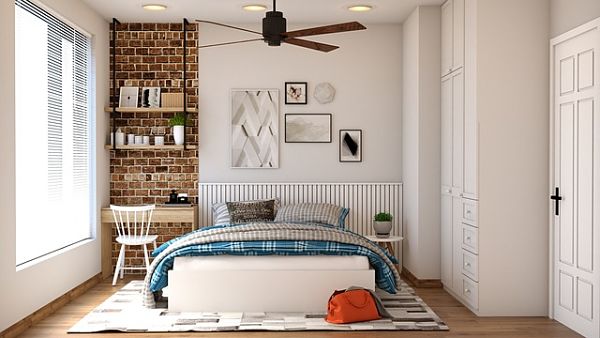 Add a lot of brightness with an inbuilt LED ceiling light. The panel will sufficiently illuminate the bed, yet will not be glaring. Complement it with hidden cove lighting that seems to add depth to the walls. We also like the modern task lights above the bedside tables. Attached to the wall, they can be angled conveniently to illuminate a specific area.
6. Replace reading lights with beautiful wall sconces

The reading light is usually placed on the bedside table, but it can also be placed on the wall (over the bed or beside it) or left hanging from the ceiling. This allows the nightstand to remain clear for books and other objects. To avoid nightstands from getting crowded, it's useful if you decide what kind of wall lights work best for you.
7. Bathe your bedroom in the soft glow of ambient lights
One of the most common bedroom lighting ideas is installing ambient lights. These will cover your space in a soft glow — allowing you to carry out all your tasks without having to cringe at harsh glares. This kind of illumination works best when you opt for a simple, minimal, and nature-inspired design.
8. Let your recessed lighting add elegance
You can use a series of recessed light sources throughout the bedroom. They create a formal or warm, cozy environment as per your choice. You can fix them on all types of ceilings. However, if your room height is low, ensure that the lights are not too bright or harsh. Also, make sure not to overcrowd the room.
Installing recessed lights is one of the most preferred bedroom lighting ideas. This is mainly because they lend a dramatic effect to any room.
MORE: Thinking of Installing Recessed Lighting in Your Bedroom? Use our Real-Time Remodeling Calculator and find out in minutes.
9. Allow accent lighting to highlight your decor
Adding accent lights is a wonderful way to enhance the style and drama of your bedroom. They will help you in showing off pieces you want on display while shadowing dull areas. You can install accent lights to transform your wall washing, artwork, bookcase displays, pieces of furniture, and collections into beautiful focal points.
10. Mix types of lights
You can create a bright, cheerful bedroom by combining the best types of lights. This room has an assortment of a floor lamp, table lamps, recessed lighting, as well as indirect lighting. The lit cove behind the bed lends a lovely vibe to the room that has an understated elegance.
11. Combine functionality with a ceiling fan light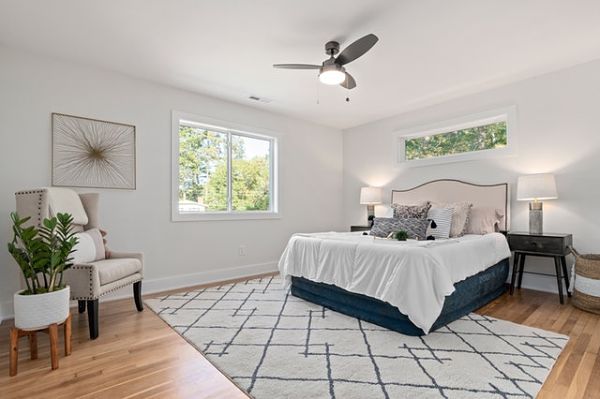 A great way to save space and give the room a neat appearance is by installing a fanlight. With such a contemporary multitasker, you don't need too many light fixtures. Just a lamp here and there is enough for additional ambient light.
Read more: Top Tips To Choose The Right Bedroom Lighting
12. Let in natural light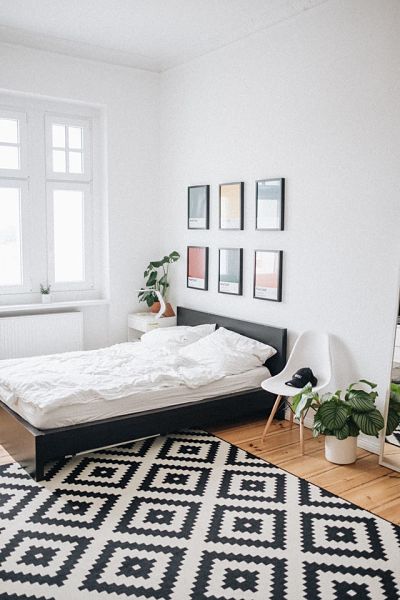 There's no light as bright and sanitizing as the sun's light. If you want your bedroom to have a positive feel, install large windows. A bay window especially is handy when it comes to letting in ample natural light.
You'll definitely save up on electricity bills during the day while making your bedroom cheerful and lively. If you want extra lighting for the night, you can add a semi-flush accent ceiling light as well as recessed lighting.
Conclusion
Each one of us has our own preferences when it comes to the perfect bedroom lighting plan. However, a few elements are always universal in every home. For example, your bedroom needs to radiate a relaxed, inviting, and warm feel. It should be bathed in calmness and tranquility — making it a cozy sanctuary, worth retreating into after a hard, weary day.
Therefore, to achieve all of this, follow our checklist of the best bedroom lighting ideas above. Then choose one that shall enhance the overall decor and atmosphere of your interiors.
Read more: 20 Living Room Lighting Ideas That Are Stylish And Beautiful
12 Bedroom Lighting Ideas for a Stylish Home
was last modified:
October 3rd, 2022
by
Recommended