It's essential that you find the room you sleep in relaxing, particularly in this era when electronics and the stress of a busy life are so common sleep-preventing issues in so many people's lives. To get a good night's sleep, you need a relaxing bedroom that doesn't get too easily cluttered, that doesn't trap odors and that will be a comfort to you whether you've had a busy day and need somewhere to collapse. It's becoming extremely popular to minimalize your rooms as much as you can, as it gives rooms that open and airy feel, but different styles get different results out of a minimal approach.
Style of Bedroom
Three popular design styles go particularly well with minimalist: industrial, farmhouse and urban modern. Industrial is a popular style for studio apartments, but it works in other accommodation too. There should be steel, bare brick and distressed wood all out on display. This is particularly great if you have visible pipes or an old-fashioned radiator in the room – what were once blemishes in your room can become focal points.
Most people think of clutter and rich colors when you talk about farmhouse, but this style complements minimalism extremely well.
Stick to neutral colors like barley for the walls, but you can keep out a few pictures and ornaments, and any wicker basket sets would go perfectly. Think linen and distressed wood.
Urban modern designs give you a little more freedom. Get rid of any ornaments and natural pictures, keep to light colors, and you can include vases and bookcases as long as you don't clutter up the room too much. Functional accessories like blinds, desk lamps and clocks will also help to bring an urban room to life.
Read more: Barndominums; urban chic meets country living
Bedroom Lighting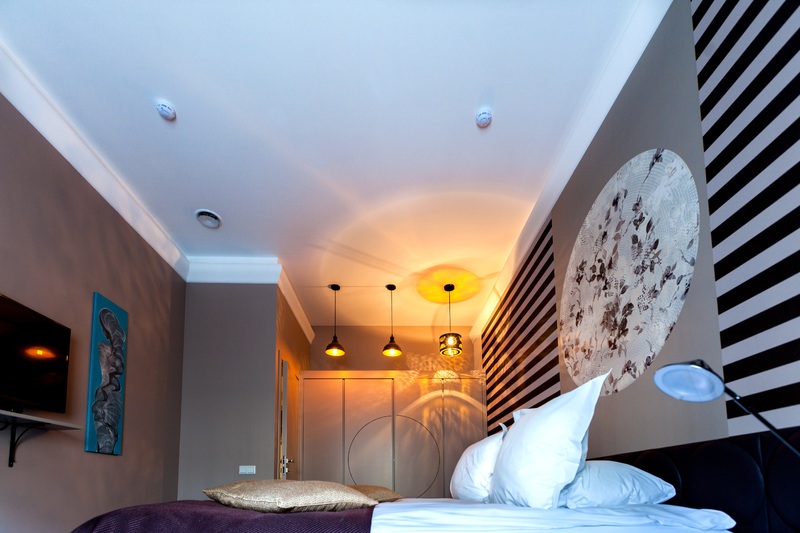 Whichever style you go with, you need lighting that doesn't give you a headache. Get rid of those yellow tones and shabby light shades. String lights and fairy lights are popular these days, but they can easily look messy, and you don't want tangles of wire hidden behind every surface. This is a room to relax in, fall asleep in and wake up in – you don't want it to give you that urge to keep getting up and tidying. Lumens offer a variety of lighting designs that contribute to a minimal and relaxing room, but in particular the Artemide collection offers a fashionable solution to either an industrial, farmhouse or urban modern room. Inspired by the light of the moon, these lights will give you the pale ethereal glow you need to truly unwind.
Read more: 12 Bedroom Lighting Ideas for a Stylish Home
Furniture and Fabric
If you don't want your room to seem like a dingy spider trap then ditch any dark fabrics and clumsy wardrobes. Light colors will give the impression of more space, so light colored drapes are a great way of getting that open look.
Mirrors also give you the impression of more space, so a wardrobe that's fronted with a mirror might be a great addition to an urban modern design.
If you've chosen farmhouse then you can keep a wooden wardrobe, but make sure it isn't blocking light from the windows. Alternatively, an ultramodern, steel storage solution might be best for an industrial bedroom. Whatever helps you sleep at night in your relaxing bedroom.
Practical Design Ideas for a Relaxing Bedroom
was last modified:
May 17th, 2022
by
Recommended