Smart Two Color Paint Combination For Living Room Ideas
Your living room is usually the largest and most frequently used space in the entire house. Therefore, you need to pay special attention to getting its appearance right. And the perfect look depends a lot on the paint tone you use on your walls and ceiling. Whether you love complementary hues, contrasting shades, or sophisticated monochrome, today we bring to you our best two-color combination for living room ideas. But first, let's go through some important aspects of painting your living area — before you begin your next living room renovation.
What is the best paint color for a living room?
Any paint color that lends a comfortable, inviting look to your living room is best for that particular layout. Whatever color palette you choose, check that your area does not look flat or incomplete. If you wish to add a feeling of calm and tranquility, go for a harmonious two-color combination for the living room. If you want to go for a bold look, choose contrasting shades. The correct color scheme shall transform your home from ordinary to extraordinary!
What colors make a living room look bigger?
Light shades such as off white and white or soft tones like sea green or sky blue, shall always make your living room seem bigger. Adding proper reflecting elements, installing a clerestory window, or placing skylights — can all help in enhancing the brightness factor.
What two colors work well together?
The choices are many. Of course, the classic combo is black and white. However, some other couples that totally complement each other are pink and blue, red and black, white and purple, green and white, green and blue — to name a few. Now, let's explore these options in detail by listing down our favorite two-color combination for living room tips.
Gorgeous two-color combination for living room ideas
Gray and white
Dull as it may sound, the combination of gray and white lends a classic, contemporary appeal to any interior room. Cool neutrals on the walls and the ceiling — in the above arrangement — are perfectly complemented with a white coffee table, beige sofa with matching throw pillows, and a black center table. Simple, but soothing and calm to your eyes! A wooden floor and a plush carpet lend the final finishing touch.
White and gold
Nothing looks more sophisticated than a gold-toned living room. A white ceiling — complemented with golden-shaded walls — create an inviting appeal and lend the space a bright, open, and airy feel. Warm, yellow lights — set at the appropriate points — give a magical glow to the room during evenings. A floral rug, beige sofas, and a wooden floor complete the entire set-up.
Purple and white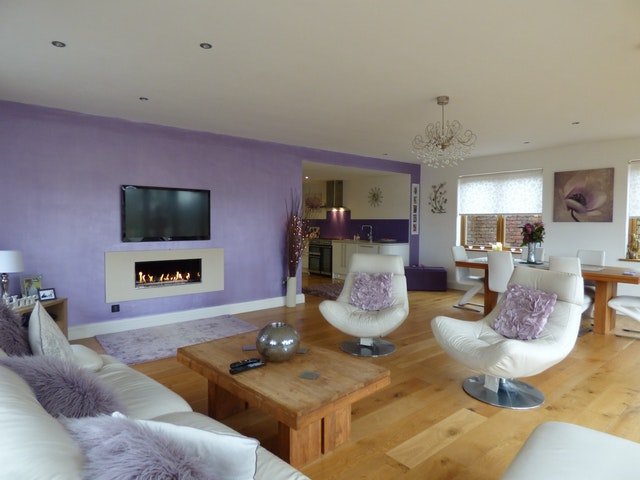 The interior designer has successfully brought harmony to this room with the use of a simple color palette. White walls — with one painted in light purple — act as the focal point in this home. An ivory sofa set — with matching throw pillows, a purple toned area rug, and wooden side tables perfectly complement each other. To add to the cozy effect is a warm, crackling fireplace — below the television unit — lending the complete, get-together-in-the-winter feeling.
Green and white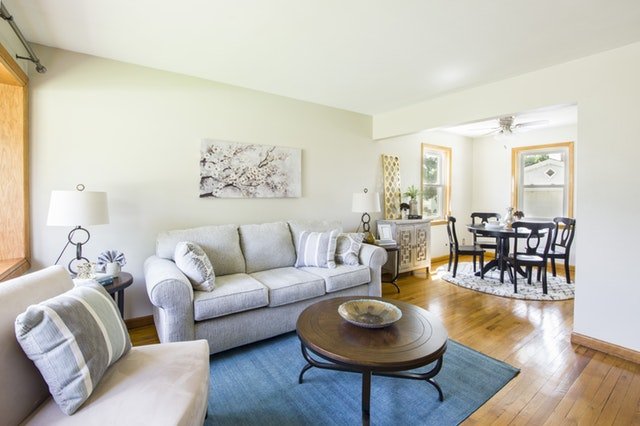 Nothing can be more elegant and serene than sea green and plain white. Check out the above design — where the entwining of these monochromatic tones generates a calm yet stimulating energy. Solid wooden side and center tables, along with an off-white sofa add visual interest. Note the rust-orange edges of the windows — which create a beautiful tropical vibe. Also, note the blue carpet. Although, someone said — "Blue and green should never be seen", designers often do the opposite — as the above rule is meant to be broken. Remember, whenever there's green, there has to be a tinge of blue — somewhere!
Black and white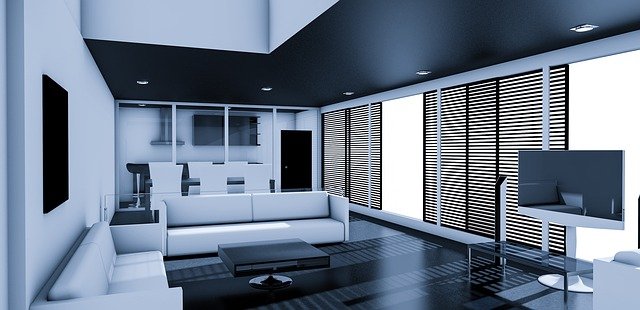 Black and white can never go wrong when it comes to a two-color combination for the living room. Just look at the above picture. Is not it perfect? Sharp edges — combined with monochrome tones — make the entire set-up look smart, sophisticated, and extremely modern. A white sectional sofa adds to the classic layout.
Orange and yellow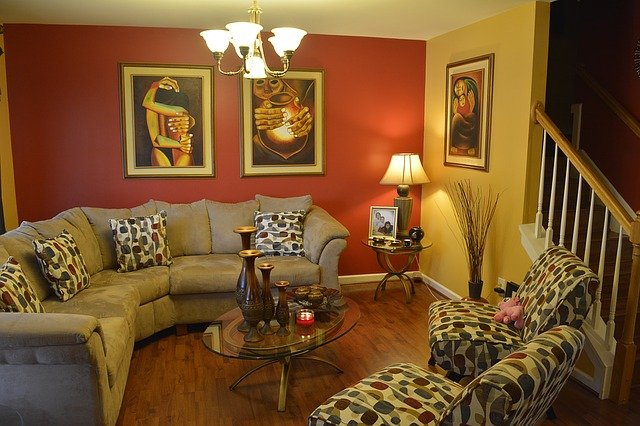 Bring in the feel of autumn all year round with this analogous two-color combination for the living room — namely bright orange and golden yellow. These harmonizing shades make any space look lively. In the above layout, the designer has broken the color saturation by placing a beige couch and floral throw pillows. Further balance comes from the floor with wood tones.
Blue and white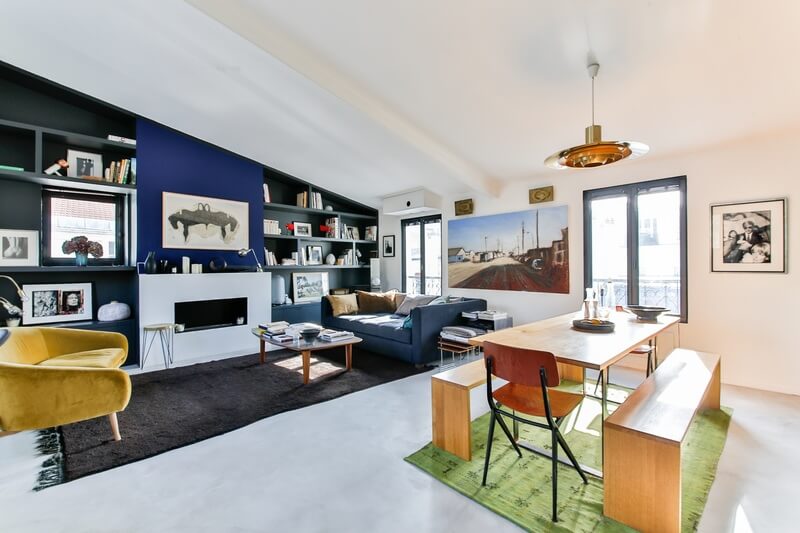 Blue and white are always right. Exactly! See this living room. It almost looks divine! Harmonious tonal blues, whites, and creams on the ceiling stand in contrast to a dark blue and black focal wall. Black and green area rugs, a mustard yellow chair, and another navy sectional sofa add the much-required pops of color.
Beige and white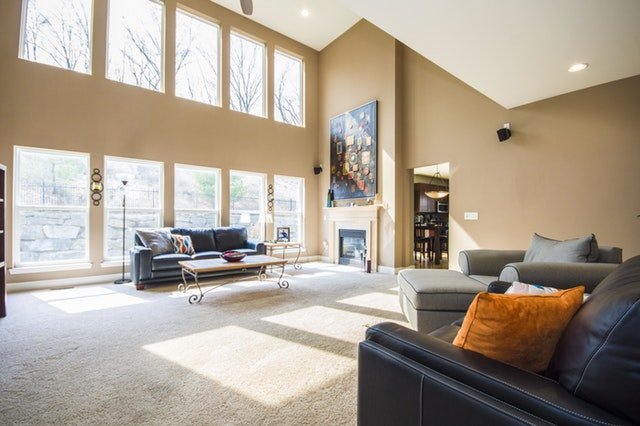 This room feels and looks almost like a vanilla ice cream, does it not? The tones of beige and white on the ceiling and walls lend a tinge of coziness. Black and gray sofas — with bright throw pillows — add some bold colors to the room. Iron center tables and recessed lights bring in a touch of glamour. A picture collage with a black backdrop lends the much-needed contrast.
Whatever be the style of your home — whether it is traditional, transitional, contemporary, or ultra-modern — you can transform its appearance with the right two-color combination for a living room ideas. A bit of creativity and plenty of research shall take your space to the next level. So, which one of our ideas did you like? And which tip do you think you will use in your next living room remodel? Do not forget to let us know in the comments below!
Read more: 7 tips to style your living room like a pro
Smart Two Color Paint Combination For Living Room Ideas
was last modified:
October 14th, 2022
by
Recommended