Thinking about installing garage floor tiles? It's indeed a good idea. Great-looking garage floor tiles can easily make your garage floor look super cool. After all, today, a garage has become much more than a place that's used just to store your car and other garage tools.
Over the years, most homeowners have realized the value of good garage space. Residential garages have become additional living or storage space. This is where you'd love to invite your friends and family over to watch a big game, play table tennis in the converted game room, or have a quiet home office. The possibilities are many.
Needless to say, you don't want your garage to have a boring (read sad-looking!) cold concrete floor. With so many garage flooring options, including tiles, on the market, you want this space to reflect your house's charm and a bit of your personality. You can choose classic, checkered garage floor or striking interlocking garage floor tiles.
FYI: Garage floor coverings come in two styles — garage floor mats and garage floor tiles. Both are extremely easy to install.
In this article, we will explore the best types of tiled garage flooring coatings for you.
Tile flooring can make your space cozier and stunning. And not to forget that it's available in a variety of styles and materials.
Instantly estimate the cost of your remodel...
...or take your time to personalize dozens of choices to transform your house into your dream home.
Advantages of garage floor tiles
When choosing garage floor tiles for your home, it's best to read up on the pros and cons of each type of tile flooring and make an informed decision. Accordingly, you can choose PVC or rubber garage floor tiles, porcelain, and even peel and stick vinyl garage tiles. Thanks to advancement in technology, tiles are designed using different color, texture, pattern, and durability in mind.
What Is the Cost to Build a Garage in Your Zip Code? Let's find out!
Besides the fact that garage floor tiles look fantastic, they provide a lot of other benefits as well. The greatest advantage is that most tile flooring can be installed easily. They generally are as hassle-free to remove as they are to install. More often than not, the entire process is completed in less than a day!
And, the durable tiles can be installed even over cracked or stained concrete floors. So, there might not be a need for you to repair the floor first.
FYI: Garage floor tiles come in sizes that start from 12×12 inches to 24×24 inch. You can choose the dimensions according to your flooring needs.
Another advantage is that you can create attractive tile patterns including checkerboard, raised coin pattern, or diamond tiles on your floor. Plus, tiles are easy to clean too!
What about a Home Gym Ideas to Create an Effective Fitness Room?
The disadvantage of garage floor tiles
The only major downside to having garage floor tiles is its high cost. Tile prices start at around $2.50 per square foot and can go really high depending on the type you choose, your garage size, and zip code.
Tiles are more expensive than garage floor epoxy or garage floor paint.
Planning a renovation for your house? Try our free home remodel cost estimator; it's easy and convenient to use!
4 Popular types of garage floor tiles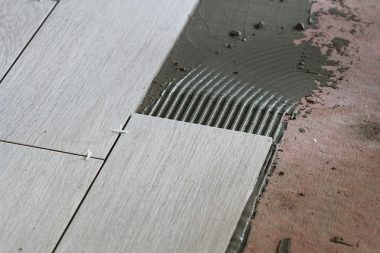 The following are some of the best garage floor tiles available to homeowners. Keep in mind that garage flooring tiles are based on your needs and budget.

Planning for tile floor replacement? Get the best estimate with us.
1. Interlocking floor tiles
Interlocking garage floor tiles are becoming hugely popular as one of the best options in garage floor coverings today. And, for good reason. They are as easy as a breeze to install. They look good too. You can customize interlocking tiles and as a result, your entire garage floor.
With the latest online tools that companies provide, you can even design your floor right on your computer before beginning your remodeling! You can opt for multiple colors or an all-solid color, you can be unique with racing-style checkered flag themes, add interesting borders, mark space for your car parking and storage, and so much more.
Interlocking garage tiles are available as polypropylene plastic tiles that are rigid or the more flexible rubber such as PVC garage tiles. These types of garage floor coverings are resistant to stains, chemicals, oils, and road salts. And, they are non-slip.
Take a look at these 9 Smart Garage Design Ideas For New-Age Homeowners
Moreover, the tiles are U.V. resistant; they won't fade under sunlight. Plus, they are mold and mildew resistant. When it comes to surface patterns you can choose from a simulated diamond plate, free flow, ribbed tiles, or a coin garage floor.
The best feature is that these free-floating tiles are easy to install. Since they are not affixed to the floor, you just have to snap them in place. An average garage can be tiled in just a few hours. If you're unsure of your DIY abilities, you can always hire a professional installer.
FYI: Interlocking garage floor tile installation costs is around $2 per square foot (polypropylene tile) and over $3 per square foot (PVC tile).
When choosing your garage floor tiles, don't forget to look at the warranties. Premium brands have warranties as high as 15 years. Some attractive tiles might be less expensive but may have a much shorter warranty.
FYI: Some of the premium brands for interlocking floor tiles include RaceDeck and SwissTrax.  
Read more: Slippery driveway
2. Vinyl composite garage floor tile
Vinyl composite tile aka VCT is again fairly easy to install. These sturdy tiles are mostly found in grocery stores and school hallways but are a great choice for residential garages too.
They are buffed and waxed to a high glossy finish — giving your garage a nice retro vibe that's quite appealing. As far as the installation goes, these tiles are glued into place. The traditional black and white checkered look is easily the most popular. They are generally 12"x12"x 1/8" thick.
Vinyl garage tiles are resistant to staining, automobile fluids, and road salts.
The downside is that they can be a little slippery when wet. VCT can gouge from sharp objects. Therefore, it might be a good idea to place a board under your car jack stand if and when you work on your car.
Also, its installation is not as easy as that of interlocking tiles. Before the process, the cement floor needs to be cleaned and prepped properly. Only then will the floor accept the adhesive.
As far as the costs go, vinyl tiles are the least expensive option in garage floor tiles. Thereby making them ideal for budget garage flooring. Their prices can go as low as 70 cents per square foot. Do keep in mind that such a floor requires general maintenance, including waxing and the occasional buffing.

Find out how much your replacement flooring will cost with our estimator tool.
3. Peel and stick vinyl garage tile
Polyvinyl peel and stick garage floor tiles come with a pressure-sensitive adhesive on their backside. Just peel the release paper off and stick the tiles.
So, when you install these stickers, you don't need any additional glue on the concrete floor. Moreover, these tiles are easy to maintain. They have a glossy, non-porous finish that doesn't require any waxing or special treatment. Plus, they provide an even better protection from stains and spills.
You can choose your tiles either in a diamond pattern or a levant tread pattern that's smoother.
FYI: The durable tiles are easily available in 12 different colors and two sizes: 12″x12″ and 24″x24″ and can be used to custom-design your floor.
The installation cost is a little over $3 per square foot.
Read more: Backsplash Stickers
4. Porcelain garage floor tile
Porcelain tiles are surprisingly one of the most durable and beautiful flooring choices available on the market. They are both hard and slip-resistant. And, don't get confused by their delicate name; they are extremely difficult to scratch, break, or even chip! Since they stand up well to abuse, moisture, oils, stains, and road salts — they are an ideal choice for professional garages or large garages that house more number of cars.
Also, if you live in a region with temperatures below freezing point, you don't have to worry. The tiles do well in cold climates too. They are also easy to clean. Porcelain tiles are by far the best garage floor tiles you can have in terms of durability and resistance to staining.
As far as sizes and color are concerned — there's a wide variety out there. The installation charges are about $1 per square foot.
Conclusion
Now that you're aware of all the tiling options you have, we're sure you can turn your garage into a showplace while withstanding the toughest of environments. The tiles will help you transform your garage and how! No matter which type you choose, you can't go wrong with garage floor tiles.
They add class and a solid character to your space while providing you with a floor that's easy to maintain and stunning. Go on, choose a beautiful design and make your neighbors and friends go green with envy.
Read more: 6 Ways to Make Your Garage More Functional
How to Choose the Best Garage Floor Tiles
was last modified:
January 3rd, 2023
by
Recommended