An architect's tips on the perfect game room floor plan
Designing the best game room floor plan that suits your lifestyle and house plan is one of life's great pleasures. After all, chances are, this game room design has been your dream for years. But, fiddling around with graph paper, scales, and pencils to come up with a game room floor plan is not as fun as one would think.
And, that's why we have an expert architect completing the difficult part of your home improvement project for you.
The best thing about having a game room is that you can use the bonus room as a billiard room or as a casual area for parties, family game nights, or everyday use. It goes without saying that a recreation room is perhaps the most favorite room for children and teenagers. Contrary to a formal living room, this room is fully equipped for entertainment with audio/video equipment. The vibe of the room is comfortable, typically with cozy overstuffed couches and recliners, a bar for entertaining, and fun accessories.
Looking to have your very own gaming room? Trust us, it will be a game-changer. To give you great game room ideas for kids and adults alike, our architect has provided some practical and functional game room floor plans. So, go ahead and take notes, and create the very best entertainment space in the whole neighborhood.
Instantly estimate the cost of your remodel...
...or take your time to personalize dozens of choices to transform your house into your dream home.
Game room floor plan 1: A complete gaming room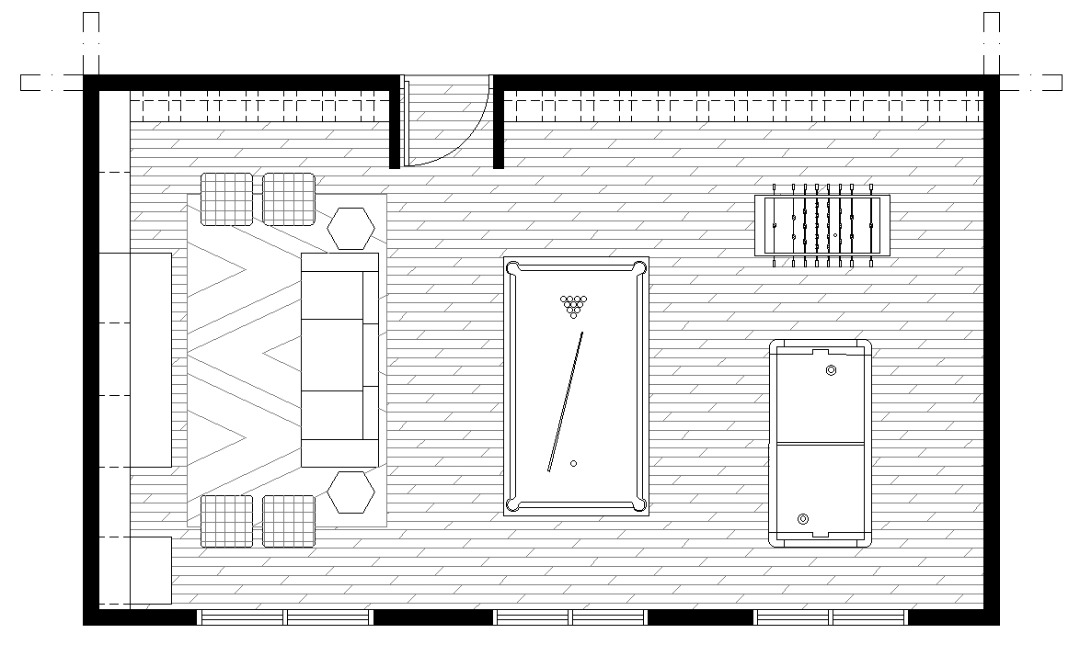 Overall dimension: 27.89 feet x 16.40 feet
Height: 9.84 feet
First gaming area: 10.83 feet x 16.40 feet
Second board game area: 17.06 feet x 16.40 feet
Circulation: 1.97 feet to 2.95 feet
Window size: 4.92 feet x 5.58 feet
Shelf dimensions: 1.97 feet to 2.13 feet
This multifunctional room beautifully accommodates both games and other recreational activities like watching television or movies and playing board games. The integrated game room concept has two areas: an audiovisual area and a more active area with gaming tables.
Read more: Video game room: What are the must-haves?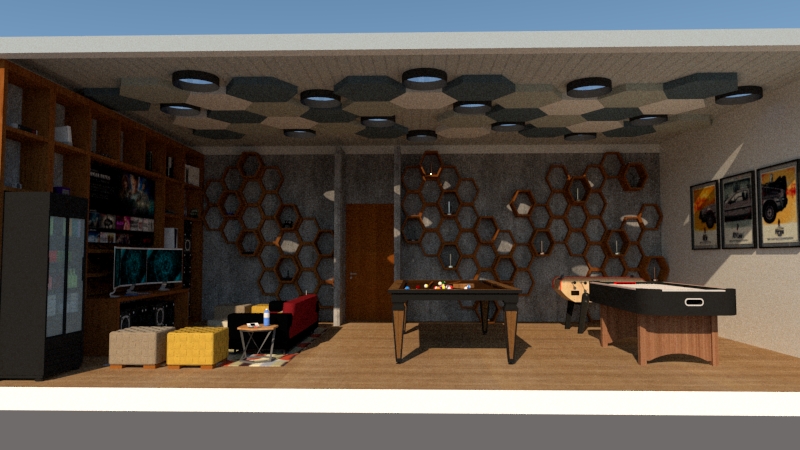 The ideal location for such a game room would be a separate room on the main floor or in the basement. That way, the game room activities will not affect the rest of the residents of the house.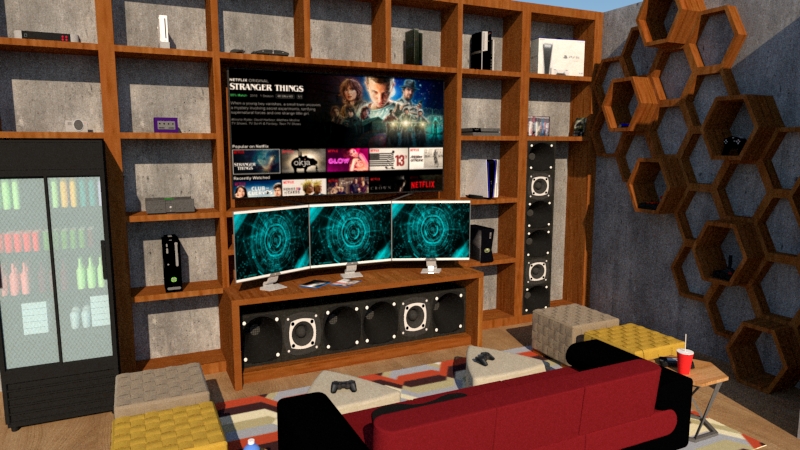 The room is visually integrated by walls that keep the various elements in balance throughout the room. One of the accent walls has unique wall-mounted open shelves in the form of wooden hexagons. You can use the space to store equipment, games, or collectibles — while enhancing the room decor.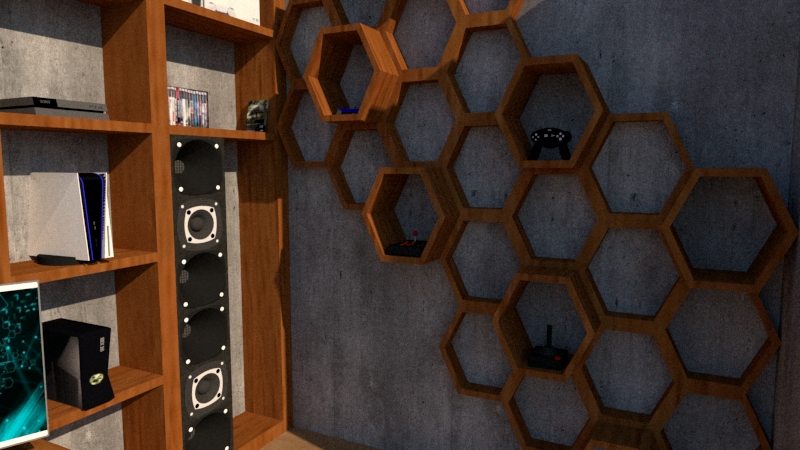 The ceiling too has hexagonal shapes in white and shades of gray, with a corrugated texture. The ceiling pattern is fitted with recessed LED lights to illuminate the game room in style. The artificial lighting beautifully highlights the decorative elements of the rec room.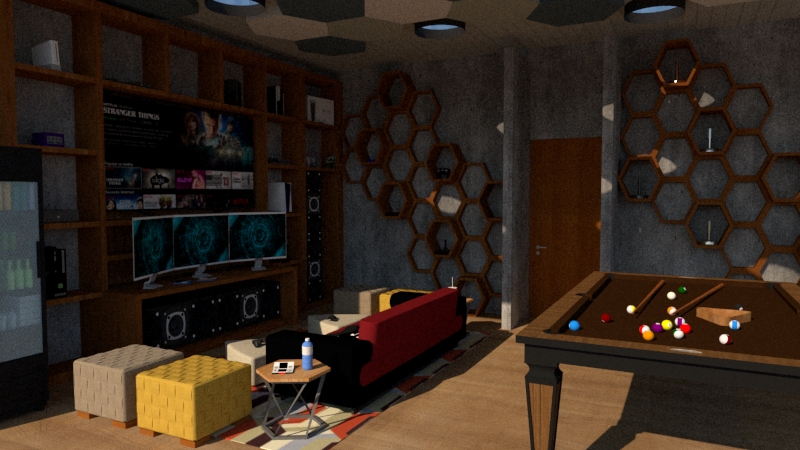 The other wall features three windows for natural lighting. These could be floor to ceiling or you could connect the room to the outside through French doors.
If it's a basement game room, you can opt for smaller windows.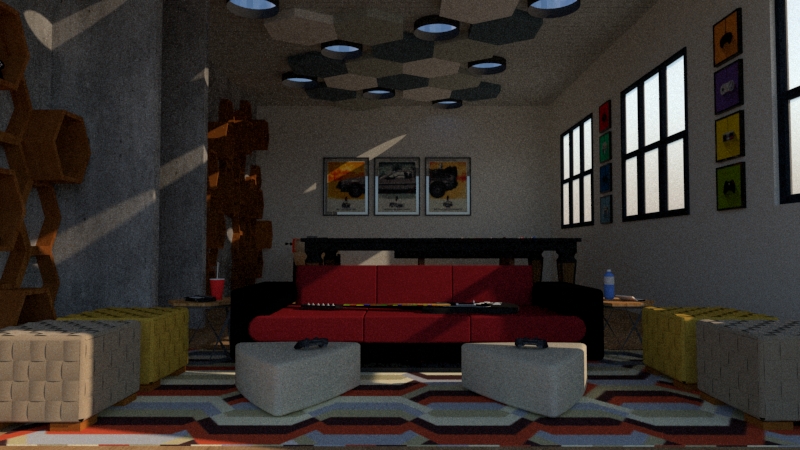 The white color on the ceilings and walls helps the lighting and contrasts with the rest of the room. There are vivid colors in the custom-made furniture (sofa, puff chairs, and geometrical seating), the carpet, and the pictures on the walls. You could keep wood or laminate flooring, and the wooden shelves and door in medium tones.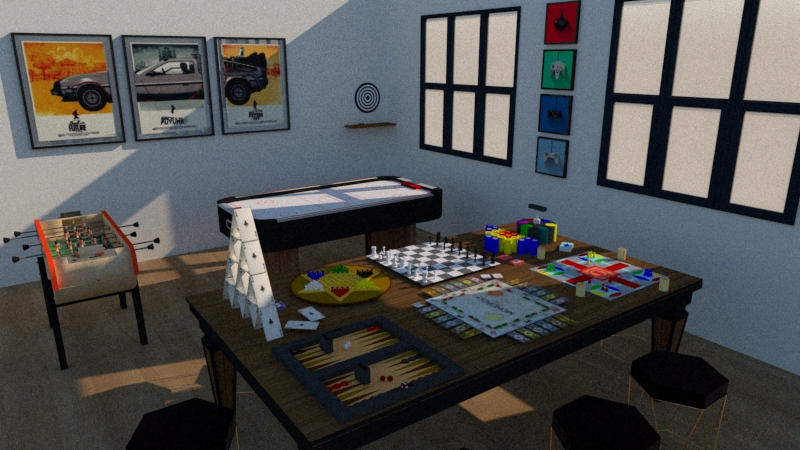 The architect recommends game tables such as a foosball table, a ping pong table, and a pool table. Interestingly, the pool table can be transformed into a board game table with a capacity of 6 to 10 players. You could add versatility to the entertainment space with tasteful chairs.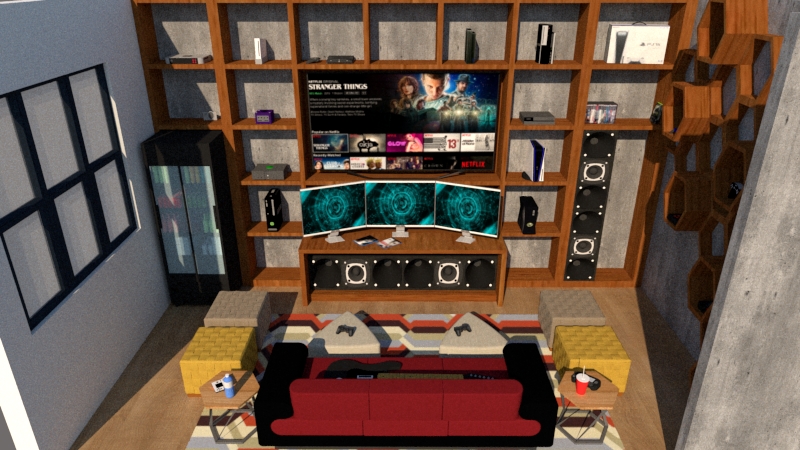 A huge shelf unit is the focal point of this room. It occupies the entire wall, and stores an audio system, video games or collectibles, a monitor with three 20-inch screens for gaming, and a 60-inch television for you to watch movies or play games on. There's even space for a refrigerator to store drinks and snacks.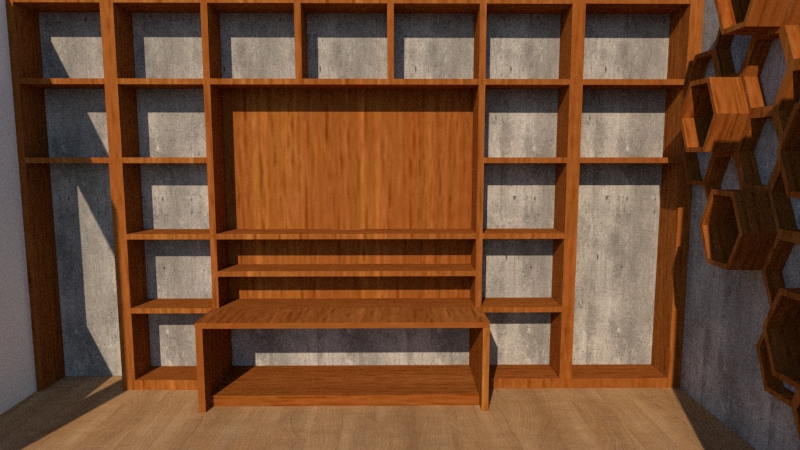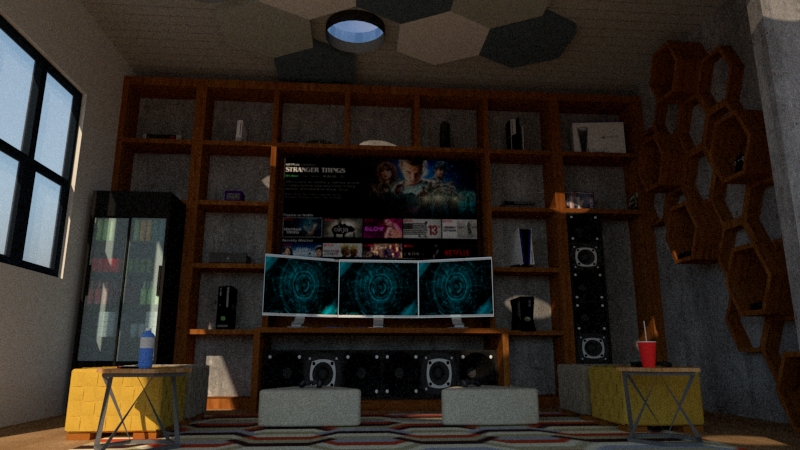 Game room floor plan 2: Group gaming room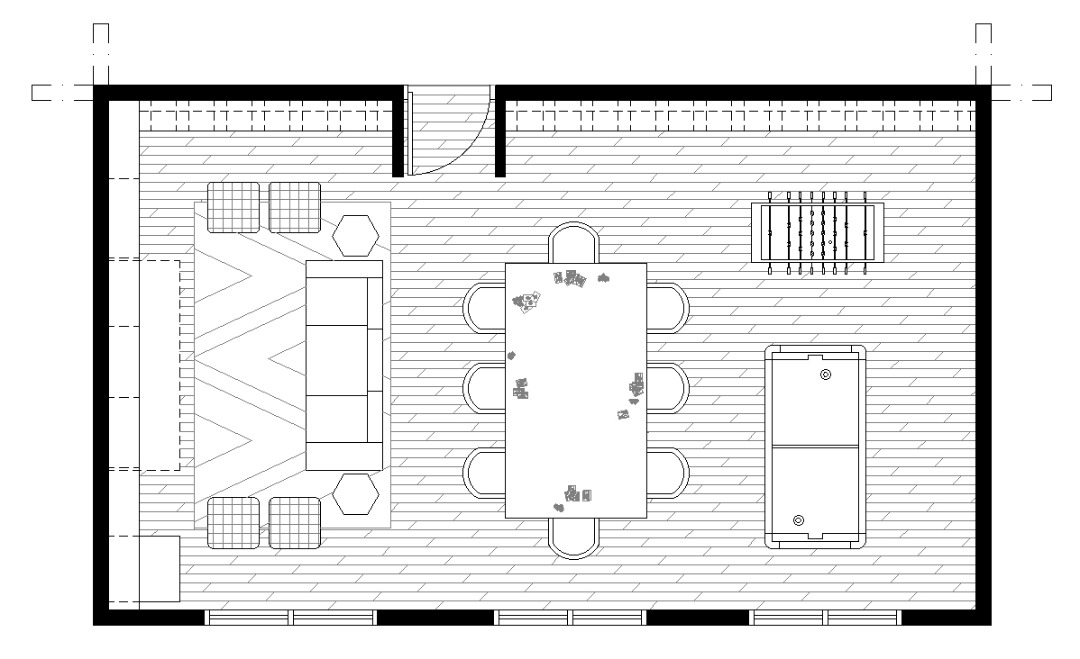 Room dimensions: 23.62 ft x 11.98 feet
Height: 8.20 feet
Circulation: 2.95 feet
Shelf dimensions: 17.72 feet x 5.08 feet; height: 4.59 feet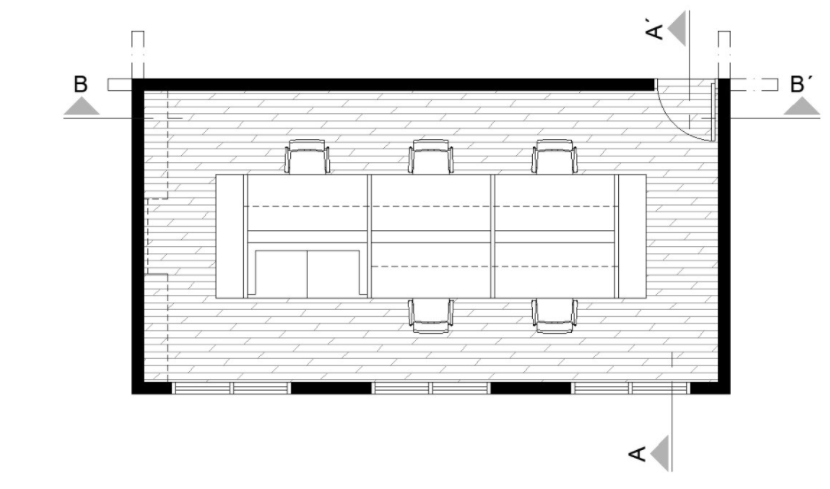 Such a floor plan is ideal for a basement. The gaming room which is meant for multiple players accommodates integrated game room furniture: five tables for five monitors, other equipment, and a sound system.
You can design another counter/cabinet on the table to house two more monitors — making the total capacity of gamers, seven.
Behind this setup, there's a rest area with a two-seater sofa. It has the same dimension as the tables. A symmetrical wall shelf, with a height of 4.92 feet, has good storage space for a flat-screen television. On the sides, there are two cabinets (1.15 ft x 5.08 ft) and open shelves for storage.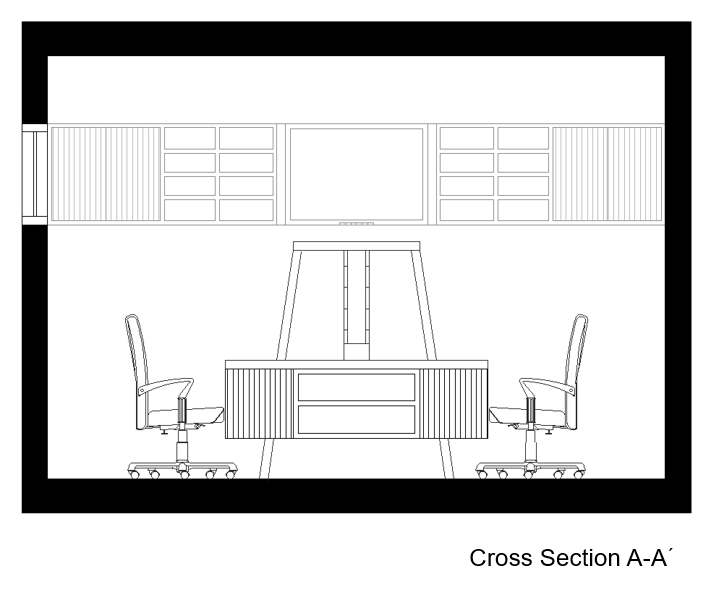 Our architect recommends a white ceiling to keep the room bright and cheerful-looking. The walls can be complemented with custom vinyl or wallpaper designs to add a unique touch to the room.
Read more: Using video walls in your home
There's abundant natural light coming through the windows along the wall. You can opt for reflector lamps for artificial lighting. That way, their light will not fall on the monitors directly. If you're using ceiling lights, go for higher ones, not suspended lights or pendant lights. Otherwise, they will collide with the monitor screens on the cabinet surface.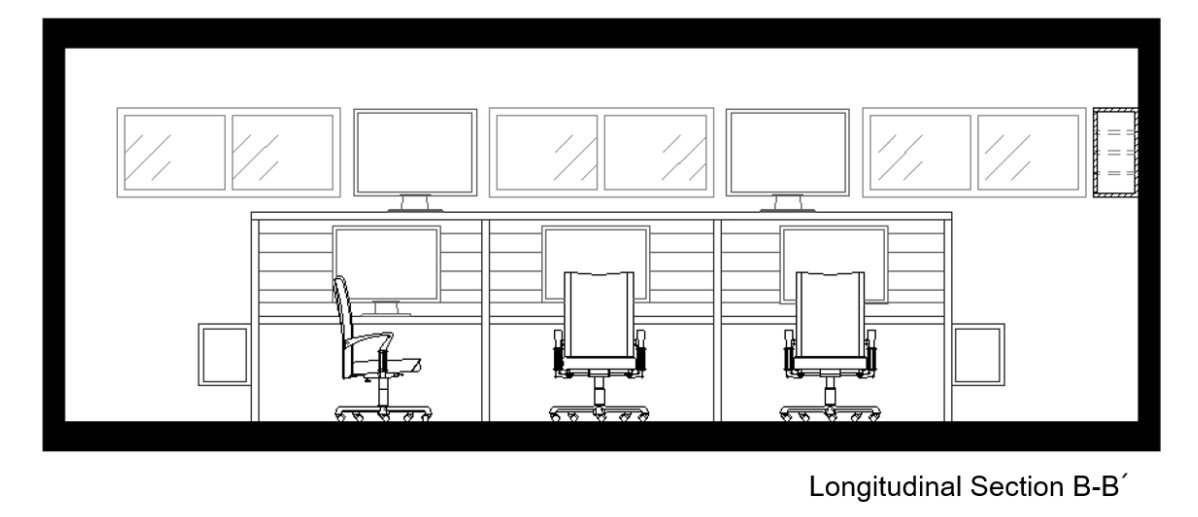 Game room floor plan 3: Bedroom gaming room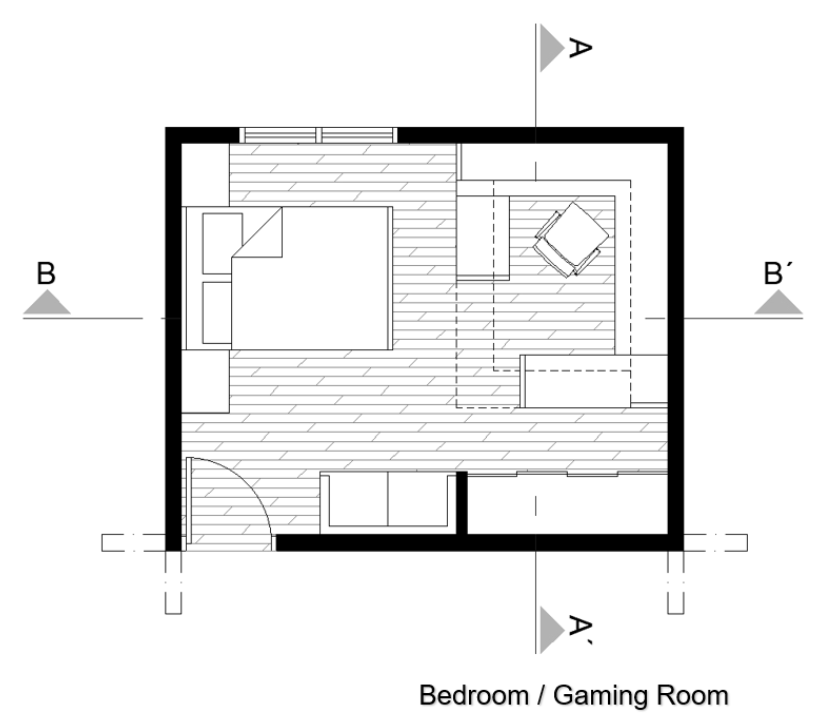 Room dimensions: 12.14 feet x 15.09 feet
Height: 8.20 m
Minimum circulation: 1.97 feet
Gaming area dimensions: 6.59 feet x 8.20 feet
Closet width: 1.97 feet x 6.59 feet; with floor to ceiling height
Desk dimensions: 4.92 feet on each side, depth: 1.64 feet, height: 2.30 feet
Lower shelf dimensions: 2.46 feet x 1.64 feet; height: 2.30 feet
Top shelf dimensions: 3.28 feet x 1.64 feet; height: 6.59 feet
The ideal location for this game room floor plan is a bedroom, whether it's on the main floor or in a basement. In this design, there are two environments: the first is the bedroom with a queen-size bed and the second is the gaming zone.
The bed is parallel to the window and has a recessed sitting area with a two-seat sofa.
The gaming area is located in front of the bed and the closet. It has integrated cabinets, in the shape of a "G". The cabinetry takes up two walls of the room. The desk counter is shaped like an "L". There are two shelves with doors and drawers while the two upper shelves are open.
The top shelf is at a height of 2.30 feet from the desk to give you enough space for your monitors and other equipment.
While there's ample natural light, you can add a central light or recessed LED lights for artificial lighting.
To give more character to the game room design, you can place wallpaper or decorative vinyl on the wall or between the floor and shelves, or between the shelves and the ceiling.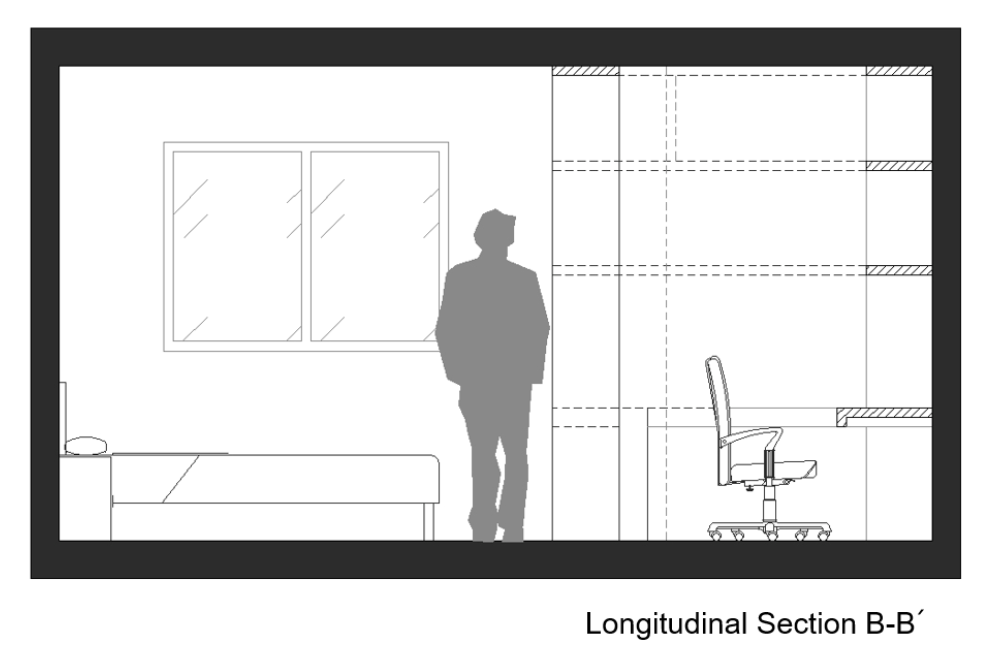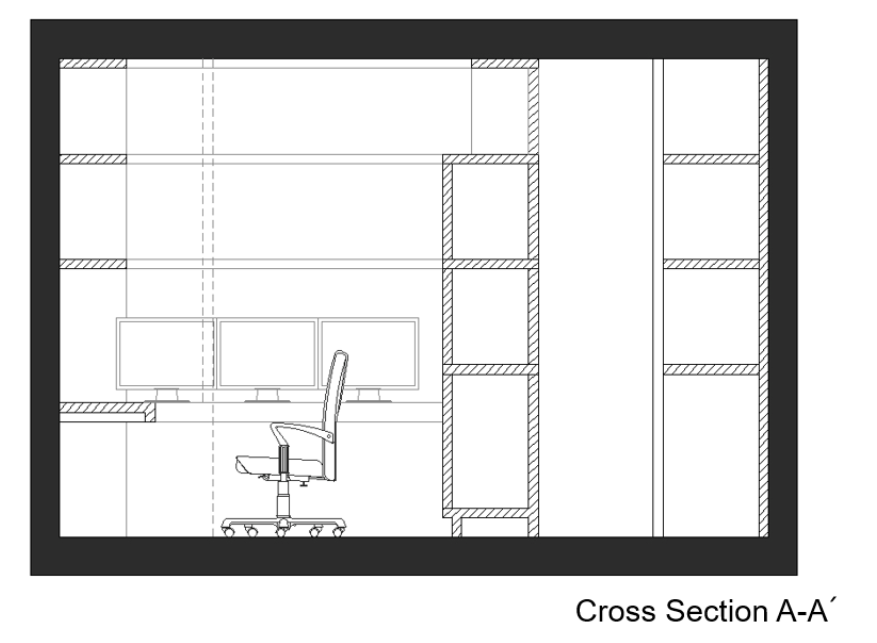 Last thoughts
Every family needs a dedicated space or a fun game room where they can relax and bond together over a movie or a video game. A game room is like a family room. A recreational space where the family looks forward to hanging out together after a hard day's work. We hope these game room floor plans will help you create the perfect place to chill and entertain. And, get those family game nights going!
An architect's tips on the perfect game room floor plan
was last modified:
October 27th, 2021
by
Recommended